Richa Bhattarai (A18) Forges Nonprofit Career at Urban Alliance
May 20, 2020 | By Les Poling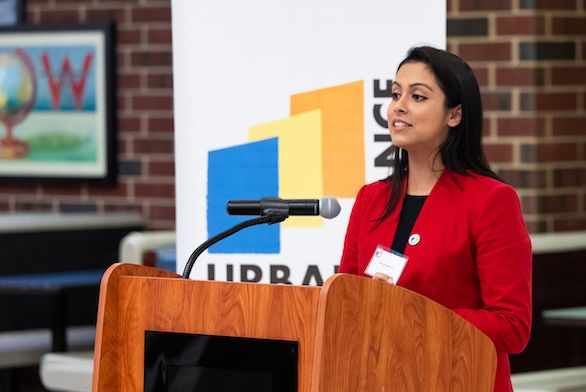 Growing up in Nepal, Richa Bhattarai (A18) knew all about nonprofits; she even had a professional interest in the field. "Both my parents worked in nonprofits; my mom still works at an environmental nonprofit, and my dad has done a lot of work in education," she says. But it wasn't until college that she experienced the work first-hand. "My best friend was a study assistant at St. John's," she recalls. "But I would just hang out [with her] in the Chancellor Johnson House, where a lot of international students would come for academic assistance." While her friend helped students with schoolwork, "I helped them feel at home," Bhattarai says, "and I really connected with them."
It was a turning point that would foreshadow her career. Since 2018, Bhattarai has worked for Urban Alliance, a youth development nonprofit focused on helping low-income high school students in Washington, DC, Baltimore, Northern Virginia, Chicago, and Detroit.
Bhattarai arrived at St. John's in 2014, incentivized by the college's generous financial aid for international students. She was intrigued by the Great Books curriculum and the discussion-based learning model; she felt drawn to the explicit call to think deeper and engage with fundamental ideas. "Most high schoolers are not encouraged to think beyond what is given to them on the text, so that was definitely something that attracted me to St. John's," she says. "I was not disappointed!"
While at St. John's, Bhattarai completed two Hodson internships that helped crystallize her post-grad interests. The summer after sophomore year, she interned at a small nonprofit in DC, where she worked on fundraising and development tasks. The year after, she returned to Nepal as a nonprofit research assistant, working with high school girls to identify challenges to their educations. "I felt so at home, so comfortable with these people who had so much need," she says. "That's when I was like, 'Okay I think I'm good at this.'"
She graduated in 2018 and started digging through online job boards; when she found the Urban Alliance position, she was hooked. "I was like, 'if I don't get this, I don't know what I'll do,'" she says.
In August 2018, she started working as an Urban Alliance program coordinator.
Urban Alliance, in Bhattarai's words, is "a youth workforce development organization. Our mission is to provide resources to under-served youth for a successful post-high school life," primarily by helping students gain access to the professional world and "soft skills"—intangible qualities like critical thinking, adaptability, and problem-solving. "We do that mostly through our core program, which is our High School Internship Program," Bhattarai explains. "It's a year-long paid internship program for high school seniors in all five of our regions." Additionally, Urban Alliance students—including underclassmen—receive mentorship and professional development training to help them graduate high school, stay connected to the workforce, and achieve economic self-sufficiency. Furthermore, Urban Alliance students are paired with two caring adults to help them stay on track: a job-site mentor and a program coordinator.
As a program coordinator, Bhattarai facilitated professional development workshops for high school juniors, monitored their growth and academic success, and worked individually with each student to build post-graduation plans. Then, in October 2019, she became Urban Alliance's Northern Virginia program director; her work transitioned to establishing recruitment goals, managing relationships with external stakeholders, supporting program coordinators, and more. "[There's] a little less interaction with students," she says, "but [it's] always ensuring that we're providing high-quality programming to our students. We believe the students come first."
The work is often challenging—especially the constant quest for new job partners. In Bhattarai's current position, for example, she's had to combat the incorrect idea that hardship doesn't exist in Northern Virginia. But despite such obstacles, the payoff is constant. On a day-to-day basis, she says, "we see students growing so much, so rapidly. It's always wonderful to hear from their worksite mentors about how amazing a job they're doing."
A wider perspective offers even greater satisfaction. Under-served students face towering barriers in their journey to the workforce; oftentimes, schools don't have the capacity to teach soft skills, and businesses aren't investing in early workforce development to prepare the next generation of diverse talent for success. That's where Urban Alliance comes in. "I think we've been successful in bridging the soft skills gap," Bhattarai explains. "We help our young people really hone those skills and apply them at their job site—that's where we see our impact the most."
Bhattarai's work might seem somewhat distant from the Great Books Program, but she says her college experience directly informs her career. "My everyday workshops at two high schools in Fairfax County were discussion-based, just like St. John's," she notes. There were no seminar tables, but she would push the furniture aside, arrange the chairs in a circle, and start every workshop with an opening question. "It was a little harder [than I anticipated]," she admits. "I gained a whole other level of respect for our tutors."
Plus, there's a deeper connection. Soft skills like collaboration, composure, and adaptability—"all of these things I learned at St. John's," Bhattarai says. From encountering disparate beliefs in seminar to building relationships with classmates and tutors, Bhattarai believes St. John's prepares students for the workforce in a wholly unique and effective way. She references traits like critical thinking and problem-solving—crucial for employability, and a vital part of the college's curriculum. "St. John's is the perfect place to [learn those skills], and you end up doing it without even realizing."
And if you need proof, look no further than Bhattarai herself: the Johnnie who, since arriving from Nepal, has completed two internships, earned her undergraduate degree, and moved to a directorial role at Urban Alliance. The hours spent helping students in the Chancellor Johnson House have certainly paid off.