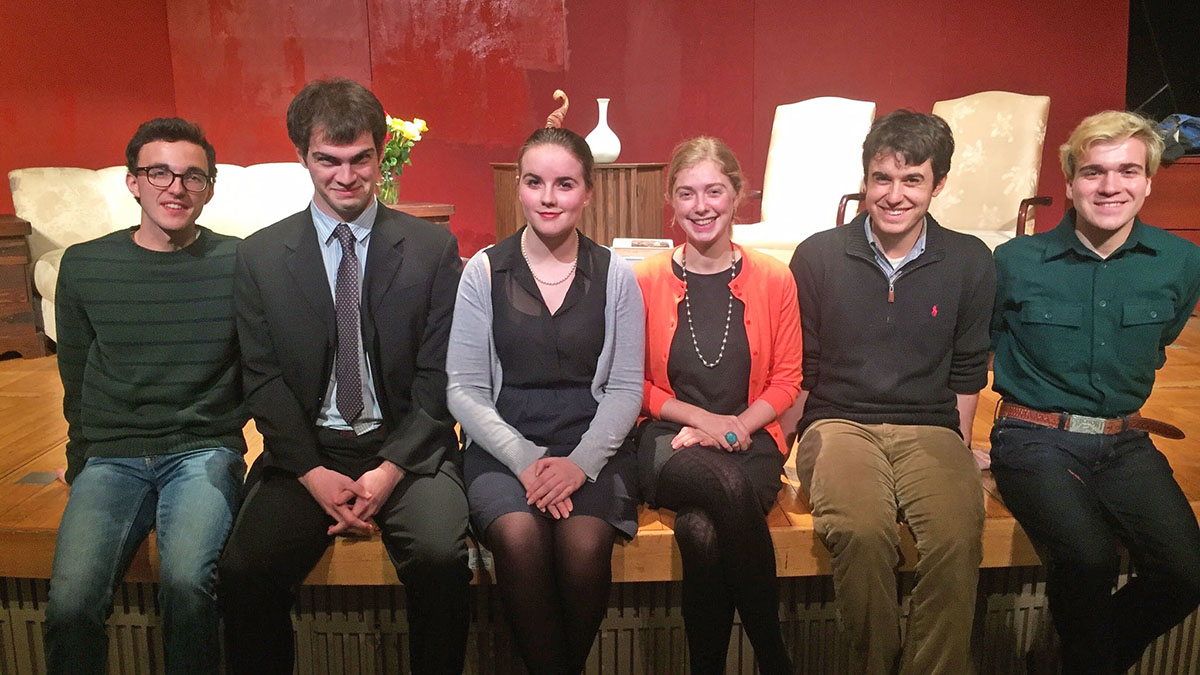 Collin Ziegler (A17) is a member of the King William Players, the St. John's student theater troupe in Annapolis. He is the director of God of Carnage, set to open December 11.
St. John's College: What is God of Carnage about?
Collin Ziegler: Two sets of parents meet; their kids have gotten into a fight at a playground, two 11-year-olds, so the parents meet to diplomatically talk about it and arrange for the kids to apologize and make amends. However, about 10-15 minutes in, it becomes clear that the parents are kids themselves and so they get into all sorts of fights and they start drinking and things get violent very quickly, and it becomes chaotic, and that's as much as I'm gong to say.
SJC: What is the most rewarding part of being a director?
CZ: Showing up to rehearsal with an idea of what you want to happen on the stage, and then as you work with the actors and actresses your idea changes and you realize that they're capable of bringing something even better to the performance. At the end of a rehearsal, I realize that what they've accomplished on the stage may be different than what I wanted but it's even better.
SJC: What should attendees, especially first-time play watchers, be looking for as they watch the performance?
CZ: With this play, it's not Shakespeare; it's not a difficult play to watch. When they come to this show, they should just take a deep breath and relax, because it is very funny. But the audience has to pay attention to every single line, because it moves really, really fast. It's only an hour and a half and lines fly by one another; each and every one has the potential to be so funny.
SJC: How did you get interested in theater?
CZ: In high school, I was a performer and I always wanted to be the person in front of the curtain. Only at the end of high school did I think that I might want to direct something. I directed one play as a student, and with every show I realized that all this hard work wasn't just to put on a show for a weekend or two weekends, but for some audience members it was something incredible. Knowing that I was capable of creating something that could really make someone laugh, that was so much fun.
SJC: How does your work here at St. John's in the classroom inform your work as a director?
CZ: I mentioned this collaborative work between the actors and me. I should take that a little bit further and say it's not just our performers and me as the director. I have an incredible assistant director, Alex Warren (A18), and production team. Arthur Kohn (A18) and Sarah Irving (A19) are both helping us put the set together and we get together and we have conversations that you might hear in a classroom. We all come together in creative ways to face a problem head on and to come up with something that we all agree will work.
God of Carnage will be performed in the Francis Scott Key Auditorium on December 11 and 12 at 8 p.m. The cast includes: Simone Louw (A18), Cyrus Multhauf (A18), Sarah Irving (A19), and Wesley Sonheim (A17). Assistant director is Alex Warren (A18). Technical director is Arthur Kohn (A18).
—Brady Lee (AGI14)