October 3, 2017 | By Tim Pratt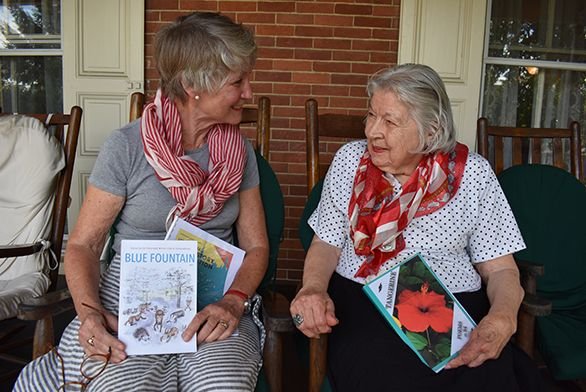 Mary Jean Bell (SFGI73) began writing poems nearly a century ago.
Now living in Kennett Square, Pennsylvania, Bell recently published her first book of poetry, Tangerine: Poems at 94.
The poems span decades and touch on a variety of topics, from her family—many of whom also attended St. John's—to nature, wildlife, history and religion, among other themes.
"It's changed her life," says daughter Constance Lindgreen (A66), "and changed her view of herself. She's always been a poet. Her work has been published before, but never in a collection that's hers alone. That she's able, at the age of 94, to say 'This is my book' is fantastic."
Bell's father, Lewis Caldwell, was a storyteller, she says, and her mother, Nellie, was "very expressive" in her own right.
So Bell began writing herself, first in the form of short stories, and eventually poetry. Her love of the written word continued through college and progressed into adulthood.
Bell writes under the pen name "Tangerine," a nickname given to her by her late husband, Jim. The couple met at Wilmington College in Ohio and married in 1942. World War II was ongoing, and Jim left for active service in the Coast Guard, returning to a series of jobs which led to a long career in aerospace.
Over the years, the couple had four children and moved more than two dozen times as Jim was stationed throughout the United States and Canada.
During that time, Bell decided she wanted to read the great books. She made a list that included Aristotle, Plato and books of the bible. She and Jim even led a great books group in Cincinnati, Ohio.
When it came time for the couple's children to attend college, Lindgreen, the oldest, headed to St. John's in Annapolis. Her late sister, Sarah (Bell) Kitchin (A67) followed, as did her brother, Sam.
"I was very proud of them," Bell says.
When the Bells' youngest child, Alice, was a teenager, the couple decided to enroll in the Graduate Institute at St. John's in Santa Fe.
"They were interested by what they had seen," Lindgreen says. "They were very impressed with how St. John's exemplified the great books program they'd read and discussed in their book club. They went out to Santa Fe and plunged right in."
Tutor emeritus Elliot Zuckerman was director of the Graduate Institute at the time and remembers Bell well. She was as "an active and well-known member of the community," Zuckerman says.
Later, when the couple retired to Florida, Bell helped found and served as president of Tomoka Poets in Volusia County, an organization that continues to thrive to this day.
Some of Bell's poems had been published elsewhere over the years, and she had edited community bulletins and other publications, but in Florida she came into her own. As president, she helped the Tomoka Poets publish two books of poems written by members: the first as part of a conservation effort for a local landmark; the second, Wildfire, was topical, as it dealt with a rash of wildfires that caused significant damage throughout the area. The group gave copies to firehouses and firefighters, Bell says, and donated proceeds to a firefighters' fund. Several of Bell's poems from Wildfire are included in Poems at 94.
Selecting poems to include in the book wasn't easy. Bell had decades of poems from which to choose.
"I wanted to put them all in, but I had to choose," she says. "Some of my best I lost. But I hope to find them again."
Still, she and her family are proud of the way the book turned out. She has done poetry readings at Friends Home in Kennett Square where she lives, at a local library, and even sold copies at a roadside stand during the town's annual mushroom festival.
Sitting in the parlor at Friends Home, Bell recites several poems, rarely glancing at the pages. She also recalls rhymes she composed for her children decades ago.
Yet, her work is not done. Bell still writes regularly and has big plans for the future.
"I'm already working on volume two," she says.