The Fine Art of Questioning
October 3, 2017 | By Eve Tolpa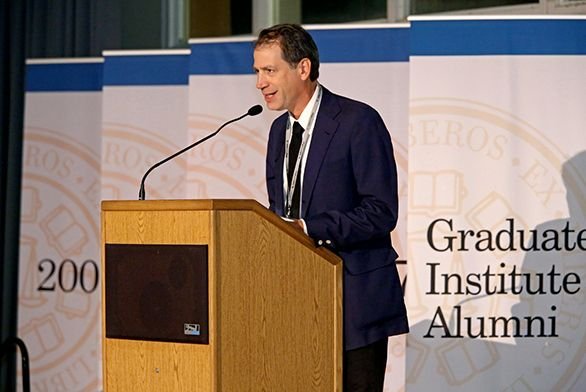 Since graduating from the Graduate Institute at St. John's College more than two decades ago, Jason Viseltear (SFGI96) has returned to the Santa Fe campus twice.
The first was in August 2015, when he delivered the GI's commencement address.
The second was during Homecoming weekend in 2017. On September 16 in Santa Fe, he accepted an Award of Merit for outstanding achievement in the field of lutherie, the making of stringed instruments. The award was presented by Adrian Trevisan (A84), past-president of the St. John's Alumni Association. Viseltear found both visits meaningful.
"My time there as a student opened something to me of the world, and I've tried to acknowledge that in all I've done since," he says.
When he enrolled in the GI, it was not with the intention of becoming a professional luthier. His educational path had taken him from Guilford, Connecticut to New York University, where he earned a bachelor's degree in sociology. Viseltear initially saw St. John's as a stepping stone to a PhD, but his course shifted.
In 1996, he opened his lower Manhattan studio, now called Viseltear Violins. There, with the help of an assistant, he builds about a dozen violins, violas, and cellos each year; employing maple wood for the backs, ribs, necks, and scrolls. Sometimes he uses willow wood for cellos, and all his instruments have spruce tops.
Viseltear is a member of the American Federation of Violin and Bow Makers, and his client base encompasses collectors, dealers, and musicians working at the highest levels. In addition to maintaining a catalog that includes instruments he creates for his own interest and education, he also makes customized pieces.
"Each instrument performs differently for the particular player and needs to be adjusted to suit them," he says. "I love talking with musicians about sounds and about music. It came from growing up playing music and being around musicians."
The change in focus from academia to lutherie did not represent a change in intellectual orientation for Viseltear.
"The things that drew me to violin-making also drew me to St. John's," he says, noting that he sees violins as analogous to texts—and, as such, they can be read.
He's fascinated by the way the evolution of fretless stringed instruments reflects the movement of technology and musicians from the Middle East and North Africa to Spain and, eventually, northern Italy, where violin-making took hold in Europe.
Violins, he explains, "are rare in their position as a Renaissance-era machine that benefitted from a rich moment in time when a number of ideas coalesced. It's a remarkable window into how people and ideas move. What gets left out, we don't really know, but we can see what ideas remain."
When he meets with fellow makers and researchers at the annual Oberlin Workshops, conversation often turns to the subject of "What would Stradivari do?" It's a reference to famed Italian luthier Antonio Stradivari.
Viseltear prefers to focus on situating the original text—in this case, a violin—in a present-day context.
"(Stradivari would) be fascinated to know what you are doing, because you're trying to compete with something that is in a more complex form now than when it left the workshop," he says.
In large part, it was his GI experience that gave him the ability to direct discussions toward fruitful lines of inquiry.
"When you ask a question, there are things that bring you deeper into what you do," he says. For some luthiers, that means looking at design and trying to create faithful physical replicas. Others focus on acoustics or Renaissance technology.
Viseltear is dedicated to discovering the right questions for himself—a complex process necessitating balance and careful attention to interrelation of issues. In those inquiries into craft, history, and intention, his overriding goal is not to resolve conflicts but to transform them. It's a concern that stems directly from his time at St. John's.
There, he says, "the conversations are not simple democracies. They are not sum-zero games. They are not majority rules. They are more like a consensus that this avenue of questioning should continue."