January 6, 2017 | By Tim Pratt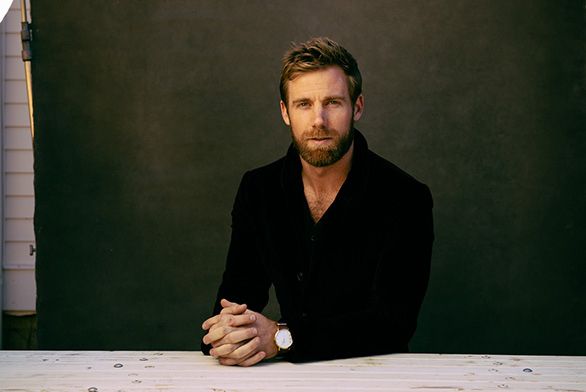 David Hysong has done a lot in his 29 years.
Student. Investigator. Coach. Entrepreneur.
Now, the former St. John's College Graduate Institute student is being recognized for his efforts to treat rare forms of cancer.
Forbes magazine has named Hysong (AGI11) a member of its "30 Under 30" Class of 2017.
The annual list honors "the brightest young entrepreneurs, breakout talents and change agents in 20 different sectors," according to the company's website. All of the people selected are under the age of 30.
Hysong is the founder and CEO of biotech company Shepherd Therapeutics. He was selected for his work in the healthcare sector and joined a class that includes a United Nations commissioner, postdoctoral fellows at the nation's best medical schools, and several healthcare company founders.
Hysong says he is "humbled" by the recognition.
"It's a great honor," he says.
Hysong founded Shepherd Therapeutics in 2015, not long after he was diagnosed with Adenoid Cystic Carcinoma—a rare and untreatable head-and-neck cancer. The company now has branches in Massachusetts and Tennessee, along with a dozen employees.
Shepherd researchers are working on developing treatments for seven rare forms of cancer, Hysong says. The company hopes to expand.
"Our long-term goal is the change the industry," he says. "We want to change the whole ecosystem."
Hysong wasn't a medical expert before he founded Shepherd. His foray into cancer therapy development came at the end of a journey that took him all over the world.
Hysong arrived at St. John's in Annapolis in 2009 after completing his undergraduate work in economics, philosophy, and French literature at Transylvania University in Kentucky. He says he enjoyed his time at St. John's, and believes the critical thinking and reading skills he acquired in Annapolis have benefitted him in his current endeavor.
After graduating in 2011, Hysong traveled the world and became a full-time volunteer investigator of child sex trafficking in Cambodia. He was working with a French organization, he says, and was in contact with the world's largest anti-slavery organization, International Justice Mission.
But a few months into his efforts, Hysong was run over by a bus while riding a dirt bike. He sustained serious injuries and returned to the U.S.
Hysong eventually recovered from his injuries and began other endeavors. He got a master's degree from Harvard Divinity School, and began a special forces officer training program. Hysong never got a chance to serve. The sickness he had been feeling for the previous six months was diagnosed as Adenoid Cystic Carcinoma.
Hysong began researching the disease and other rare forms of cancer. He learned of an abundance of treatments for more common forms, but a lack of options for those who suffer from rarer forms. It was then that the idea for Shepherd Therapeutics was born.
"The idea hit me like a lightning bolt," he says.
He partnered with co-founder Eugene Williams, whose son Hysong had coached, and the pair started building their company. It was incorporated January 1, 2016, and has continued to grow thanks to an infusion of funding.
"We're a company that is by patients, for patients," Hysong says.
Hysong says he is feeling "great" these days, but knows the survival rate for his form of cancer reduces with time. The five-year survival rate is 89 percent, the 10-year survival rate is 65 percent and the 15-year survival rate is about 40 percent.
"I'm in a race against time," Hysong says, "but hopefully I win."