January 6, 2017 | By Tim Pratt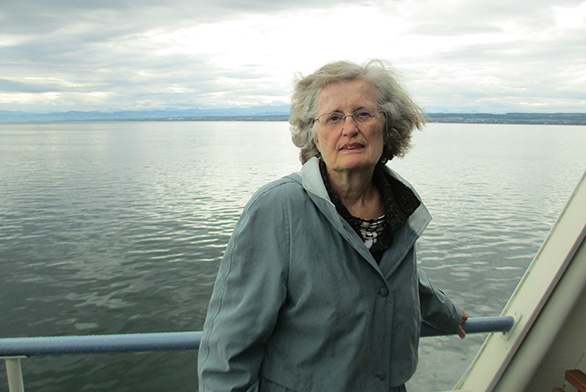 A St. John's College alumna is set to receive an award for her tireless fight against racism.
The Dr. Martin Luther King Jr. Committee of Maryland is set to honor Patience Schenck with its Peace Maker Award on January 13.
Schenck, a retired educator who for decades has written and spoken out about racial issues, is one of nearly a dozen people who will be honored during the 29th Annual Dr. Martin Luther King Jr. Awards Dinner in Glen Burnie.
"It's exciting," the Annapolis resident says. "I could name twenty other people that deserve it, but it's nice to have your work recognized."
Schenck graduated from St. John's in 1959. She says her experience at the college helped her formulate the views she has today.
"I learned human intelligence and human dignity aren't just limited to our own time or our own culture," she says. "It's worth digging to find out what somebody else has to offer."
While Schenck was at St. John's, she made a close friend who was African-American. This was during the Jim Crow era, when racial segregation was a way of life in much of the country, including Annapolis.
"I saw what it was like for her," Schenck says. "I began to see racism for the first time."
Schenck went on to get a Master's in Education at the University of Chicago, then taught on the city's west side. She began to better understand the cultural differences between herself and her African-American students, but it was only much later that she came to understand the hardships their families experienced because of housing and other types of discrimination.
Eventually, Schenck married, had children and moved back to Maryland. She returned to teaching, including several years at the independent Key School in Annapolis, before going to work for 18 years in continuing education programs for physicians in Washington, DC.
Following her retirement in 1999, she says she felt a "calling" to combat racism. She read dozens of books, and wanted to share her knowledge. Then she began to write.
"I wanted to write something for a white audience explaining what racism is, because we don't see it, we don't experience it," she says.
She founded the Working Group on Racism within Baltimore Yearly Meeting, the regional Quaker organization, and has held workshops at its annual gatherings. She has written extensively, including reviews of books on the topic of racism for a Quaker magazine.
Over the last few years, she became active with the Maryland Alliance for Justice Reform. With the Alliance, she has been working at the legislative level to bring about criminal justice reform in Maryland.
The Alliance was successful last year in initiating and supporting the Justice Reinvestment Act, which seeks to reduce Maryland's prison population and use the savings to provide for more effective treatment to offenders before, during and after incarceration.
This year, the Alliance is involved in a movement to adopt new pretrial bail rules in the criminal justice system.
Schenck also is a member of the Annapolis Human Relations Commission, a governmental body that addresses discrimination, and the Annapolis Friends Meeting.
"I've just tried to be an ally to the African-American community," she says.​