Johnnie Featured in CNN Town Hall
January 10, 2017 | By Tim Pratt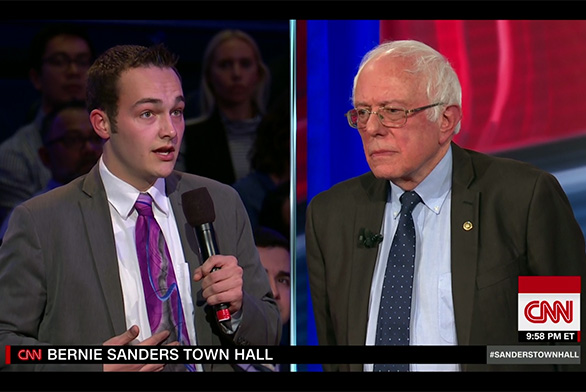 In front of a national audience, St. John's College student Sawyer Neale (A18) asked former Democratic presidential hopeful Sen. Bernie Sanders if he would run again for the nation's top office in 2020.
Sanders' answer?
"It is much too early to be to be talking about that."
Neale's question came January 9 during a CNN town hall event at George Washington University in Washington, DC. The event, moderated by CNN anchor Chris Cuomo, allowed members of the audience to question Sanders on issues ranging from health care, jobs, trade agreements and voting rights to immigration, prejudice, college costs and president-elect Donald Trump's proposed cabinet appointments.
Neale, who was the youngest delegate from Pennsylvania at the Democratic National Convention in 2016, drew applause when he asked Sanders about a potential run in 2020. He said Sanders "inspired" him and other young people.
"You motivated a generation of voters by talking about issues like health care, criminal justice and income inequality, and I'm afraid with Trump in the White House, with Republicans occupying the majority all around the country, that this is on the line," Neale said. "Progressives need someone to rally behind; liberals need somebody to rally behind if we want to accomplish these policy objectives."
"My question to you is whether you'll take up the mantle of your presidential campaign, of our political revolution, and run for president in 2020?"
While Sanders said it is too early to talk about a possible future presidential run, he gave Neale a lengthy response that touched on a variety of issues.
"What is important for us to be doing today is not worry about who is going to be a candidate for president four years (from now)—CNN likes that—but what we have got to worry about is how we deal with the issues that impact us today."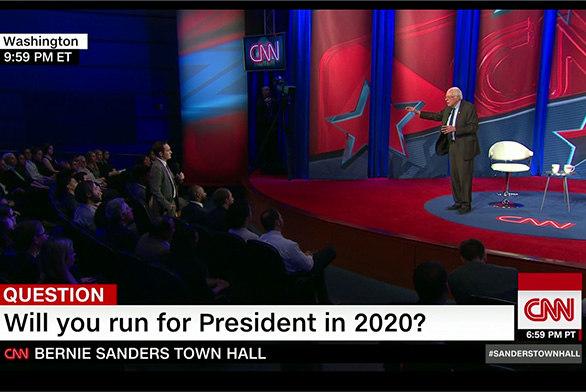 Sanders said one of the reasons he had some success and "surprised a lot of people" during the Democratic primary, in which he lost to eventual nominee Hillary Clinton, is that his campaign talked about issues that are important to people: income inequality, raising the minimum wage, rebuilding infrastructure and creating jobs.
"What I say all over the place is that 'Yes, of course there are differences in this country on issues like choice or in gay rights—and I support a woman's right to choose and I support gay rights—but on many economic issues you would be surprised at how many Americans hold the same views.'"
Sanders went on to speak out against tax breaks for the rich, and cuts to Medicare and Social Security. He said lobbyists and others have "incredible" influence on Republican leadership. He urged Neale and others to "keep the faith."
"We are making progress, but the main goal is not to worry about who is going to run for president; worry about all of you getting involved in the political process, honoring those people who fought and died for Democracy," Sanders said. "Respect people who disagree with you, but this is your country, and not just a handful of billionaires."