A World-Class Artist's Gift
January 10, 2017 | By Andrew Wice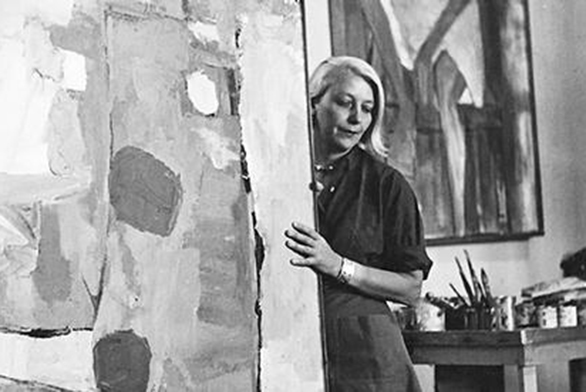 As any Santa Fe Johnnie knows, Canyon Road is home to Santa Fe's most renowned art galleries and is one of the closest, and most charming, walks from campus.
But Canyon Road's connections to St. John's don't end there, as a recent exhibit at Matthews Gallery on Canyon Road has powerfully illuminated. The subject? A 70-year retrospective of renowned Modernist painter Janet Lippincott, who left her estate to St. John's in 2007—an estate that included the Matthews Gallery collection.
In a recent Albuquerque Journal article, gallery owner Lawrence Matthews called Lippincott "one of the most influential women Modernists" to arrive on the Santa Fe scene in the 1950s. An anomaly in the male-dominated art scene in Santa Fe, Lippincott was an established iconoclast and pioneer of a distinctive Southwestern-style American Modernism. Arriving in Santa Fe in 1954, she proffered an Abstract Expressionism of idiosyncratic free-form patterns and an ornery disregard for conventions of shape or color. A devout feminist, she dismissed her 10-day marriage as lasting "10 days too long," recalls Karan Ruhlen, her longtime representative.
While her presence forever made a mark on the Southwestern art scene, her gift to St. John's made a mark on the college. But why, exactly, did she choose St. John's as her beneficiary? Although she regularly attended art exhibitions, lectures and special events at the college, Lippincott was not from the Southwest, did not formally matriculate or teach at St. John's, nor did she serve on the Board of Governors and Visitors.
Perhaps her gift speaks to the deep and longstanding relationship between the Santa Fe campus, which opened in 1964, and the revered artists who call the city and Canyon Road home. The proximity of the two has long contributed to their intellectual overlap, a vibrant cross-pollination which began in the volatile 1960s.
Robert Wolf (SF69), author of 2015's In Search Of America, recalls via email: "Friends and I established a dinner club at St. John's. … Most Fridays we had an invited guest from town join us. Alan Houser, the Apache sculptor, Tommy Macaione, and Hal West were among the artists I invited. Jack Schaefer, the author of Shane and Monte Walsh, came at least once … So did E. Horace Aiken, a remittance man and famous Santa Fe character who lived at La Fonda. He was a good painter, whose works hung in La Fonda's lobby for years."
Determined to establish respect for New Mexico's artistic and intellectual importance, Lippincott championed the artists of Canyon Road and the scholars of St. John's College. In doing so, she challenged the preconceptions of the world's expectations. As Ruhlen remembers, Lippincott would puckishly inquire about her art sales: "Have those tourists caught on to abstract art yet?"
While Lippincott maintained an irascible independence, her connection with the college deepened over the years, resulting in the gift of her extensive body of work, valued at roughly $350,000.
Her cousin, Alexandria Lippincott, never heard an explicit reason for why St. John's College was the beneficiary, explaining, "I really could only speculate as to why: that she admired the institution, she came from a family that valued education and literature, that she herself was very well-read, wrote poems and considered becoming a poet before setting her course to painting. She thought deeply about life and I suspect she saw in St. John's—a place that is both unconventional, yet rooted in the classics—a rumination on her own internal complexity and life experience."
That life experience shaped, and in turn was shaped by, Canyon Road and St. John's College. Wolf concurs: "St. John's was an exciting place in the '60s, with an interesting choice of students and newly minted faculty. Perhaps half the tutors had MAs, not PhDs, which meant they were not channeled into the ruts of academe. The campus was new and everything had the feeling of freshness."
Janet Lippincott's time at the Santa Fe campus of St. John's College still continues today, 10 years after her death. To experience her legacy, visit Levan Hall, which displays pieces from the institution's permanent collection of her work.