Rory Quinn Johnson (A22): Studying Art the Old Masters' Way
January 12, 2021 | By Eve Tolpa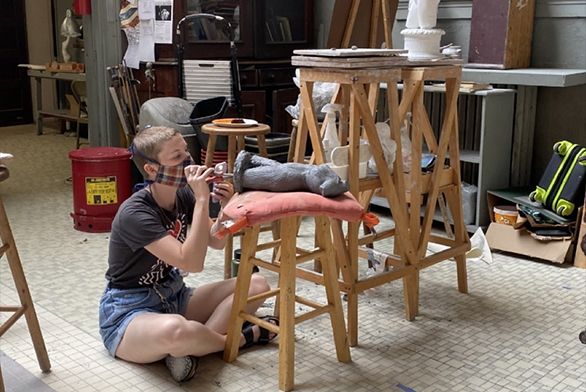 For Rory Quinn Johnson (A22), immersion in a highly specialized arts course "changed the way I approach my visual world."
Johnson spent summer 2020 on a Pathways Fellowship at the Schuler School of Fine Arts in Baltimore. Pathways Fellowships offer Johnnies the chance to build bridges between their St. John's education and graduate programs or careers that require prerequisites or special courses; for Johnson, Schuler's six-week session helped her expand upon an interest she had only just begun to pursue via art classes with instructor Perry Carsley at St. John's.
"Before the summer program, I was unsure if I could make a career out of sculpture," Johnson says. "Having completed the summer program, [along with] learning from Mr. Carlsey, I am inspired to pursue a deeper relationship to art."
A non-accredited atelier-style school, Schuler is distinctive for its four-year interdisciplinary curriculum, which trains aspiring artists in the methods of the Old Masters. Just as St. John's establishes a liberal arts education from the ground up, Schuler's curriculum rests on time-tested traditional skills: drawing, painting, and classical sculpture techniques.
"St. John's prepared me for Schuler by engraining within my learning process the value of starting at the beginning," says Johnson. "Whether it is starting with Theophrastus or Euclid, we gain a sense of rebuilding our academic knowledge from the foundation."
Similarly, Schuler reinforces an understanding of the interconnected relationships among artistic disciplines—not just in theory but in practice. It's a method Johnson describes as "intersectional," noting: "you cannot study one without the others."
And despite the logistical challenges of 2020, she did study each discipline, via both live and virtual instruction. "My program was mostly in person, doing plein air classes and sculpture in the studio," Johnson recalls. "Figure drawing and oil painting were online. The online aspect of figure drawing and oil painting was limiting, but given the current situation, I am grateful for the opportunity and safety I was afforded."
Not only did Johnson's experience solidify her artistic goals; it also helped her recalibrate her expectations of herself.
"I learned to be okay with starting from the beginning, even if the others in the class were miles ahead. I even had to learn how to hold all the tools. I slowly developed an ability to balance my natural talent with the technical side. Studying art through the Old Masters is incredibly hard. There is nothing easy about it. You must retrain your eye, the relationship between your mind and hand, and your mentality," she says.
The certificate of completion Johnson earned from Schuler is both a testament to her hard work and an indicator of things to come. She came away from the program with a stronger overall commitment to an artistic vocational path, as well as firsthand knowledge of the challenges and rewards that accompany it.
Plus, while Johnson discovered that she loves to sculpt—she says sculpture is "what I want to study for as long as I am able"—the approach she took to her Schuler education transcended subject matter.
"The most important thing I was told during the course was that we (the students) do not come here to leave with one shiny finished product," she says. "We come here to leave with hundreds of attempts and a wealth of knowledge to apply from now on. Every great artist is sitting on a pile of thousands of failures."
"After hearing these things," Johnson adds, "I was excited to fail and take risks with the goal of learning."