Salomon Cordova (SF22) on Public Policy and the Thoughtful Career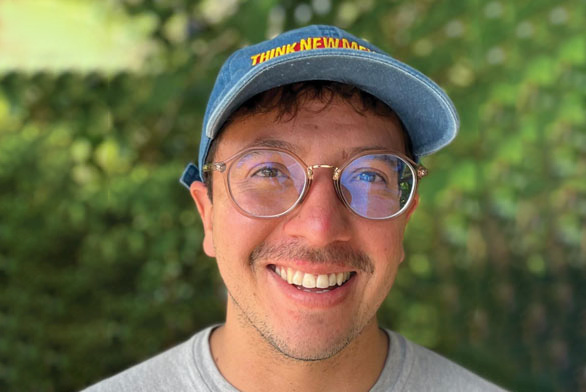 October 20, 2022 | By Aayush Thapa (SF22)
The college prides itself on being a kind of "cosmo-polity," with more than 10 percent of its freshmen from outside the United States and a program of internships and fellowships that span the globe. This international perspective enriches the classrooms, seminars, and the community as a whole. In addition, like all significant institutions, St. John's inevitably has an impact on the communities around it. Many students and alums are passionate about local politics and they care about being good citizens.
Salomon Cordova (SF22), a native New Mexican, has always been interested in social and political issues native to his state—his St. John's education has served as an extension of this concern and a force driving him to pursue a career in public policy. How does an education seemingly all about theoretical contemplation, philosophy, poetry, and music lend itself to thinking concretely about local policy issues? For Cordova, his recent experience at a local think tank makes it all apparent.
He recently completed his internship with Think New Mexico and speaks highly of his experiences and the work done by the organization. "The primary project when I was there was a complex proposal on educational reform policy," he says. "This is a sector in New Mexico that sorely needs reforming. We worked on putting together a multi-faceted and thorough proposal recommending various levels of reform. We researched the central but oft-neglected areas of the sector: testing protocols and criteria, reconsolidating school districts, etc. We are trying to revitalize and properly incentivize involvement in the administration and operation side of schools." As a Johnnie, Cordova considers it his heritage to give thought to reforming and making robust basic education for New Mexicans.
"Individually, I was doing a lot of research, making a lot of phone calls," he continues. "I was calling principals, board members, especially of schools that are doing it right. For example, Albuquerque Institute for Mathematics and Science is producing really good results in terms of its programming. Being a results-based organization, the only way to go is to learn from these institutions." Cordova found the experience encouraging, as he found himself getting more invested in the overall philosophy of public policy, keeping in mind concepts like regeneration and sustainability.
Cordova underscores that this move from liberal education to public policy might be natural, but it is not necessary. "When I got to senior year, I was struggling with thinking about what life would look like after graduation," he says. "I knew I was interested in social development and in giving back, but I was not sure what the field for me was." So, he turned to the Office of Personal and Professional Development (OPPD) for counsel. When the OPPD helped him build a professional resume and start thinking about career opportunities, he decided to start working with Charlie Bergman and Piér Quintana from the OPPD to help him hone his options.
"Charlie, especially, helped me see for the first time that there were fields that exist that would not only suit me and my interest but would have made me an attractive candidate because of my unique background. There was an influx of confidence after this. I started working with Piér and doing specific research for an internship, which is how I got linked with Think New Mexico. I am extremely grateful to the office because they helped affect an attitude shift with how I was approaching my opportunities. I felt like I held the cards and would be valuable to a lot of environments," he says.
Animated by his recent internship, Cordova is currently looking into graduate school opportunities in public policy with a focus on sustainable and regenerative practices. "The clicking point for me was when I realized that the field, public policy, is extremely creative," he says. Cordova is also an artist who wrote his senior essay on the poet William Blake, accompanied by his original artwork inspired by Blake.
"Liberal education has as its core civic education; we learn what it means to be a good citizen. But this involvement with the polity does not occur on the level of analytic thinking alone. St. John's makes you a questioning and critical thinker, but it also gives you an appreciation for the beautiful things, for art and music especially. It marries your native civic-mindedness with the ability to creatively and artistically consider local and political issues," Cordova says.
"The college promotes excellence by the careful cultivation of critical and analytical thinking skills," he adds. "One comes away with tools to think about broad and difficult issues. This is coupled with the humanitarian concern and a sense of community and brotherhood that is focused on a reading of the great books and through the close-knit community on campus. One becomes animated and spirited through liberal education, and especially through beautiful things, through art and culture. All this makes the whole field of public policy ripe for Johnnies who are moved by their concern for others in the community."