Santa Fe Graduate Institute Alum Makes the Leap from Gallery to Science Institute
February 25, 2020 | By Scott Hannan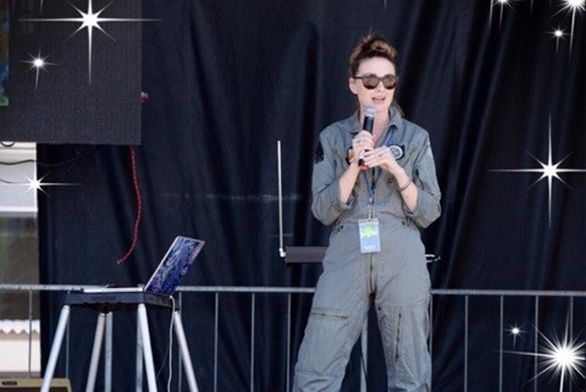 The alumni of St. John's College can be found in a nearly infinite range of professional fields across the country, from New York City and Washington, DC to Minnesota and San Francisco. Connecting the vast constellation of current students and alumni are people like Caitlin McShea (SFGI11)—a Johnnie whose career path has been anything but dull.
After graduating with a Master of Arts in Liberal Arts degree from St. John's College in Santa Fe, McShea worked as a director for contemporary art galleries on Santa Fe's prestigious Canyon Road before moving on to the Santa Fe Institute, a nonprofit research and education center exploring the frontiers of complex systems science. "I manage our public programming, including our free community lecture series, and the InterPlanetary Festival. I also curate changing art exhibitions on campus featuring local and national artists," McShea explains.
The journey from art gallery director to science institute public programs manager may seem like a big leap, especially given the perceived divide between art and science. But for Johnnies, seemingly disparate fields are eagerly bridged. Known for its strong commitment to collaborative inquiry, the St. John's Program embodies the idea that the study of one subject will inform the study of another. McShea concurs: "It's really nice to work in a science research setting where I can reignite the light of my background in biology that was semi-snuffed for a while, back when I dove headfirst into the humanities." Her cross-disciplinary study extends beyond her professional life. Since graduating from St. John's, McShea has pursued a passion for cooking, enrolling in the Culinary Academy at Santa Fe Community College, and she's currently dabbling in painting and botanical illustration.
Johnnies often find themselves on distinct paths in unique places, with careers in fields ranging from law and finance to winemaking and film. But for many, the origin story is the same: they met an alum who saw in them a familiar love of learning. This was certainly the case for McShea.
"I went to Southwestern University in Georgetown, Texas, for a degree in biology and philosophy. My favorite professor there, Phil Hopkins, had done the GI program in Santa Fe himself and highly recommended it to me. His endorsement was extremely meaningful, so I applied without even visiting and never looked back."
Now, as a Santa Fe resident, McShea has embraced the opportunity to maintain connections with St. John's. She regularly attends the Dean's Lecture and Concert Series on Friday nights, has befriended many of her former tutors, and is now a director-at-large for the Alumni Association Board. "I remain connected to St. John's because I think the time I spent in the Liberal Arts Program truly made me a better person," she says. "I came to SJC straight out of college, when I was a firmly opinionated young woman who was more ready to challenge than truly participate. Now, in addition to really being able to read something carefully, thoughtfully, and I would say somewhat 'mindedly,' I'm also much more open to interpretations of those texts that aren't my own." In her view, that's a beneficial quality that extends far beyond the written word. "Few institutions foster such honest engagement and communication. I think it's especially important now, and I hope that by staying involved I can point more people to the college."
This story was adapted from an article on Colloquy @ SJC, the Blog of the Graduate Institute at St. John's College.