Santa Fe Johnnies Win Projects for Peace Fellowship
April 28, 2021 | By Eve Tolpa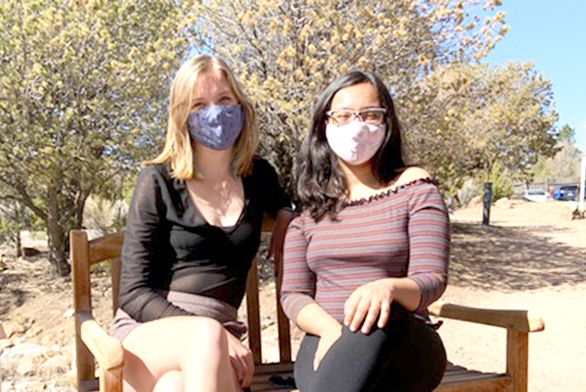 In early March, Simran Thapa (SF22) and Bryn Frye-Mason (SF23) were awarded a Projects for Peace fellowship. Founded in 2007 by the late philanthropist Kathryn W. Davis, the initiative invites students at Davis United World College Scholars Program partner schools—a group that includes St. John's—to formulate a project that promotes peace anywhere in the world.
The two Johnnies' winning proposal, "Securing Peace in Bardiya, Nepal: Freeing Women for Civic Engagement," links improvements in maternal health with women's abilities to participate fully in their communities, simultaneously laying out a plan for achieving both.
Bardiya has suffered extreme poverty and discrimination in the wake of Nepal's 10-year civil war, Thapa and Frye-Mason say. The region was "formerly a hotspot for insurgency, [and] even though the insurgency resulted in the Maoist party taking over the government, the party has not made good on its promises of economic and social equality."
They contend that the civic participation of women is essential to securing a durable peace in Bardiya: "Because women play a vital role in preserving peace by holding dialogue across ethnic and caste boundaries through shared female experiences like motherhood, their voices must be heard. When they are heard, the likelihood of a return to violence is small because of their unique ability to build bridges where men have failed."
To implement their proposal, Thapa and Frye-Mason are partnering with the Women Security Pressure Group (WSPG), a Nepalese organization founded by Thapa's grandmother that works to increase literacy rates and political engagement among women. From WSPG, Thapa and Frye-Mason learned that the biggest obstacle to the group's stated aims is poor health.
With that in mind, the two Johnnies are creating medical kits that will be delivered to five villages in Bardiya, identified with the assistance of WSPG. The project plan also involves hiring a local WSPG chapter member to help distribute those kits and establish a health co-op "for women to pool money to help each other buy necessities for better health," Thapa says.
The kits themselves, which aim to mitigate eclampsia and other risks of pregnancy, are being designed through a collaboration with La Familia Medical Center in Las Lunas, New Mexico, and assembled in Nepal.
St. John's was instrumental in helping forge that relationship, says Frye-Mason, who hails from New Mexico herself. "Upon realizing the need for professional medical support on this project, we reached out to Assistant Dean Mr. Golluber, asking about any spouses of tutors that worked in healthcare," she explains. "From these contacts and Mr. Golluber's own connections, we were given introductions."
The other primary pillar of the project is the conception and implementation of a women's citizenship curriculum, also a collaborative effort. During the summer, Thapa and Frye-Mason say they "will work with the WSPG to create a curriculum that addresses the boundaries women in Nepal face. Our goal is to support WSPG in showing mothers how they can participate in the political process as healthy, engaged citizens advocating for peace."
Thapa and Frye-Mason already have some experience mobilizing around women's issues. Last summer they started a campus-wide peer support group to address consent and Title IX concerns. "We're constantly having difficult conversations about being women and finding ways to create healing spaces and educational experiences, so we had a sense of what working on a project together would look like," says Thapa.
The project also encompasses several multidisciplinary aspects, and for Frye-Mason, women's health is the most compelling. Her passion for the subject took root during her first year at St. John's.
"I started having honest conversations with my female peers about how our bodies work," she says. "It seemed as if every person I talked to had a different story about women's health. [It] showed me the misunderstanding and lack of knowledge we had. This realization has inspired me to consider a career in medicine and women's health research."
For Thapa, the most exciting element of the project is the creation of the co-op. As an aspiring law student, she's interested in the ways the justice system can be employed to "identify and uproot exploitative practices."
By introducing women to the concept of microfinancing as a way of covering each other's health expenses, she says, "we're helping [them] and their families find an alternative to the exploitative practice of bonded labor in times of financial need."
As she sees it, the summer initiative in Bardiya is a project 20 years in the making. That's because it was her grandmother's longtime advocacy for women's rights that ultimately led to Thapa's own involvement with the St. John's Women's Empowerment Collective—which is where she and Frye-Mason met.
The pair have also been selected for a donation by Louise Yakey, President of American Association of University Women Santa Fe (AAUW SF) and the Director of Mentoring Kids Works NM. Yakey, who is also the mother of Amalia Traino (SF24), chose to honor Thapa and Frye-Mason with a gift of $500 each for their dedication to women's issues.
Thapa and Frye-Mason are energized by all the support they've received. "We are both extremely excited to have the opportunity to implement this project on the ground in Nepal. We will be working hands-on with every aspect," Thapa says, adding: "This project wouldn't have happened without our friendship."