To the Science Lab, With Love
October 23, 2017 | By Anne Kniggendorf (SF97)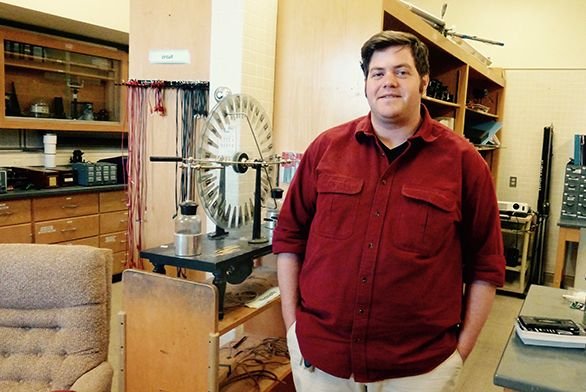 St. John's College tutor emeritus Bill Donahue retired last year, but is still very much involved with the college. One of his projects is trying to nail down a photon quantum mechanics experiment.
And aside from pulling together the experiment, Donahue has also been leading faculty study groups on Kepler's Astronomia Nova in anticipation of introducing his complete, and recently translated, edition into sophomore mathematics.
Furthermore, he's signed on to help Akiva Katz (SF18) with his new science club chartered by student government. The club is already drawing members of the new freshman class as well as Graduate Institute students, all united in pursuing "their own independent and group interests in various fields of science," Katz says.
Katz (SF18) has long admired Donahue's dedication to the college, its students, and science. So, in the months leading up to Donahue's retirement in 2016, Katz reached out to past and present college lab assistants to ask for donations that could be pooled in a fund for Donahue to use for the labs at his discretion.
Donahue says that as far as he knows, no one had ever led an appeal specifically ear-marked for the labs. He says he appreciated the gift of $800 Katz presented to him and is just now finalizing his shopping list.
Katz, who's in his third year as a lab assistant, wanted to recognize Donahue's contributions as director of labs from 2005 to 2016.
With some help from Margaret Mertz, director of major and planned gifts, Katz established a fund and started writing letters and emails to lab assistants going back to about 2005. He was pleased to receive many donations and even more pleased when alumni included favorite memories of working with Donahue.
"It not only reinforced my personal feeling that he had a big impact on the college, specifically on the lab community," Katz says, "but also that he made a lot of people's lives better individually."
Donahue says that lab costs vary year by year, and generally expenses are paid out of the college's general operating fund or by a grant from a private organization; he's thinking of the lab assistants' contributions as supplemental.
Students who have joined Katz's science club have expressed a range of interests in the fields of astronomy, biology, microbiology, anatomy, and improving upon the potato cannon.
"I thought it would be really fun to have some student funding for something I also think is enjoyable and recreational, but also maybe develops people's interest in the sciences," Katz says.
His hope is that faculty members, like Donahue, as well as graduate students with degrees in science, will share their knowledge with members of the club.
Katz says it's been really exciting working with Donahue who has "such breadth of knowledge and enthusiasm for what we do here. I think that's the most exciting part about working with any of our faculty is that they're here because, like the students, they want to be."