Search and Rescue Team Aces Reaccreditation
May 18, 2017 | By Andrew Wice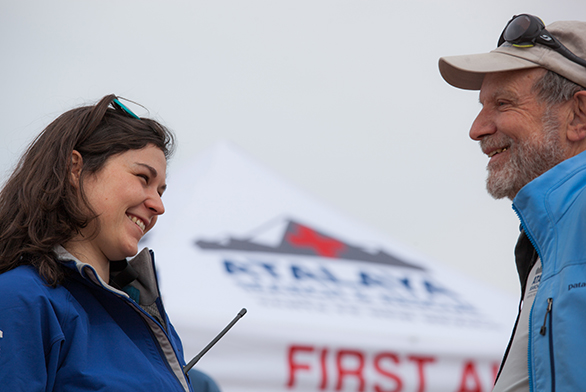 It was a perfect spring day on the Santa Fe campus of St. John's College.
The sun was out and students lounged outside, enjoying the welcome heat and blue skies.
Across campus, at the Student Activity Center, several Johnnies zipped on warm gear in preparation for something quite different: a grueling, two-day, technical rescue accreditation process with the international Mountain Rescue Association (MRA).
As volunteer members of the Atalaya Search and Rescue (ASAR) team, they belong to one of two MRA-accredited rescue teams in the state of New Mexico. The team includes students, alumni and retired tutors, along with many members from outside the St. John's community.
ASAR originated in 1972 as a college activity and is now an independent organization. The St. John's campus remains its base camp, which is ideally situated for rescue training. Above the campus, the Sangre de Cristo Mountains tower, rising just over 10,000 feet.
The reaccreditation process, which happens every five years, ended in success this year and garnered the team a gold standard endorsement in all five categories: high angle (cliff) rescue, avalanche rescue, wilderness rescue, scree (steep slope) evacuation and snow evacuation.
It is a welcome validation of the hard and dangerous work: rappelling down brittle faces of granite cliffs and marching through snowdrifts takes a particular type of person.
Lauren Brubaker, a retired St. John's tutor and longstanding member of the ASAR team, muses on the merits of combining cerebral and corporal vigor.
"SJC is largely concerned with intellectual virtues, and ASAR with physical ones," Brubaker says. "I myself need to participate in both kinds of activities or I am not happy."
Mastering all aspects of technical rescue requires enormous dedication, and the number of hours that members volunteer speaks to the rewards of the task itself. Members often remain on the team, year after year, safeguarding adventurers from the dangers that northern New Mexico's four seasons of outdoor recreation bring.
Original member and tutor emeritus William Donahue has participated in many successful rescues. When locating lost hikers, he explains, searchers ask questions, piece together the clues that emerge and follow a clear plan of action.
"Where were they last seen? What did they plan to do? Do we know anything about their strengths and capabilities? We talk to as many people as we can. Meanwhile, there are certain things you do right away. You've got two or three most likely routes, so you send hasty teams out on those routes, have them sweep the trails, make a lot of noise."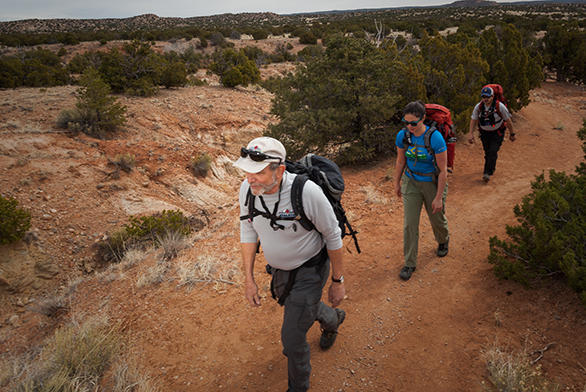 Rock climbers create their own dangerous equation: As they gain experience and confidence, they can get themselves into precarious positions. These high angle cliff rescues—dangerous, dramatic and, thankfully, rare—require the extensive advanced technical training that sets the ASAR team apart.
One positive development in the world of search and rescue is the prevalence of cell phones, which can often help rescuers locate a lost or injured person.
On the flip side, cell phones have also provided a sense of comfort to people wandering into unfamiliar territory without preparation. Yet when cell phones and GPS systems do fail, they can leave people in perilous conditions.
With a busy summer season ahead, the Atalaya Search and Rescue team will be ready.