A Pipeline from Great Books to Great Hearts
May 17, 2017 | By Tim Pratt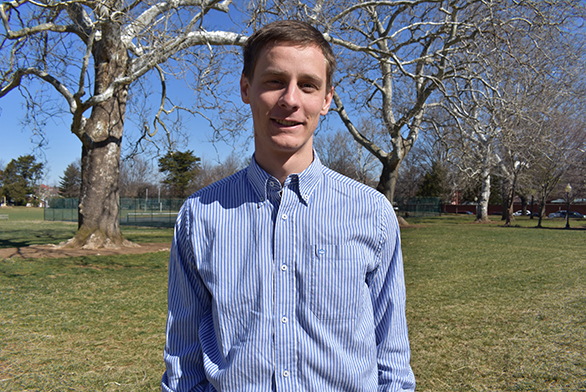 At Great Hearts Academies, they're looking for a certain type of teacher.
It's not necessarily about their college major, says Kiann Mapes, vice president of faculty talent at Great Hearts, nor is it about how many years they have spent in the classroom.
"More important than all of those things is who they are," Mapes says. "What are the things they love? What virtues do they possess? What particular inclinations toward lifelong learning do they possess?"
The pursuit of lifelong learners has created a pipeline between St. John's College and Great Hearts—a group of nearly 30 schools in Arizona and Texas. The schools, with curriculum focused on the great books of Western civilization, serve approximately 14,000 students in kindergarten through 12th grade.
As of this spring, 76 St. John's graduates from Annapolis and Santa Fe were working at Great Hearts schools, doing everything from teaching and recruiting to working at the administrative level. That number is set to increase as at least 11 St. John's graduates have accepted offers to begin working there this fall.
"Obviously the education that they've had in the great books (at St. John's) and the familiarity they have with the whole of Western tradition is essential and has proven to be very valuable," Mapes says. "That is something we've seen reveal itself in really important ways with St. John's graduates and why we continue to recruit St. John's graduates."
Scott Chevaillier, who came to St. John's in Santa Fe as a January Freshman in 2014 and graduated this spring from the Annapolis campus, will be joining the Great Hearts ranks in the coming months. The Tulsa, Oklahoma, native is set to begin training in July, and start teaching at Great Hearts Northern Oaks in San Antonio, Texas, this fall.
Chevaillier was thinking about becoming a teacher when he decided to attend St. John's. He then spent a year-and-a-half in Santa Fe before transferring to the Annapolis campus.
Last year, a St. John's alumnus and former Great Hearts teacher came to the Annapolis campus to speak about his work there. That discussion helped Chevaillier realize Great Hearts would be a good fit for him.
In January, Chevaillier interviewed for a teaching job at Great Hearts and was asked to lead a class through a lesson on transitive verbs.
"I didn't know what to expect," Chevaillier says, "so I went in there and just kind of gave them the old 'St. John's one-two.' They really liked the way I approached the students with questions and was learning alongside them."
Chevaillier says he is excited about the opportunity ahead, and was relieved to have a job lined up before he graduated this spring.
"I'm excited about the faculty there," Chevaillier says. "They're all young and love the great books. They do seminars with each other, they read books together. I'm hoping to learn quite a bit myself."
Some St. John's graduates like to teach at the elementary school level so they can "lay the foundation" for students to study the classics, Mapes says. Other St. John's graduates prefer to teach at the high school level, where students read and discuss some of the same things students do at St. John's.
Students read unabridged texts and have seminars. They study history and philosophy. Fine arts are stressed, Mapes says, and the math and science components of the curriculum are "rigorous."
"I think their ideal teacher there is a St. John's student," Chevaillier says. "I think it's cool that there's a St. John's high school experience. I think I would have benefitted from something like that."