On Quantum Mechanics and Aristotle
May 15, 2017 | By Tim Pratt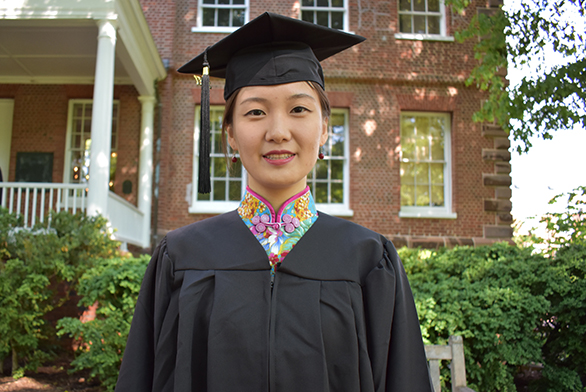 Sophy Ma has a passion for science.
The recent St. John's College graduate knew since her freshman year she would one day write her senior essay on physics. She says it's her favorite subject.
Four years later, Ma followed through on her plan and won the senior essay prize for her work: "The Probability Function in Quantum Mechanics: A Formal Cause Beyond Space and Time." Honorable mention went to fellow graduate Ti Hsu, whose essay was titled "Must Eros be Winged? On Love in Plato's Phaedrus."
The pair was honored in front of friends and family at Commencement in Annapolis on May 14.
"I'm very honored to receive the senior essay prize this year," Ma says. "I worked very hard, but had so much fun during the writing period."
In her essay, Ma argued for the "striking similarity" between the probability function in quantum physics and the idea of formal cause in Aristotelian philosophy.
"It is so exciting to see how the theories in modern physics and ideas in ancient Greek philosophy can be brought together as one," she says.
Seniors were given four weeks at the start of the spring semester to write their essays. A committee of tutors assigned to each student then nominated essays they deemed prize-worthy to the Prize Committee, appointed by the college president, to select the winner from 10 finalists.
"This was very difficult as all the essays were excellent," says tutor David Townsend, who chaired the Prize Committee. "We came to a consensus based on the depth, breadth, organization, style, logic, imagination and wonder expressed in Ms. Ma's essay. It is a terrific piece of work."
For Ma, the journey from her home country of China to senior essay winner at St. John's has been a busy one.
Ma says she stumbled across the St. John's website one day in high school. There, she saw the great books aligned on the homepage.
"I was immediately attracted to the idea that I could encounter those Program authors at St. John's," she says.
During her freshman year, Ma's interest in science expanded to include an interest in law. She was reading Herodotus at the time, and was intrigued by a statement that said "custom is the king of all." She started wondering why law is so integral to human society, and what would happen if there was no law. It became the topic of her freshman essay.
Following Ma's freshman year, she completed a Hodson Internship in a molecular biology laboratory in China.
As a sophomore, Ma worked as a lab assistant, served on the Student Committee on Instruction and was archon of the Chinese tea club. She followed that up with a Pathways Fellowship over the summer in Germany, where she took a German language course.
Ma says she was exploring her many interests—science, law, and language—to help determine what she wanted to do after graduation.
As a junior, Ma served as a music assistant, among her other activities. She plays the piano and the Chinese harp.
After her junior year, she used a Pathways fellowship to participate in a pre-law program at Cornell University. It was Ma's experience at Cornell that helped her decide to pursue a career in law.
As a senior, Ma worked as a math assistant, worked hard on her senior essay—studying Heisenberg, Aristotle and Leibniz extensively—and applying to law school.
Ma was accepted to Cornell Law School and will head there this fall. She will study law in technology and intellectual property.
"I think studying law can help me combine both my interests in science and law," she says.
Ma says she is ready to move on to the next stage in her life. She hopes to practice law in the United States after law school, with a goal of one day becoming a judge or practicing in the public sector.
Yet, she says she will miss St. John's, where she was able to explore her different interests, and the friends she made.
"St. John's is very meaningful to me," she says with a smile. "I feel like my life has changed here."
Read Ma's senior essay in the SJC Digital Archives: "The Probability Function in Quantum Mechanics: A Formal Cause Beyond Space and Time."