St. John's College Graduates Prepare for the Future
May 14, 2017 | By Tim Pratt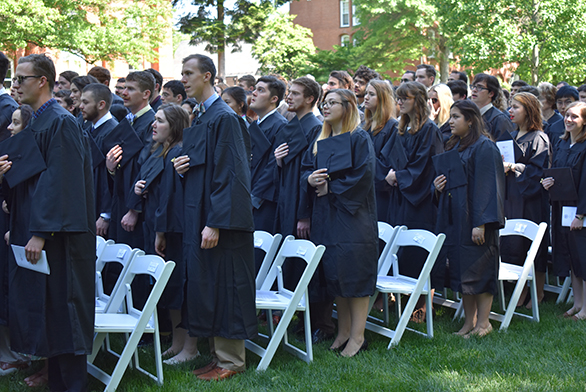 They came to Annapolis from all over the world.
China. Ukraine. Jamaica. Nepal.
Some plan to become become teachers and journalists; others plan to become scientists, lawyers or work in the political arena.
On May 14, more than 100 of them graduated from St. John's College, the great books of Western civilization providing the foundation for their futures.
"It is now your turn to take the gift of your education out into the world, which needs the open, thoughtful, loving stewards, critics and visionaries you are capable of being," said President Chris Nelson, who is retiring in June after 26 years and delivered the Commencement address. "May you fare well and find happiness in this endeavor."
Commencement exercises drew family, friends and fellow students to the front lawn on campus to celebrate with the graduates. They cheered, took photos, exchanged hugs and congratulated their Johnnies enthusiastically.
Ninety-three students received their bachelor of arts degree. Those students hailed from 25 states and Washington, D.C., along with 14 foreign countries.
Seventeen students received their master of arts degree from the Graduate Institute. Those students represented nine states and Washington, D.C., along with Ukraine.
For Casey Collier, who received his bachelor of arts degree, the day was bittersweet. He has a journalism job lined up at a newspaper in his home state of Louisiana, but is sad to leave St. John's.
"I'm going to miss this place," he said.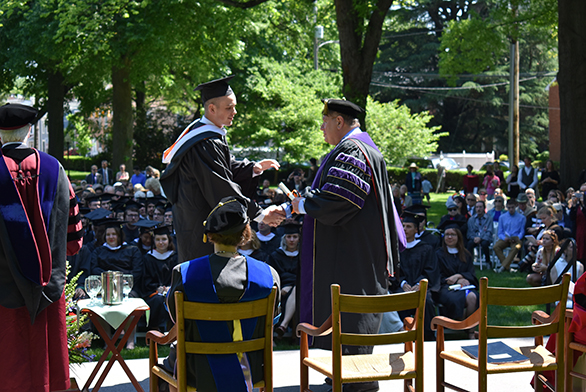 Peter Annee, of Sparta, New Jersey, said it feels "incredible" to graduate. He plans to take a year off to prepare for and take the LSAT, then apply to law school. He is one of several graduates who plan to attend law school, including Sophy Ma, who won the senior essay prize.
Maria Solyga, of Warsaw, Poland, celebrated with friend Lucinda Wright after the ceremony was over. Solyga plans to become an English teacher.
"It feels good (to graduate)," she said.
Donald Antenen, of Cincinnati, Ohio, celebrated the completion of his graduate degree with his family, including wife, Erin, and daughter, Hazel, who is 21 weeks old. The group was all smiles as fellow graduates posed for photos around them.
"It's wonderful," Erin Antenen said with a smile. "I'm so proud of him."