Searching for Something Deeper
November 8, 2016 | By Tim Pratt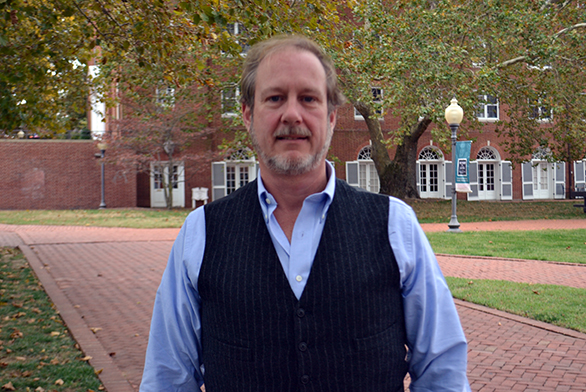 Retired U.S. Army Maj. Jeff Conover recalls a time when he was snorkeling in the Red Sea.
The New Jersey native was enjoying his time in the water, observing the fish and the coral, when he saw a diver down below.
Conover doesn't SCUBA dive, but he wanted to venture deeper.
Looking back on the scene, Conover realizes it was representative of something more.
The Annapolis resident wanted to experience life on a deeper level. He wanted to read the great books of Western civilization. He wanted to analyze the works of history's great thinkers and challenge his own beliefs.
Those desires led him to the Graduate Institute at St. John's College in Annapolis, where he graduated this spring. He says his experience at St. John's helped him achieve those goals.
"There's no way you're going to go through these classes and remain unchanged," says. "It's impossible."
Three decades before arriving at St. John's, Conover received a degree in political science from Bucknell University in Pennsylvania. Then he spent more than 20 years in the Army, serving in places like Korea, Argentina, Uruguay, Chile, Sarajevo and Kosovo. He specialized in military intelligence.
Eventually, Conover ended up at Fort George G. Meade, about 30 minutes from Annapolis. He retired from the Army in 2004.
Conover then spent nine years as a government contractor. When that ended, Conover started looking for a new challenge.
A history buff and avid reader, Conover was urged by his wife to consider St. John's, with its focus on the great books. Dinner with a St. John's tutor also contributed to his interest in the school.
Conover decided to enroll. When Graduate Institute classes began, he was hooked.
Readings for the curriculum are organized into five segments: Literature; Politics and Society; Philosophy and Theology; Mathematics and Natural Science; and History.
Students must complete four of the five segments—36 semester credit hours—to earn the Master of Arts in Liberal Arts degree. Work is completed in seminars, tutorials and preceptorials.
Conover enjoyed working through segments with his classmates, most of whom were at different stages in their lives. They read, debated, worked through the same problems and developed a unique bond, he says.
Conover completed all five segments, despite needing only four to graduate.
"There was no way I was going to miss any of them," he says.
Conover believes St. John's is a great place for veterans. They can take advantage of the Post 9/11 GI Bill® to cover some of the costs, and the college participates in the Yellow Ribbon Program, which provides additional financial assistance.
Aside from that, students at St. John's learn to think critically and develop their analytic abilities, much like service members do, especially in the intelligence community, he says.
And the great books, which may seem intimidating at first, become much more accessible.
"To walk away from here and think cogently about these things, it's an incredible gift," he says. "It really unlocks your world view."
"It's a life-changing experience," he adds.