Study Group Explores Digital Technology
November 8, 2016 | By Tim Pratt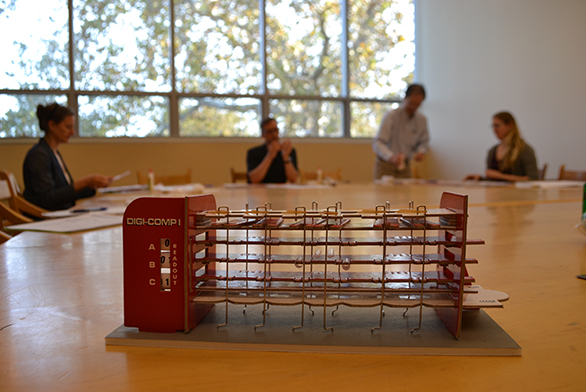 The scene in a second-floor classroom at St. John's College in Annapolis resembled something out of an elementary school art class.
There was cardboard, scissors, glue and tape; drinking straws, rulers, pencils and rubber bands.
But the project St. John's faculty and staff was working on was anything but elementary.
This was the Mellon Foundation Study Group on Digital Technology, and they were building mechanical computers.
The group, in its second year of existence, is working to determine whether digital technology has a place in the St. John's curriculum, says group leader Cordell Yee.
This gathering in Mellon Hall to construct mechanical computers designed to demonstrate logic was the group's first hands-on project.
Last year, the group studied the history of technology and communication, dating back 2,000 years. Then, the group focused on the last 50 years of technology and looked at its effects on social behavior. The study also focused on trends in education, including the application of gaming technology in classrooms and how students virtually attend classes.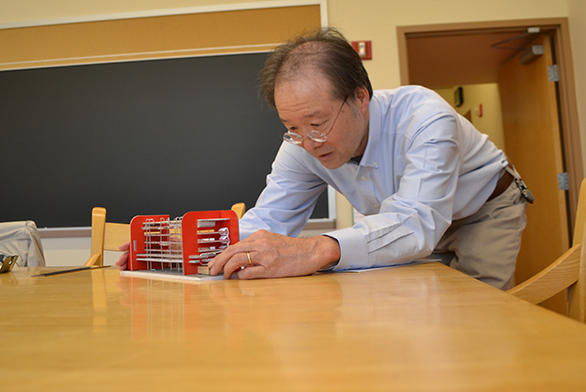 "We were surprised to see what is going on at other universities," says group member Sarah Benson.
The group is looking at practical ways to use technology in education, but it's also examining the broad philosophical issues that come with it.
"Is there such a thing as artificial intelligence?" Yee asks.
Debating the philosophical questions about technology could be beneficial to students and fit right in with the college's liberal arts curriculum, Yee says.
The project involving mechanical computers also could be beneficial.
The group followed detailed instructions as members put their mechanical computers together in Mellon Hall, using the materials spread out on the table in front of them. Straws, for example, were used as tubes in the computer.
"The problem with electronics is you can't see what's going on inside," Yee says. "This device allows us to see the mechanics of how a machine does something logically."
In most computers, the processing is handled by electronic circuitry. The mechanical computers demonstrate the operations usually hidden in electronic circuits, allowing simple explanations of computer theory, binary numbers and programming.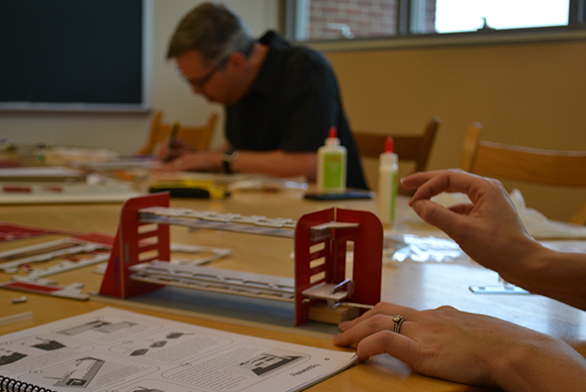 "We're sort of approaching computing on a fundamental level," Yee says.
The mechanical computers can be programmed to demonstrate binary logic, to perform operations such as addition and subtraction, and to play simple logic games.
If the college does introduce the project to students, Yee sees how its lessons could be used in lab, math or even language classes.
"It could apply across the Program," he says.
For now, the group will continue to meet twice a week, studying how—and if—digital technology could enhance the curriculum at St. John's.