A Novel Approach to Education
November 8, 2016 | By Tim Pratt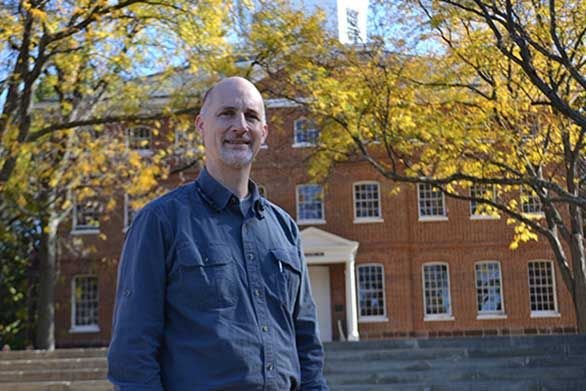 Some students come to St. John's College to study the great books, get their degrees and move on to successful careers.
Others come seeking only to enrich their lives.
Retired U.S. Army Lt. Col. Bryan Canter is one of the latter.
The Annapolis-area resident is a first-semester student in the Graduate Institute at St. John's in Annapolis. His enrollment comes after a lengthy military career, which saw him serve all over the world.
While some of Canter's classmates are seeking degrees to set them up for future jobs, that's not the case with Canter. He wants to write historical fiction, and is using his experience at St. John's to help gain the knowledge to do that.
"If I could be the C. S. Lewis of this age, that's what I would love to do," he says.
Canter was born in Montana, but grew up in the mountains of Tennessee. After high school, he attended the United States Military Academy in West Point, New York.
Canter worked extensively in communications while in the Army, completing stints in Korea and Japan, but also here in the U.S.: in Georgia, Virginia and Maryland. He retired from the Army in 2012.
After he retired, Canter spent two years working at the Johns Hopkins Applied Physics Lab in Columbia.
This fall, Canter enrolled in the Graduate Institute at St. John's. He's using his time here to help him write historical fiction "with a purpose," using his works to get people to think about issues deeper than the stories themselves.
One of the eras he hopes to write about is Colonial times. Studying at St. John's—and learning more Annapolis' history while he's at it—should help him with that, he says. He also joined the Sailing team, which he hopes will give him additional knowledge to use in a novel. He's a member of the college's Historic European Martial Arts club, as well.
The transition back to college life hasn't been difficult for Canter. He was able to obtain additional degrees while he was in the Army: a master's in telecommunication systems from the University of Colorado and a master's in religious studies from Southern Adventist University in Tennessee. He also took classes at Coastal Carolina University in South Carolina.
"I'm always in school," he says with a laugh.
He's enjoying his time in the Graduate Institute.
Readings for the curriculum are organized into five segments: Literature; Politics and Society; Philosophy and Theology; Mathematics and Natural Science; and History.
Students must complete four of the five segments—36 semester credit hours—to earn the Master of Arts in Liberal Arts degree. Work is completed in seminars, tutorials and preceptorials.
Canter is working on the Math and Natural Science segment this semester.
"I think it's fantastic," he says. "It's very much what I expected: learning through dialogue rather than lecture."
Canter thinks St. John's is a great place for veterans. In the service, you're exposed to people from different cultures who have different perspectives on life. That translates well into life at St. John's, he says.
The subject matter—studying the works of Western civilizations greatest thinkers—shouldn't be intimidating, he says.
"If you have no background in something, you can come here and learn it," he says.
Canter plans to attend his second year of Graduate Institute work at the St. John's Santa Fe campus. During the summer between the school years, he will go on an archaeological dig in Israel.