Veteran Brings Love of Books to St. John's
November 9, 2016 | By Tim Pratt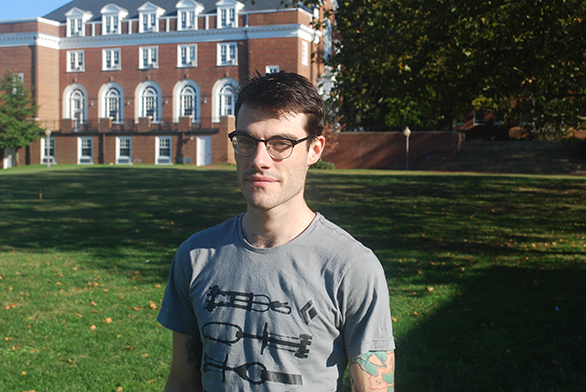 Growing up, Logan Zimmerman liked to read.
If someone asked him to name a hobby, flipping through the pages of a good book was it.
It's only fitting that he ended up at St. John's College in Annapolis, where he is studying the great books.
His journey to St. John's, however, wasn't that of a typical bookworm.
Zimmerman served in the U.S. Army for nearly four years after high school. The former infantryman is one of more than 20 veterans enrolled at the Annapolis campus.
"I think this is a great school for veterans," Zimmerman says. "St. John's takes a specific type of person anyway, but it's beneficial to veterans as a whole because it's so organic. It's a turn away from the bureaucracy. Here, you can relax. You have the chance to become who you want to be."
Zimmerman was born in South Dakota and moved around a lot as a kid. Much of his family lives in Colorado.
After high school, Zimmerman joined the Army and was stationed in El Paso, Texas. A Bradley vehicle crew member, he was deployed to Djibouti in Africa for nine months.
As his time in the Army came to an end, Zimmerman decided he wanted to go to college.
"I knew what I liked, and I liked books," he says. "I loved reading. Everything that had to do with reading, I loved."
Zimmerman came across St. John's while researching colleges online. After looking at the freshman reading list, he realized he already had read some of the books.
Then he saw St. John's participates in the Yellow Ribbon Program, which provides financial assistance to eligible veterans, and he was sold.
"As soon as St. John's said I had early acceptance, I grabbed it and ran with it," he says.
The college worked with Zimmerman to get his VA paperwork completed.
"I was very nervous coming into it about the bureaucracy of government paperwork, but the Registrar's Office was Johnnie on the spot," he says.
The college values its veterans and is proud to participate in the Yellow Ribbon Program, says Registrar Melissa Steiner.
"It's great to say 'Thank you for what you've done. Here's what we can give back to you,'" Steiner says.
Veterans often bring a level of maturity and different life experiences that can benefit their fellow students, Steiner says.
"It's good to have a variety of students from a variety of backgrounds," she says.
Zimmerman enrolled this fall and has stayed busy, between his readings and the Alpine Club, which he formed with another veteran to practice rock climbing. The club is planning a trip to South America over winter break.
Many of the veterans at St. John's know each other and interact regularly.
"We're all pretty close-knit," Zimmerman says. "We talk to each other and help each other. It feels like a very St. John's thing."
While Zimmerman is enjoying his return to student life, he looks back fondly on his time in the Army.
"I'm so glad I did it," he says. "I wouldn't have been able to go to this school if I didn't."