The Secret Life of the Santa Fe Johnnie
December 21, 2016 | By Tim Pratt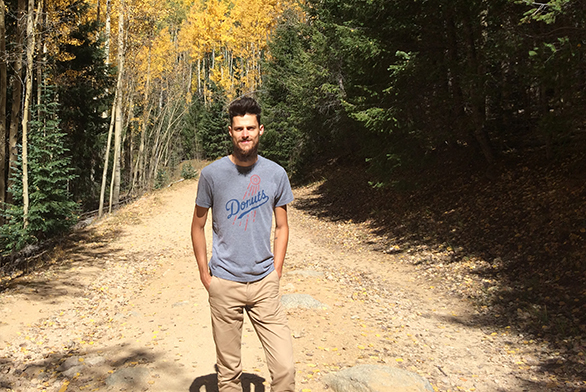 Ken Baumann still remembers the first time he read about St. John's College.
It was several years ago, and he had stumbled across an essay in The New Yorker magazine by award-winning writer and St. John's alum Salvatore Scibona.
The essay, titled "Where I Learned to Read," piqued Baumann's interest. He wanted to read and write, and analyze the great books of Western civilization. He already was reading classical works on his own.
"I read that (essay) and thought, 'Oh my God, this sounds great,'" he says.
Shortly thereafter, Baumann and his wife moved to Santa Fe, and in January 2014 Baumann enrolled in the college's Freshman Fast-Forward Program. He is now 27 and completing his senior year.
Attending St. John's has been a challenging endeavor, Baumann says, considering he is running his own publishing company and working as a writer. But the college experience has been rewarding, he says, academically and socially.
"The central quality that connects all St. John's students is a deep hunger for reading and pushing your intellectual limits," Baumann says. "A certain kind of person wants to do that, and St. John's is a community full of those kinds of people."
What some might not know is Baumann at one time could be seen regularly on TV screens across the country.
As Ben Boykewich on the ABC Family series "The Secret Life of the American Teenager," Baumann helped the show attract millions of viewers, earn a number of awards, and address issues being dealt with in high schools throughout the U.S. The show first aired in 2008 and ran for five seasons.
Baumann also stayed busy writing during that time. He penned novels titled "Solip" and "Say, Cut, Map," and started his own publishing company, Sator Press. He also wrote a nonfiction book, "EarthBound," about the history of a Super NES videogame that has become a cult classic.
In 2012, Baumann got married. His wife, Aviva, also had a lengthy acting career, including a role in the 2007 comedy "Superbad."
By 2013, the couple was "burnt out" by the entertainment industry, Baumann says, and looking for a fresh start. Around the same time, Baumann stumbled across the essay about St. John's in The New Yorker.
Aviva grew up in Santa Fe and was already familiar with the college. When Ken visited to sit in on some classes, he says it felt like a "perfect" fit. The couple decided to move to Santa Fe, where Ken would enroll at St. John's as a January Freshman.
The Baumanns quickly assimilated into the Santa Fe community. And Ken was often recognized on campus for his work on TV.
"What was most interesting was to see other people who expect you to be this one thing, and then you reveal yourself to be quite different than what they were looking for," he says.
Baumann says he has developed close friendships with some of his fellow January Freshmen, who spent much of the spring and summer of 2014 together, as well as other students. A fellow Johnnie introduced him to Dungeons and Dragons early on in his time at St. John's, and he now runs a weekly game.
"It's hard not to make really close friendships at St. John's," he says.
Baumann also bonded with his tutors. While he had plenty of experience writing, tutor Frank Pagano gave him valuable feedback when he submitted an essay about Oresteia at the end of his freshman year.
"It was one of the most helpful pieces of criticism I've received from an editor in any capacity when he said the end of the essay was glib," Baumann says. "He was absolutely right. He's really, really sharp and calls it like he sees it."
Pagano is now advising Baumann on his senior essay.
Looking toward the future, Baumann says he wants to continue operating his publishing company—a St. John's student interned at the company last summer—and writing as much as he can.
"I've got a writing problem," he says with a laugh. "It's not something that I manage well. I can't really help it."
Baumann also has taken a recent interest in politics. He hopes to get more politically involved at the local level, and isn't ruling out a run for local office.
Baumann says a career in education could be in the works, too. He believes helping students learn to read and write could help them later in life, regardless of what career path they take.
"It's a very valuable skill to look at something complicated and be able to ask questions about it and interpret it, to really double down and dig into something," he says. "It's very useful, in general, even outside of an academic setting."
Baumann says he has no plans to return to acting.
"It was a great ride," he says. "I did it for 12 years, but when I was done, I was done."