The Self-Deception Problem
June 14, 2017 | By Tim Pratt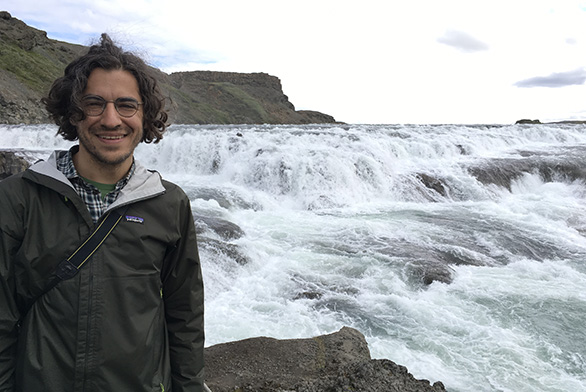 Ian Blaustein looks back fondly on his time as a student at St. John's College.
The Annapolis campus in the early- to mid-2000s was a place where Blaustein thrived—intellectually and socially.
"Part of what enabled that and made it so good was the idea, the feeling, that socially and intellectually thriving were actually the same thing," says Blaustein, now a faculty member at Emerson College in Massachusetts. "Since the learning we were doing was discursive and was all together, the conversations we had in the classes spilled right into the rest of our lives."
These days, Blaustein is preparing to return to his alma mater to deliver a lecture on June 21 as part of the Summer Wednesday Night Lecture Series. Blaustein's lecture, which will call on the work of 17th- and 18th-century English-speaking philosophers, is called "The Self-Deception Problem." It will focus on the relation between moral motivation and self-deception.
"An example might be if the thing motivating you to act better, or to act in a good or virtuous way, is guilt," he says.
Blaustein's interest in philosophy has taken him a long way since his days at St. John's. Yet, he almost didn't attend the great books school on the banks of College Creek.
Blaustein spent the first part of his undergraduate career at New York University. After leaving NYU early, he knew he wanted to return to college, but it had to be the right fit. Blaustein arranged a meeting with a college counselor and spent the day taking a variety of tests, gauging everything from his IQ to his personality. At the end of the day, the counselor asked him if he had heard about St. John's.
When Blaustein began to research the college, two things stuck out: the breadth of the Program and the discussion-based classes. He enrolled in January 2002 and fell in love with the college.
Conversations in the classroom were indistinguishable from conversations outside of the classroom, he says. He also made close friends and participated in study group sessions and intramural sports.
"I took to it about as happily as you can," he says.
After graduating from St. John's in 2005, Blaustein headed to Boston University, where he enrolled in a PhD program. He went on to receive his PhD in philosophy.
Blaustein has spent much of his time teaching philosophy and ethics in recent years at Boston University, Tufts University and Emerson College. He also took courses at the University of Chicago, has delivered a number of presentations and was a junior fellow at the Institute for Human Sciences in Germany.
Blaustein says he feels a sense of pride in returning to his alma mater to deliver a lecture.
"You spend your time forming yourself on one side of the room," Blaustein says. "What a dream it is to come back and be on the other side of it."