Graduate Institute Welcomes New Students
June 14, 2017 | By Tim Pratt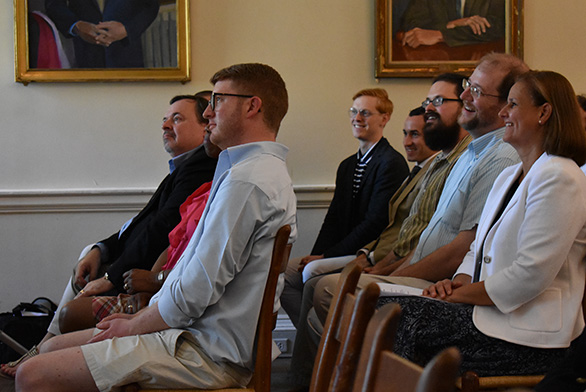 Winston Elliott has wanted to attend St. John's College for more than 30 years.
The Texas resident's desire to study and discuss the great books of Western civilization dates back to early adulthood. Yet, Elliott didn't spend his undergraduate days at St. John's. His wife, Barbara, says he has talked about the college ever since.
This year, the Elliotts decided to do something about it.
The couple enrolled together in the Graduate Institute at St. John's in Annapolis for the summer session. The Elliotts joined their new classmates at Convocation on June 12 in the Great Hall. Convocation at the Graduate Institute in Santa Fe took place on June 10.
"We have loved this place for many years," Barbara Elliott says. "This morning we stood outside the (Barr-Buchanan Center) and were like first-graders on the first day of school. It's so exciting."
A total of 16 new students enrolled in the Graduate Institutes in Annapolis and Santa Fe this summer. Each added their name to the College Register during Convocation events.
Eighty-three Graduate Institute students are enrolled this summer on the two campuses, including 16 in the Eastern Classics program in Santa Fe.
The Graduate Institute formed 50 years ago as the Teachers Institute in Santa Fe. It was designed to give teachers a place to study the great books while pursuing a master's degree in the liberal arts.
Today, it is known as the Graduate Institute, and the students who enroll in Santa Fe and Annapolis come from a variety of backgrounds. Yet, the mission remains largely the same, says Emily Langston, associate dean for the graduate program in Annapolis.
"We are a community of learning and a community of teaching," Langston says.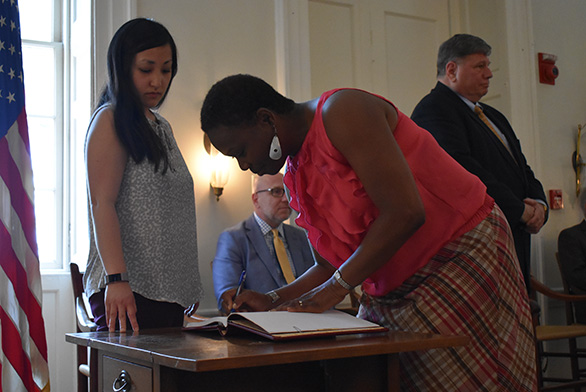 Langston urged new GI students to bring "wonder, intellect and courage" to the classroom. They will study history, philosophy and theology, and politics and society.
In Santa Fe, GI students will study philosophy and theology, and politics and society. Some of those students just completed their undergraduate work; others have returned to school later in life, says David McDonald, associate dean for the graduate program in Santa Fe.
"We're pleased to welcome students of all ages for this transformative education," McDonald says.
Among the new students who signed the College Register was Justin Brady, of Abingdon, Maryland, who attended Penn State University as an undergrad and had a keen interest in the great books. He says his professors at Penn State spoke highly of St. John's, so he decided to enroll in the GI in Annapolis this summer.
"I'm just really excited to be here," he says.
Among his classmates was John Stemmle, a teacher at High Point High School in Beltsville, Maryland. Like the Elliotts and Brady, Stemmle has long held an interest in the great books. He says he always wanted to attend St. John's, too.
"This is a longtime dream," Stemmle says.