Sicut Cervus: The Tradition Continues–And Spreads to Santa Fe
October 7, 2016 | By Tim Pratt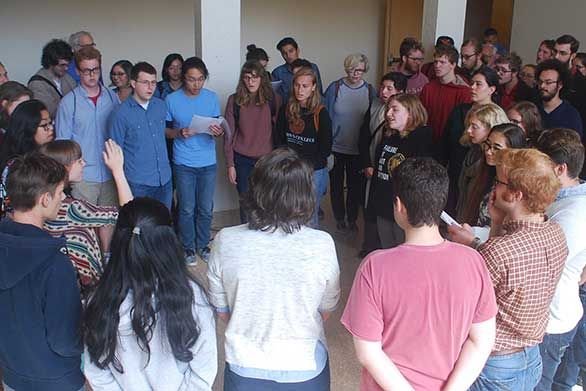 The sun shined brightly through the windows of Mellon Hall at St. John's College in Annapolis on a Wednesday afternoon as students gathered near the pendulum pit. Many dropped backpacks and purses along the walls. Some hugged briefly and grasped hands. Others picked up sheet music from a nearby bench.
Over the next few minutes, the group of roughly three dozen students—and a few staff members—filled the corridors with the sounds of a song that dates back to the 16th century: "Sicut Cervus." The piece was crafted by Giovanni Pierluigi da Palestrina, an Italian Renaissance composer of sacred music. St. John's students typically learn it in freshman chorus.
Since 2012, students have gathered at the pendulum pit to sing the song every Wednesday afternoon. Eric Fricke (SF14), of Scottsdale, Arizona, started the tradition while he attended the Annapolis campus.
Fricke, now 24, attended the Santa Fe campus as a January freshman, but transferred to Annapolis for his sophomore year. It was during his sophomore music tutorial that he first sang the song with his classmates and fell in love with it.
Additional analysis of the piece, looking specifically at harmony and polyphony, helped him discover how well it was constructed. Since Fricke liked the song so much, he began to think of how students could sing it more regularly. Then the idea of a weekly gathering at pendulum pit, with its high ceiling and great acoustics, came to mind.
"I thought we have this beautiful space, the pendulum pit … I thought we have this beautiful piece, everybody at the school can sing this piece, classes on Wednesday end early, so why not just get together to sing Sicut Cervus?" Fricke says.
In the spring of 2012, Fricke and eight to 12 classmates began gathering every week to sing after class.
"Some days it would be a little better than others," he says with a laugh. "Some days it was faster, some days it was a little bit slower, depending on what was going on. From there it just kept going."
The weekly gatherings took off in the fall of 2012, when Fricke was a junior. The crowds grew and the quality of the singing improved, he says. As many as 40 students eventually started gathering for the weekly event. Faculty and staff also stopped by, some participating, some watching.
"It was great," Fricke says. "We'd play with it; sometimes people would go up on the stairs; sometimes people would sing different parts. It's such a fun thing to do, to get together and sing."
In the fall of 2013, Fricke transferred back to the Santa Fe campus, but the tradition has continued in Annapolis.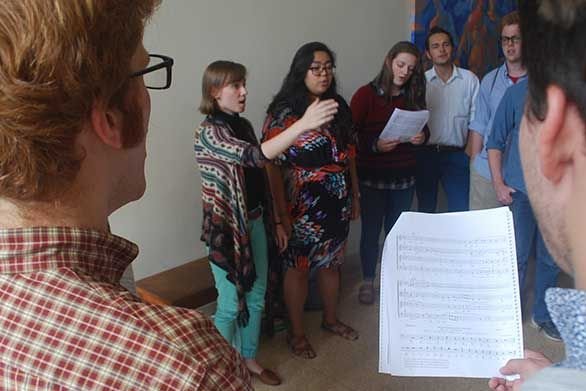 Maura Sugg, a senior from the Philadelphia area, led the gatherings last year in Annapolis and is doing so again this year. The song helped bring her to St. John's in the first place. Sugg grew up in a musical household and was already familiar with "Sicut Cervus" when she heard about St. John's. Then she saw on the college's website that freshmen learn the song, and she discovered students gathered weekly to sing it at the pendulum pit.
"I thought 'That's really amazing,'" she says.
Now she leads a few dozen students a week, keeping time and singing along with them. Despite her familiarity with the song, it still strikes an emotional chord, especially after returning from summer break.
"The first two times back, I could barely make it through the song because I was in tears," she says. "It's really overwhelming in a beautiful way."
Fricke, now a musician and instructor in New Mexico, was thrilled to see his fellow Johnnies continue the tradition. A flyer Fricke created in 2012 to gather students for the song still hangs in the music library in Mellon Hall in Annapolis.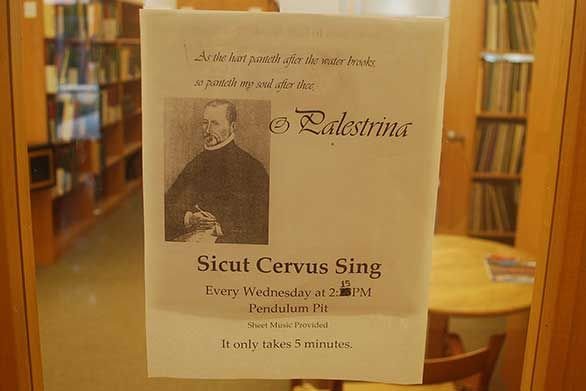 "It's such a strong community," he says. "There's not many places in the world that you can tell a bunch of people who aren't necessarily musical 'Hey, sing this piece of music with me now' and they do. I feel so blessed to have started it. I didn't anticipate it going on for years after I left."
A former Annapolis student, Jacob Glass, transferred to the Santa Fe campus this year and brought the tradition with him. Glass, a sophomore from Elmer, New Jersey, says he and some other Annapolis transfers were talking about freshman chorus and broke into song. Thinking back on how much he enjoyed "Sicut Cervus" and the weekly tradition at the pendulum pit, Glass decided to start the weekly gatherings in Santa Fe.
He made posters, sent e-mails and relied on word-of-mouth to gather participants. The difficulty came in trying to find a space in Santa Fe that matched the acoustics of the pendulum pit in Annapolis, he says. He and his classmates even considered an indoor racquetball court, but decided against it.
So for the last four or five weeks, nearly two dozen students have gathered in Schepp's Garden, outside of Peterson Student Center. Eighteen to 25 people typically participate.
But the event is slightly different than the weekly gatherings in Annapolis as the group typically sings a few songs—some brought from Annapolis, others previously learned by students in Santa Fe—before they finally get to "Sicut Cervus."
"It's very much in the tradition of Annapolis, but letting it have its own growth and development here," Glass says.
Fricke and Sugg were pleased to see the tradition spread to Santa Fe.
"I think it really speaks beautifully to the kind of students St. John's has," Fricke says. "We can be very can-do and take the initiative to do things ourselves."