Students Get More Local Food Options
October 7, 2016 | By Tim Pratt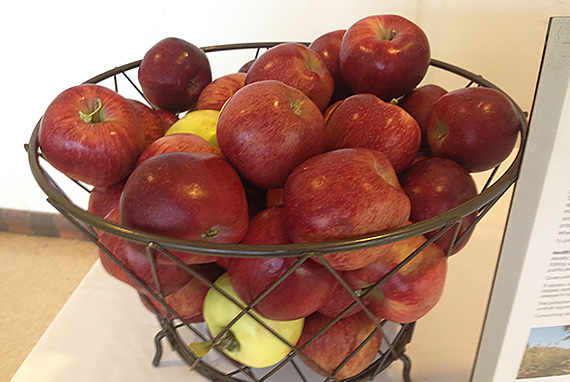 As the nationwide farm-to-table trend continues to grow, so do the local food offerings at St. John's College.
At the Santa Fe campus, students recently got their first taste of locally grown apples in the dining hall. In Annapolis, meanwhile, students for years have been eating locally grown produce and other products.
The Santa Fe campus recently partnered with an orchard north of town that will provide 12 cases of apples per week to the school, says Curtis Ortiz, food service director for A'viands—the campus' dining services company. The apples were picked on a Tuesday, delivered to the school on a Wednesday and made available for consumption on a Thursday.
Ortiz says he heard comments from students and staff about how "fresh" the apples tasted, and even noticed some students grabbing extras to take back to their dorm rooms. The purchase of local apples is part of the National Farm to School Network program, which serves as an information, advocacy and networking hub for communities, farmers and schools, including the Santa Fe campus.
"This is just the first step, but we plan to bring more and more farmers on board, and we want to get more and more food from our local farmers here," Ortiz says.
Locally grown peaches may be next in Santa Fe. There also are plenty of dairy and cattle farms in the area that could provide for the college, Ortiz says. The local items are not only fresher, but they cut down on the college's carbon footprint as less travel is required to deliver the items to campus.
"We want to bring the freshest, most nutritious and eco-friendly foods to our students and staff here at Santa Fe," Ortiz says.
The National Restaurant Association's 2016 Culinary Forecast listed locally sourced meats and seafood as the No. 1 food trend of the year. The association listed locally grown produce as the No. 3 trend and hyper-local sourcing as No. 4.
Ted Canto, director of dining services for Bon Appetit Management Company on the Annapolis campus, says 23 to 28 percent of the food at Randall Hall comes from within 150 miles of campus, depending on the season. Bon Appetit has taken part in its own program, called "Farm to Fork," for decades. In late September, Bon Appetit held its "Eat Local Challenge," where meals were made entirely of foods grown within 150 miles. Much of the produce Annapolis students see regularly, including lettuce, tomatoes and squash, is grown locally. Many of the meats and other products come from local sources, too, he says.
"It gives us a much stronger and flavorful program that you can't get from a box or a can from a national vendor," Canto says. "It also puts the college on the map for sustainability."
Participating farms have to generate less than $5 million in revenue per year and demonstrate they use sustainable farming practices.
"We want to help the farmers and the community stay alive," Canto says. "And we want to help the planet stay alive."