St. John's College Celebrates its 230th Commencement in Annapolis and its 55th in Santa Fe
June 6, 2022 | By Patricia Moore
This year marked the third year in a row of historic firsts for St. John's College's commencement festivities. In 2020, all graduates and their families attended commencement virtually due to the pandemic. In 2021, graduates were allowed to return to our Santa Fe and Annapolis campuses for traditional cap-and-gown ceremonies held outdoors, though many families attended virtually. But this year, almost all students and families attended graduation in person—though the college continued to offer livestream options and outdoor ceremonies. There was also this distinctive difference: newly appointed Annapolis President Nora Demleitner, who arrived on campus in January, spoke at both events after being invited to give the commencement address in Santa Fe. She is the 25th Annapolis president in the college's 325-year history, the ninth since the college adopted the current Program of study in 1937, as well as the college's first female president.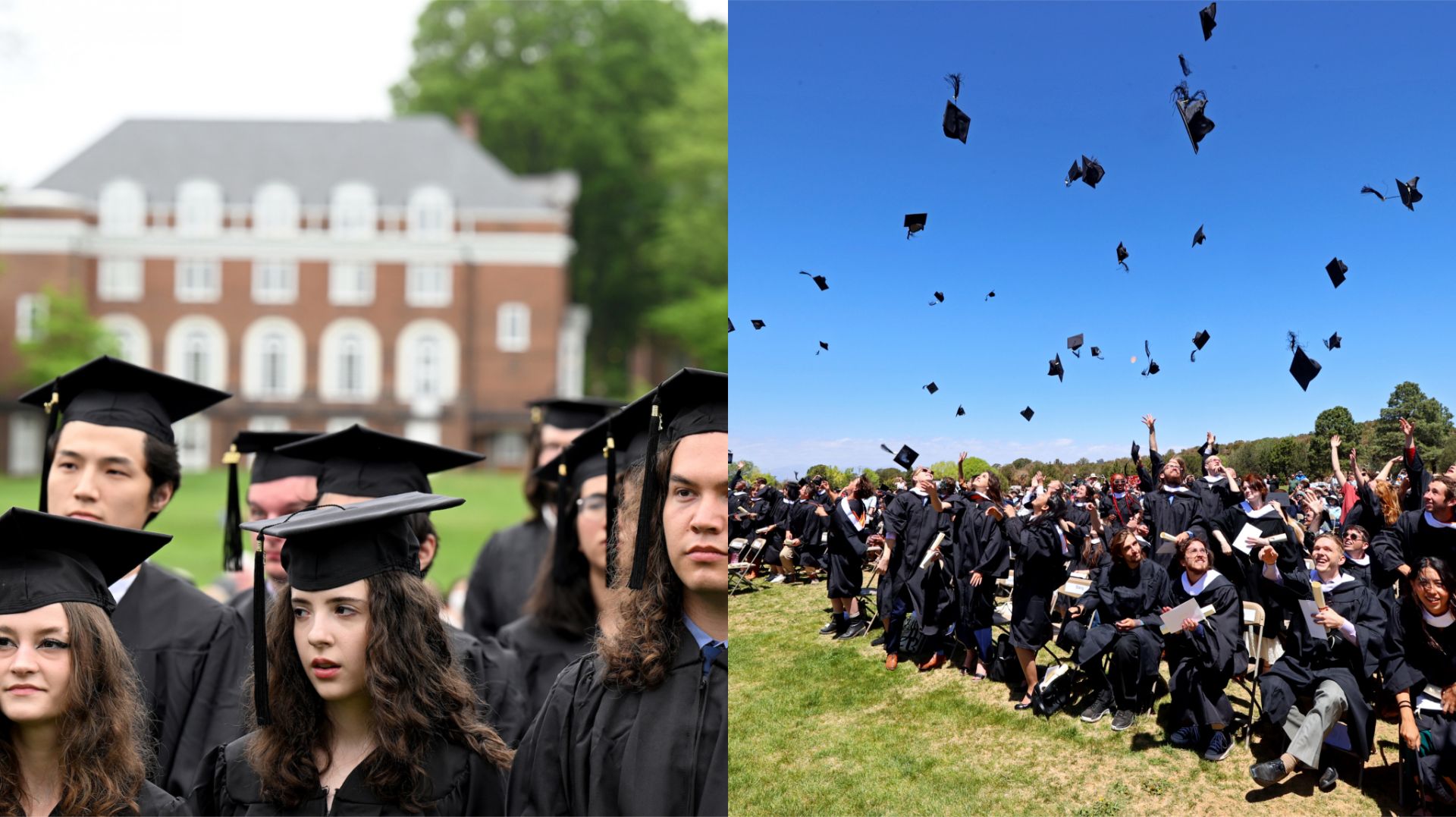 Outdoors and Undaunted on Two Campuses
On May 15, under a blanket of partly cloudy skies,104 capped-and-gowned members of the Annapolis Class of 2022, as well as 21 Graduate Institute students walked across the stage to receive their diplomas. And on May 21, sunny and breezy conditions prevailed in Santa Fe, where 76 undergraduates and 16 Graduate Institute students from both the Liberal Arts and Eastern Classics programs accepted their diplomas and formal congratulations. Seventeen additional students will receive their degrees but were unable to attend the ceremonies.
There was another first in Santa Fe, where more than 700 attendees, including 38 members of the returning Class of 2020, comprised the largest group of students, staff, faculty, family members, and friends to gather for commencement in the campus's history. Santa Fe Dean Walter Sterling welcomed all to the proceedings and celebrated the progress made since the start of the pandemic. "This is the first commencement in three years for which we are able to hold all of our traditional events," he said.
Dual Commencement Messages: The World Needs You
In Annapolis, Demleitner acknowledged the challenges graduates overcame as the pandemic waxed and waned. "The comparison to the Odessey is never far from your mind. This journey has been exhausting and exhilarating at the same time. To your immense credit, you kept going—you didn't give up on your hopes and dreams," she said.
Demleitner referenced all those who had assisted the graduates along their journey and entreated them to stay connected to other Johnnies. "We at St. John's are also here to support you in the future, as a part of your extended family that cheers you on, always, and hope you carry a part of St. John's with you, wherever you find yourself in the world."
Following the presentation of student awards by Annapolis Dean Joseph Macfarland, commencement speaker Mark Sinnett, a retired Annapolis tutor and former Presbyterian minister, began his address in characteristic tutor fashion by posing a question: Why did the graduating seniors choose him to speak at their 2022 commencement?
A popular tutor during his St. John's years from 2000 to 2020, Sinnett said he was "perplexed" by their choice and went on to explore the theme of perplexity in students graduating today and in others they might meet, and why perplexity need not mean despair. "If we were somewhat less frightened by our own perplexity, we could show a little better respect for other people's perplexity, [and] maybe we could have a discussion of something of importance in this society," Sinnett said.
"Perplexity is the order of the day; [it] is what human existence is," Sinnett explained. "You are the question that you ask about the inexhaustible abundance of the world and its Creator. You are your perplexity," Sinnett said. He later concluded: "We are joined in a great community of perplexity. Let's face it together. That does not mean despair; that means the unity of the human race."
A similar theme of gifts, responsibilities, and continuing to wrestle with questions resonated through the message from Santa Fe's commencement speaker, Annapolis President Nora Demleitner. She reminded graduating Johnnies to take what they had learned into their post-college lives. "College should not give you the best years of your life—but give you intellectual tools and character-building tools to equip you to navigate the world, both in the workplace and in your community."
Demleitner continued with advice for the days ahead: "Transitions are hard, but transitions pass ... and they may not be as drastic as you think. She suggested Johnnies learn to "straddle the Johnnie and the non-Johnnie worlds. Don't confuse a prospective employer by casually mentioning you're really good at Socratic dialogue," she said, "Instead tell them you're a great listener and communicate clearly and effectively." She encouraged students, "Don't give up on [your] quest. Give your life and your work purpose. Question great ideas and ask about matters that move your generation. How can you use your finely honed skills of asking questions and listening honestly to bring our polarized society back together?" she asked.
"A St. John's education is a privilege, and with privilege comes great responsibility. It is your responsibility to put your education to a purpose and to make a difference for all of us. You've done things you thought barely possible four years ago. [Now] no challenge will seem too big," she said. "You're already thought leaders," added Demleitner.
Finally, she reminded today's graduates, "Don't ever forget who has your back. As you go into the world, continue to choose your company wisely. The Great Books, but also tutors and mentors, made you better people, stronger communicators, deeper and more rational thinkers. Those you choose to surround you into the future continue to help you on that life journey. If Othello had chosen friends more wisely, or Hamlet had actually listened to the right people, Shakespeare could have turned these tragedies into comedies," she asserted.
Graduation a Doorway for Exercising Johnnie Strengths
In Annapolis, Demleitner concluded the commencement by congratulating graduates and reminding them of their Johnnie qualities: "We wish you all the good in the world, and as you take this education with you into the rest of your lives, remember not only to be courageous, but to be temperate, to be broad-minded, to be magnificent, to be ambitious, to be patient, to be a friend, to be truthful, to display wit, to display modesty, and to seek out righteousness," she said. "Thank you for being with us for this celebration. Once again, congratulations to our Class of 2022!"
And in Santa Fe, Demleitner said in closing: "As you go into the world, continue to choose your company as wisely as you have thus far. May your life be complex but fulfilling, devoid of deep tragedy, filled with meaning and discovery, and an occasional splash of comedy. Onward Class of 2022 and congratulations."
Sterling wrapped up the Santa Fe ceremony by delivering some "wit and wisdom" from Santa Fe President Mark Roosevelt, who was at home watching virtually due to illness: "Some people will tell you, it's not what you know, but who you know. But you have attended St. John's College, and you know better than that. It is whom you know that really matters in life."
On both campuses, caps and cheers filled the air as the Class of 2022 took their first steps into post-graduate lives.