St. John's College Celebrates In-Person Convocation Ceremonies
August 31, 2021 | By Les Poling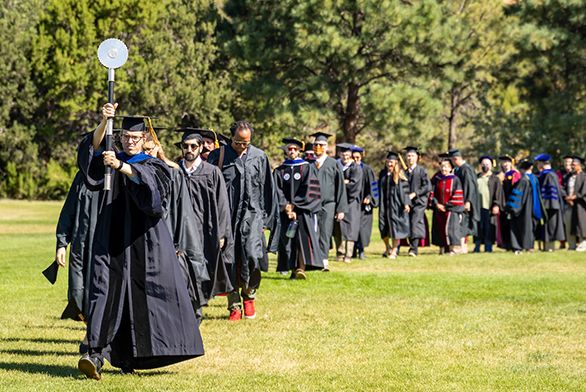 For the first time since the fall of 2019, St. John's in Annapolis and Santa Fe welcomed new classes of incoming undergraduate and Graduate Institute Johnnies to its campuses with an in-person convocation ceremony—a welcome return of one of the most cherished traditions at the college. Sophomores, most of whom spent their entire freshman year online, joined in the ceremony alongside transfer and readmitted students, making each campus's convocation a fitting homecoming after more than 17 months of hybrid and remote learning.
In Annapolis, faculty led St. John's freshmen and sophomores from McDowell Hall, past throngs of cheering students, to the Francis Scott Key Auditorium, where each Johnnie was officially welcomed to the college community by Dean Joe MacFarland and Associate Dean Emily Langston before signing the college register. After walking the FSK stage, each masked student also received a book—Euclid's Elements—before Ms. Langston delivered her convocation address, telling the assembly:
"We need each other if we are to remain, in Socrates' words, 'energetic and keen in the search' … Questions, theorems, forms, the objects of the intellect: these are universally available, and unlike material goods—and for that matter, unlike power and reputation—they are not diminished by being shared … So, welcome; welcome to this place in the midst of, but slightly apart from, the world. Join us as we spur one another on, as we tell one another stories that encourage us to seek, and as we strive together as friends towards the things that remain common, even as they become more fully our own."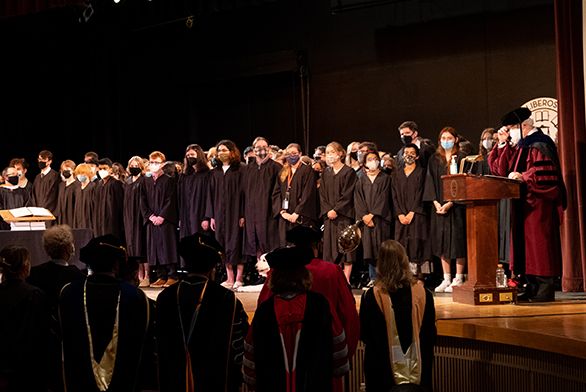 In Santa Fe, the largest incoming freshman class in nearly two decades joined the St. John's community during an outdoor ceremony at the SAC Soccer Field. As the sun rose higher and higher into the late morning sky, President Mark Roosevelt invited undergraduate and graduate students to officially begin their St. John's careers, as they processed across the field and the stage to shake hands, sign the college register, and claim their copy of the Elements. President Roosevelt concluded the ceremony with a convocation address of his own, reflecting to students and their guests:
"We live, sadly, in a very dark time—a time in which it is ever more apparent that we, as a species, are self-deluding and short-sighted. And yet, beauty is all around us. The spectacular beauty of our mountains and our ever-changing skies, and the beauty that you will find in what you will be reading and doing here. The beauty in our human attempts to take stock in our condition; our stories, our poems, and our songs, our attempts to understand ourselves—these matter a great deal. They are something to hold onto. So now, begin with confidence: you chose this college for a reason. Remember that, and remember that we know that you bring great things to us."
The Class of 2025, By the Numbers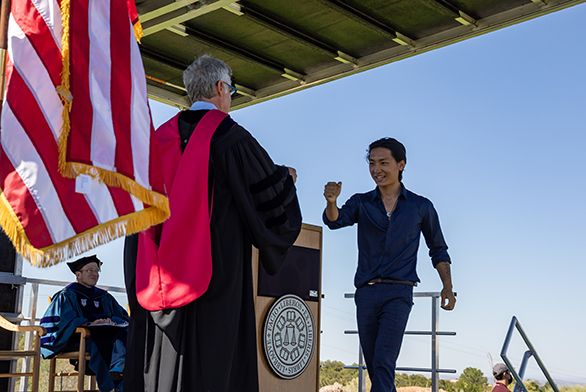 Across both campuses, St. John's College welcomed 279 undergraduate freshmen for the fall 2021 semester: 153 in Annapolis (147 new Johnnies and six readmitted students) and 132 in Santa Fe (130 new and two readmits). With those numbers, Santa Fe admitted its largest fall freshman class since 2003; in Annapolis, meanwhile, the Class of 2025 is the largest incoming group of fall freshmen since 2008.
The numbers tell a success story, as St. John's strives forward in its mission to make the college a place for all who seek it. Perhaps even more compelling, though, is the composition of the student body itself—a group of students from various backgrounds bonded together by their shared search for the beautiful and the true. Of the 279 new Johnnies,
95 percent are receiving financial aid
25 percent are students of color
19 percent are federal Pell Grant recipients
13 percent are international students
12 percent are first-generation college students
11 percent are children of St. John's alumni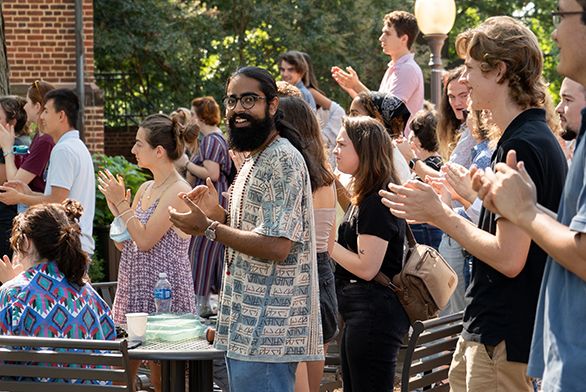 In addition, freshmen hail from 41 different states in the U.S., with the largest groups coming from Texas, California, Colorado, and Maryland; 24 countries are represented, including China, Germany, South Korea, Ethiopia, Bolivia, India, Greece, Nigeria, Lithuania, Spain, Pakistan, and the United Kingdom.
The days since convocation haven't been idle for new or returning students: freshmen on both campuses immediately began discussing Homer's Iliad, while sophomores, juniors, and seniors delved into the Bible, Don Quixote, and War and Peace, respectively. As conversation fills the air surrounding the quad in Annapolis and the koi pond in Santa Fe, one thing is certain: Johnnies are home. Convocatum Est!