Owen Gemmer (SF19) and Isabella Copeland (SF20) Put First Things First
August 26, 2021 | By Eve Tolpa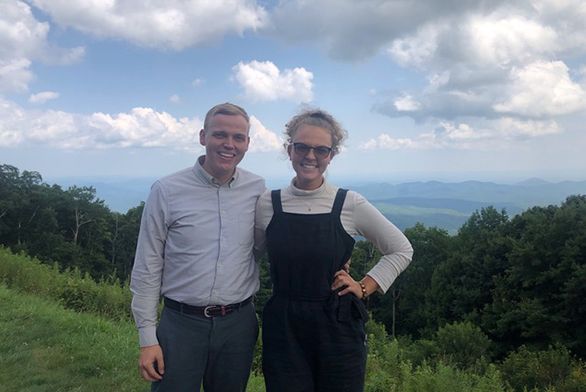 For Owen Gemmer (SF19) and Isabella Copeland (SF20), being of service begins with listening. The couple is employed with First Things Foundation, an aid organization that serves communities in four locations: southern Appalachia, Guatemala, Sierra Leone, and the Republic of Georgia.
Since June 2021, Gemmer and Copeland have been working in an area of western North Carolina encompassing three counties with a combined population of about 88,000. "We've signed up for a year of service," says Copeland. "After that, we have the option of doing another year in the same place, going somewhere else, or leaving the program. If you sign up to go to one of the international locations, you sign up for two years."
Field directors overseas spend their first year in what is known as the "immersionship" phase, volunteering and learning local languages and dialects. For Appalachia, that time is shortened to three or four months. The duo's immediate assignment was to get to know the people in their region—mostly, says Copeland, "through our work volunteering with various other organizations and attending dinners and barbecues."
"In this area people are very guarded," she says. "We're learning that we have to prove that we are trustworthy and we are hard workers. We were just splitting logs, and we were really patted on the back for filling a truck in an hour."
First Things Foundation was founded in 2018 by John Heers, who was one of Gemmer's favorite teachers in high school. "I was intrigued by the way [Heers] thought about development and aid," he says, adding, "the organization is in a serious period of growth. We've almost doubled in size in the past two years."
Through experience with the Peace Corps and other aid organizations, Heers became convinced that communities are the best arbiters of their own needs—and how to fulfill them most effectively. The role of First Things' field directors is to support and facilitate those operations, never imposing their own preconceptions or solutions. Listening is key.
So far, projects across all four locations have ranged from education and eco-tourism to micro-financing and small business creation—and well beyond. In Appalachia, First Things began working with food banks as part of a temporary COVID-19 pandemic initiative. Now the group is considering partnerships with local colleges.
"You can never know what a community needs," Gemmer explains. "The ideas all come from the people in the communities themselves. You have to listen to help, and that starts first with relationships."
At St. John's, he continues, "I was shown that the power of human relationships is the only thing in life that is real."
After graduating from the college, Gemmer worked as a teaching intern at his former high school in Florida, where he co-taught with Heers. In January 2021, he pursued a position at First Things. Copeland, who is from California, joined him in Florida shortly after her own graduation.
Like a seminar at St. John's, First Things is deliberately small, with its size determined by the number of people who can easily meet in person (about 25). Also familiar to the two Johnnies is the organization's focus on dialogue. On July 14, for example, First Things hosted its annual summit, where attendees were invited to make a presentation about something they viewed as a problem within the organization and offer a proposal to remedy it. Gemmer was impressed by Heers'—and the foundation's—humility, saying, "that's the way organizations should be run."
He likens it to St. John's, which "provided that human education in a way that First Things is providing human aid." As a student, he says, "it was the interdisciplinary aspect of things that stood out to me. That felt so true to how the human mind works, and the soul. We are not compartmentalized beings."
He and Copeland, who met at St. John's and plan to marry in 2022, are excited to be collaborating professionally. "We work really well and think in complementary ways," Gemmer says.
Copeland began her education at St. John's with the idea that she might go into medicine. Before joining First Things, she spent a few months in hospital chaplaincy training, but began to feel restless and wanted to serve others in a more active, boots-on-the-ground way. Still, she sees a through line from that experience to her current position with First Things.
"It occurred to me that chaplaincy was a lot of listening," she says. "It's a complicated thing to say, 'I have listened to this person well enough to act on their needs.'"
Adds Gemmer, "We have no delusions that we are going to solve poverty, but we're interested in the idea of small acts of kindness. It requires—or demands—of us that change happens on a human level, not only a structural or institutional level. You might be a Democrat, Republican, orthodox, or atheist; at the core we are all humans."
"People pay lip service to having conversations," Copeland concludes. "I feel good because we are actually doing it."