St. John's Annapolis Welcomes New Bon Appétit Chef
August 24, 2021 | By Les Poling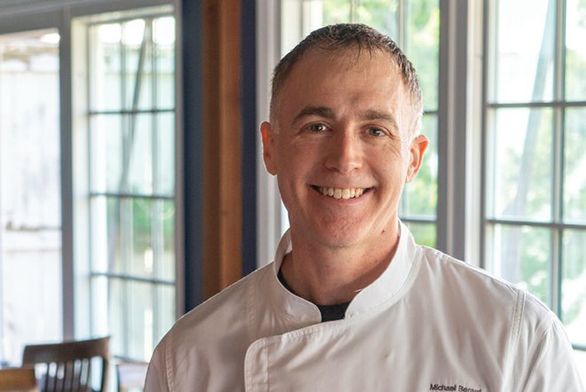 "Basically, nothing is off the table."
That's how incoming St. John's Annapolis Bon Appétit chef Michael Berard describes the culinary experiences Johnnies can look forward to during the upcoming academic term, as Berard takes over as executive chef. In addition to nutrient-dense food—"to keep all cylinders firing!"—and the pan-Asian flavors that Berard is personally fond of, "you can expect some tried and true recipes, but also ones that I'll develop throughout the year," he explains. "Healthy and vibrant flavors from all over the globe."
For Berard, St. John's College is both familiar territory (literally; he grew up near Annapolis) and the latest step in a long culinary career that has included stints at Washington, DC's Asia Nora—a fine dining restaurant created by Nora Pouillon, who pioneered the nation's first certified organic restaurant more than 35 years ago—and a close relationship with Haidar Karoum, the RAMMY Awards 2014 DC chef of the year and recent awardee of the Michelin Bib Gourmand for excellence. (Berard worked as executive sous chef for Karoum's restaurant, Proof, from 2013 to 2015.)
"Cooking for Jacques Pepin's birthday was a pretty cool experience," he says, looking back on his years in DC. "Also, José Andrés brought a whole group of band members from the National Gallery of Art into our restaurant during service one night. They were parading around the diners and having a grand old time."
Berard's first foray into food didn't necessarily promise the journey to come. He began his life in the restaurant industry as a dishwasher at the Blue Channel Inn, located in a shopping center in Arnold, Maryland, and within walking distance of Berard's house; management eventually noticed he was spending far more time behind the cook's line than in the dish pit and let him switch positions. Berard recalls falling under the spell of cooking almost immediately.
"I was lucky to come under the tutelage of a decent chef who showed me the fundamentals," he remembers. "It was all magic to me, as I did not come from a household of great cooks. I was experiencing all new flavors and techniques which I had not grown up with—it didn't feel like a job, because I loved what I did."
As he grew more serious about his craft, Berard started to focus more on fine dining, developing his own individual skill set and tastes—"I have an affinity for Asian flavors, but really, I appreciate all cuisines when cooked properly," he says—and earning positions at Asia Nora, Proof, and most recently O'Leary's Seafood in Eastport, Annapolis. Each restaurant has presented its own unique blend of culinary gifts and tribulations; at O'Leary's, for example, "I had an opportunity to work with some of the best fresh seafood, some flown in the next day from Hawaii," Berard explains. That being said, "it was a challenge to keep everything super fresh, especially during the early stages of the pandemic when all food was to-go only."
Such is the life of a chef. The next challenge? Putting together meals for hundreds of Johnnies, three times a day, while keeping the menu fresh and exciting. Berard, who says he knew of St. John's as a "great school that challenged and formulated one's critical thinking skills," feels up to the task. For one, he's already gotten to know his "excellent, seasoned staff," who he considers more than capable of delivering stellar cuisine. Plus, on an anecdotal level, "I used to work at one of the sister restaurants that Michael Cleary, the general manager here, headed as chef," he explains. "Knowing that he's been with the company for 10-plus years speaks volumes about Bon Appétit."
With the start of fall semester around the corner, exciting times await in Randall Hall. And for any Johnnies who run into chef Berard, feel free to ask him about his favorite book, Jack London's The Call of the Wild—"a story of true grit, survival, and exploration of the wild frontier."
Whether that has any bearing on his cuisine, only time will tell.