St. John's Beats Naval Academy in Annapolis Cup
April 14, 2018 | By Tim Pratt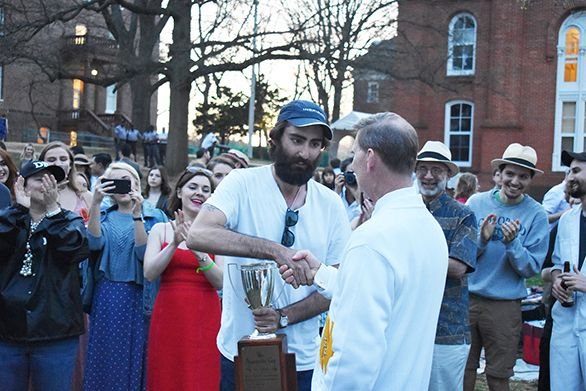 The St. John's College croquet team won the 2018 Annapolis Cup Saturday, outlasting the neighboring United States Naval Academy 3-2.
The win, in front of a crowd of more than 5,000 people, was the fourth in a row for the Johnnies and their 29th in the 36-year history of the event.
The pairing of Tom Balding (A20) and Sean Miller (A20) secured the win for St. John's, breaking a 2-2 tie as darkness set in over the front lawn of the college.
"I don't think I was not tense one moment that entire game," said Balding, who hit the winning shot,"but it's amazing. It's everything I wanted."
This was the second year in a row Miller was on the tie-breaking team. At the 2017 Annapolis Cup, he paired with Chris McGowen (A19) to secure a 3-2 win for the Johnnies.
"Like I said last year, there's no greater feeling than winning the tie-breaker for your team," Miller said. "Tom played great, the team played great. It's nice the whole thing came together for the second year in a row."
The Annapolis Cup began in the early 1980s. It has since grown into a rite of spring in Annapolis.
The front lawn of the college this year was packed with spectators. The Naval Academy Trident Brass Band played throughout the afternoon. The red brick walkway in front of the Barr Buchanan Center served as the dance floor.
"My first experience of the Annapolis Cup was inspiring," said St. John's President Panayiotis Kanelos. "I am so grateful that we have maintained this tradition with our good friends at the Naval Academy. It is hard to imagine a more beautiful and invigorating day, and a spirited match to the finish."