St. John's Beats Naval Academy in Annapolis Cup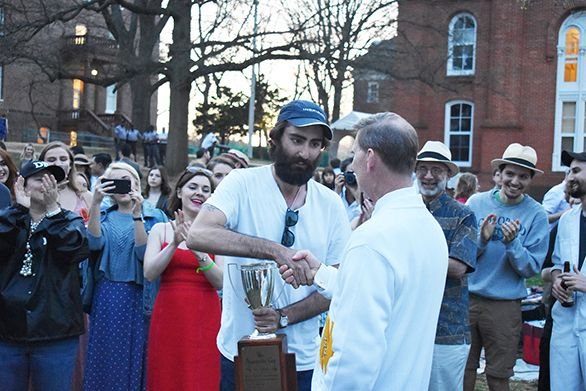 The St. John's College croquet team won the 2018 Annapolis Cup Saturday, outlasting the neighboring United States Naval Academy 3-2.
The win, in front of a crowd of more than 5,000 people, was the fourth in a row for the Johnnies and their 29th in the 36-year history of the event.
The pairing of Tom Balding (A20) and Sean Miller (A20) secured the win for St. John's, breaking a 2-2 tie as darkness set in over the front lawn of the college.
"I don't think I was not tense one moment that entire game," said Balding, who hit the winning shot,"but it's amazing. It's everything I wanted."
This was the second year in a row Miller was on the tie-breaking team. At the 2017 Annapolis Cup, he paired with Chris McGowen (A19) to secure a 3-2 win for the Johnnies.
"Like I said last year, there's no greater feeling than winning the tie-breaker for your team," Miller said. "Tom played great, the team played great. It's nice the whole thing came together for the second year in a row."