April 18, 2018 | By Tim Pratt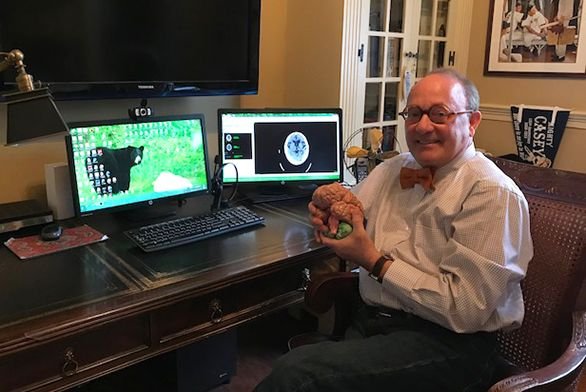 From his 18th-century Georgian Colonial home in the Berkshires of Western Massachusetts, Anthony Vitto (A70) uses technology to treat patients all over the United States.
Some have suffered strokes. Others are dealing with brain or neurological disorders.
Vitto, a teleneurologist, uses video and other technology to provide patients with the medical care they need.
"It's quite interesting and pretty high-tech," he says. "Here I am in this house built before the Revolutionary War ended, and I can see patients all over the U.S. I can call in to emergency rooms; I'm able to examine patients with the help of a nurse; I can see CAT scans and MRIs. You can do this anywhere with a good internet connection."
Vitto never had teleneurology in mind when he graduated high school in the suburbs of Washington, D.C.. When he headed off to St. John's College in Annapolis, Vitto was leaning toward a career as a writer. At St. John's, however, he fell in love with the way original texts were used to study mathematics and the sciences.
"By the time I left St. John's, I was enthralled with math and science," he says.
Vitto was part of a distinguished class at St. John's. Other members of the Class of 1970 include Chris Nelson, former St. John's president; Stephen Forman, head of the Hematologic Institute at City of Hope hospital in California; and Ron Fielding, chairman of the college's Board of Visitors and Governors.
Vitto also was an accomplished athlete at St. John's, excelling in football, soccer, basketball, volleyball, softball, badminton and track and field. His name is found on several plaques in Iglehart Gymnasium. He was friends with Nelson, another accomplished athlete, and recalls fondly a road trip they took from Annapolis to Santa Fe.
"He and I were very close, so that was a lot of fun," Vitto says.
After St. John's, Vitto obtained his PhD in biochemistry and completed postdoctoral work at the University of California, San Diego. He then landed a position at Harvard University as an Instructor in Neuropathology. He taught The Biology of Aging at Harvard College, and carried out basic research at Mclean Hospital, a psychiatric teaching hospital within the Harvard system.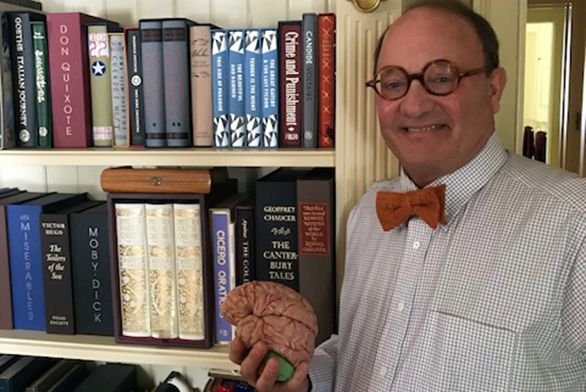 It was during that time when Vitto decided he wanted to attend medical school. He soon enrolled at Temple University in Philadelphia, where he decided to become a neurologist.
"I had always been interested in the mind," he says.
After medical school, Vitto completed a residency in neurology at Stanford University, then spent 20 years working in private practice. He had offices in Morgan Hill and Monterey, California, and became known as a specialist in Alzheimer's disease.
Vitto and his wife moved to the Berkshires in 2011. The house has plenty of history. Signers of the Declaration of Independence have visited; it also served as a stop for runaway slaves on the Underground Railroad. Parts of the movie The Cider House Rules were filmed in the house, too.
Most of the original architecture remains. From his home office, Vitto treats patients across the country. He's often brought in to consult on emergency situations, where neurologists aren't immediately available on-site.
Vitto acknowledges the work isn't easy.
"It's not anywhere near as good as being in the room and talking with the patient and family, but that being said, it's better than not being there at all," he says.
Looking back at his career, Vitto says his St. John's education helped prepare him for all of his pursuits.
"Although we may read and discuss works from ancient and medieval times, nevertheless, it surely prepares you for the modern world," he says. "I'm a case where it led to science and medicine and, eventually, to something very, very cutting edge."