The St. John's Education in Action
September 23, 2018 | By Anne Kniggendorf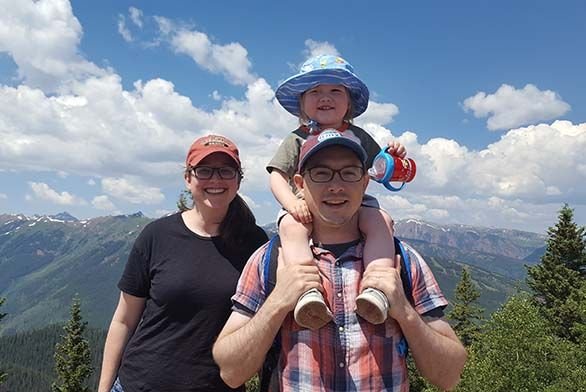 When Stassia Sullivan (SF06) and Grae Drake (SF05) went on their first date her sophomore and his junior year at St. John's College, they never could have imagined the life they would build together.
Then, they were watching the leaves change, listening to the Mortal Kombat soundtrack, and trying to imagine what the future would hold; now, they live on the Olympic Peninsula, Sullivan works as an emergency room physician, Drake serves as an executive at an education start up, and they've just had their second child.
The path there was anything but linear, however. After he finished at St. John's, Drake stayed in Santa Fe and worked in restaurants while Sullivan was a senior. Like many new graduates, he wasn't quite sure what field would be a fit for him.
"Ever since my adolescence, I've been lashing about for a sense of meaning, and I hadn't found a lot that gave it to me," he recalls. "I did with St. John's, which I was very happy about. And I did with my relationship with Stassia, which I was nervous about but hopeful for."
He paid off his student loans with a job in mortgage lending, but found no meaning in that office. Later, he graduated in the top 10 percent of his law class, but a few years of working in the legal profession also left him cold.
When the couple moved to New York for Stassia's medical training, however, he began working at a young company that helps professionals transition into careers in web development, data science, and design. He found that he loved the educational component and now oversees the part of the company that handles curriculum design, mentorship, and education delivery. Ultimately, it was his St. John's education that helped him find that passion.
"When I talk with people, my ability to listen to them, understand exactly where they're coming from, and specifically address their concerns is a skill set I developed at St. John's that has been extremely useful to me professionally," he says.
Communication skills developed in the Program were also instrumental in Sullivan's career development, though her path was not as winding as her partner's. While she never thought she'd follow in her father's footsteps in the field of emergency medicine, she says she loved the science at St. John's and began leaning toward medicine her senior year.
"As an emergency physician, I'm meeting person after person that I've never met before, and I need to be able to talk to them in a few minutes and have them tell me the truth about why they're there," she says. "It wasn't until being in residency [that] I thought, 'When you go to St. John's, you learn how to talk to people; you learn how to listen to a person, then you understand the way in which to talk to them. That part is the most important part of my job," she says.
And one in which she excels, according to Drake.
Stassia thinks that developing the conversational back and forth happens so naturally at St. John's, and is so enjoyable, that most people don't notice that they're cultivating a skill.
"For me coming out of St. John's, I was just like: This is how you talk to people," she says. "This is what you do. I never looked at it as a skill."