Students Thank Donors at Santa Fe Homecoming
September 21, 2018 | By Anthony Muljat (SF17)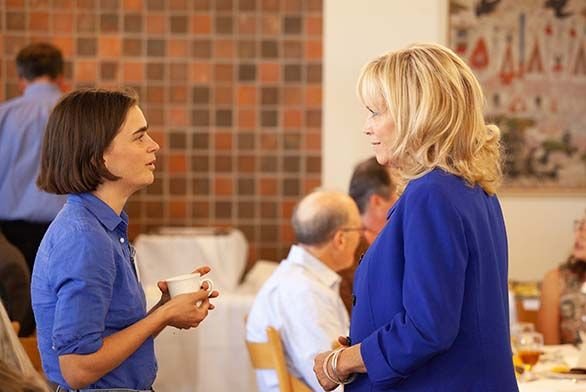 The 2018 Homecoming festivities at the Santa Fe campus kicked off with a luncheon held to thank the college's generous donors for their support of grants and scholarships.
At the September 14 event, students who receive philanthropy-supported financial aid mingled with their benefactors and joined in discussion about the college's mission. They were given the opportunity, too, to publicly thank donors and share the value of their St. John's educations.
Erin Cherry (SFGI19), a teacher of sixth-grade English and history at a Santa Fe public school, spoke of her experience leading Socratic discussions among her students. She enrolled at the Graduate Institute, she said, in order to gain experience with the St. John's method of shared inquiry and apply it to her own pedagogy.
"I am delighted to have the opportunity to say today: thank you for helping me and others like me to have this extraordinary opportunity to think critically and socially about classical literature, which has shaped our world and has made me a better educator, so I can continue to help our youth become critical thinkers and excel at discussing ideas."
Rebecca Sprague (SF19) shared how her struggles with the St. John's Program's difficulty and rigor have dramatically changed the way she views learning. Having left high school with a disaffection for conventional education, she had decided not to pursue a college degree. Then she discovered St. John's.
"This education that I've received—and am still receiving—in strength and in patience is an empowering gift for a young person to have, especially one who thought they weren't a very good student or a very bright mind," she said. "Thank you for supporting the college, which has granted me and many others the gift of seeing the beautiful in what's difficult."
The luncheon came during a turning point for both the college's visibility and its financial model. Beginning September 12, St. John's celebrated the rollout of the Freeing Minds capital campaign, the announcement of a major reduction in tuition, and the publishing of a New York Times piece in praise of the college—leading to what Mark Roosevelt, college-wide president of St. John's College and president of the Santa Fe campus, called "maybe the best three days we've had at St. John's in (years)."
During the event, Roosevelt further emphasized that the $300 million capital campaign has the potential to be "life-changing" for SJC.
"It really will change the college's ability to prosper over the next generations," he said.
Avi Kumar (SF21) remarked that the campaign's success would lead to increased financial aid for students, especially for those from underprivileged groups.
"A Great Books program necessitates the kind of diversity that we would want to see in the future: not just people from the top income bracket, but everyone in between. And that means a variety of ideas, a variety of classroom dynamics, and in the end, just a more enriching Great Books program."
Tom Geyer (A68), who served on SJC's Board of Visitors and Governors for 12 years, spoke of the importance of alumni giving whatever they can manage.
"If somebody can give $10 a month, just that much makes a big difference when we go to ask for money from big institutions. They want to know: 'How many of your students support the college? How many of your alumni?' That's important, and we alumni have to get more involved."
Annapolis donors will be recognized at a similar luncheon on September 28.