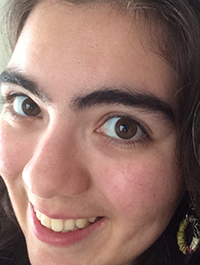 Current St. John's Santa Fe junior, Samantha Ardoin, is one of four winners of the Muse Times Two: Poetry Series Contest, a Santa Fe-based competition for college students hosted and judged by award-winning poets Carol Moldaw and Dana Levin, and supported by the Witter Bynner Foundation for Poetry. Winners represent St. John's College, Santa Fe University of Art and Design, Institute of American Indian Arts, and the Santa Fe Community College, respectively.
Ardoin's poems are surreal narratives that juxtapose difficult ideas, creating tension and interest in both meaning and aesthetics. She began writing poetry as early as fifth grade, and soon was devoting a significant amount of time to what she says were at first "not the greatest poems—they were really cheesy love poems in middle school, but then they morphed into something else." While she initially looked into studying creative writing in college, she was drawn to St. John's during a visit as a prospective student. "I remember I was watching seminar and scribbling a poem because I was so inspired by what was happening in the classroom. But," she said, "I was an observer then. When you're part of the classroom, it's a different mindset and I wouldn't write a poem in seminar because I have to be present in the conversation with other people."
Instead, she writes during moments of "quiet reflection" when she is not in class, after she's absorbed the reading for the day or week, and far more during the summers. While her surreal prose poems are influenced by contemporary poetry more than by older works, she believes the great books still get in there. "I don't think I would have had the courage or the feeling that it would be legitimate to write poetry in prose blocks if I hadn't read the Iliad and the Odyssey and the Aeneid, which you don't really think about as poems, but they are. Thinking of those great epics as poems influenced the way I write because I considered these different forms. Even if it's something that is spoken, something that is prosaic, it can still be a poem."
In the same breath, Ardoin considers a plurality of viewpoints: "I think the contemporary argument that anything can be a poem—that you can cut a hole in the wall and call it a poem—I don't know if I buy that. But I think you can find a foundation for that argument in the great books. At the other end of the spectrum are people who write poems that sound like poems. I mean, you followed the form and wrote about something you found poetic, but is that really a poem? It sounds like a poem, but it might not affect anyone."
By coincidence of talent and timing, the Muse Times Two contest winner from Santa Fe Community College is Basia Miller, a tutor emeritus of St. John's. Miller retired from the college in 2008 and, while translating some French poetry, began toying with her own poems and getting involved in the local poetry scene, which included auditing classes at Santa Fe Community College. Miller doesn't view becoming a poet as a transition from her life as a teacher so much as a new direction.
"I was a philosophy undergraduate major, and then I switched to Romance Languages, and I switched again in order to teach at St. John's, because there you're a real generalist," she said. "And now I'm doing poetry. It's kind of that pattern. You get used to taking up new things."
When she was a child, her father required her to memorize poems, including "Thanatopsis," by William Cullen Bryant. "It's a long poem about death that doesn't seem appropriate for a nine-year-old," she recalled. "I think he wanted me to appreciate the beauty of words and understand how much happens when you put words together in a certain way."
Of being named a winner in the Muse Times Two contest, she said, "Part of writing poetry is that you want your work to be public. So, entering a contest is a little like submitting poetry for publication. You're not thinking of the outcome. It's unlikely they're going to select your poems. It's just very unlikely. One out of a hundred times you get a poem selected for publication, and I feel like the contest is a little like that. I was totally surprised and very happy."
Ardoin and Miller will read with the other winners of the poetry competition at Collected Works Bookstore in Santa Fe on Sunday, March 29.