Student Government, Johnnie-Style
July 5, 2023 | By Meliha Anthony (A25)
St. John's is not your typical college, and the way we manage student affairs is also unique. Get to know how our undergraduate representative government works, who its leaders are, and why it is so important across both campuses.
Collaborating and asking questions is an integral part of our culture at St. John's–and the St. John's College Delegate Council (called the Student Council in Santa Fe) exemplifies this culture. On both campuses, students are elected by their classmates to manage an assortment of student affairs. Where some schools have student governments, St. John's has the Delegate Council and Student Council.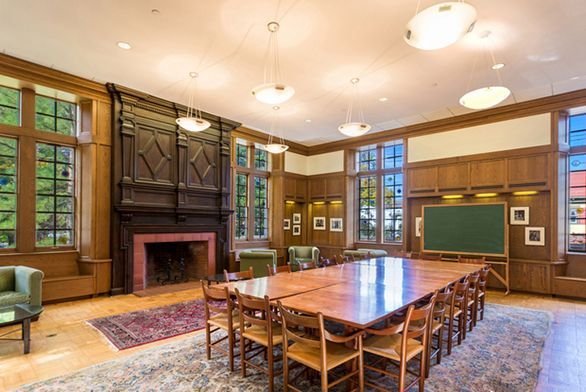 In Annapolis, the Delegate Council (DC) is headed by a president, secretary, herald, treasurer, and attorney, all elected by the student body. Four students are then chosen from each class to represent their peers as delegates. Santa Fe has a similar system, although their leadership roles differ: chair, vice-chair, secretary, treasurer, junior and senior tribunes, and junior and senior ambassadors to the board. The role of "student delegate" in Annapolis is referred to as "polity officer" in Santa Fe.
The Council's primary work occurs during budgeting season at the beginning of each semester. At this time, archons (the Greek word for "rulers") of student clubs and activities propose a budget before the DC to receive money from the student activity fee fund totaling approximately $40,000. Another of the Council's key roles is approving club charters. The Student Council in Santa Fe has the same responsibilities, although they also hold occasional town hall meetings.
In Annapolis, current DC president Helen Felbek (A25) was elected for her first term this January after serving as a class delegate since the beginning of her first year. A United World Colleges (UWC) Davis Scholar, Felbek came to St. John's from Germany excited to partake in the school's discussion-based learning program. She ran for president of the DC during the second semester of her sophomore year and won.
Felbek believes the Delegate Council should ideally serve as a facilitator of student life and as a potential intermediary between the administration and the student body. She hopes the Council continues to foster "communications with the administration so they can actually trust us as a representative body … and use us as a tool to gauge student opinion."
Previous delegates have achieved significant impact through their policy, according to Felbek. They were able to implement gender-neutral bathrooms on campus as well as the "sleep-study policy" stating that residence halls should prioritize sleep and study for all students and that "no Polity member shall knowingly interfere" with either. Felbek hopes that the Council will continue this type of work.
"Because this is a talking school, everyone talks. But sometimes you also have to think about [taking action]," Felbek says.
Felbek sees close collaboration and teamwork—both with each other and with the college administration—as a hallmark of the Delegate Council's role at St. John's.
"The DC is quite different from the classroom experience, but I also believe that self-governance and critical thinking [and] self-reflection are practical applications of the program," she says.
Felbek plans to put her skills from both the program and the Delegate Council to good use after she graduates by pursuing a graduate degree in public policy. She hopes that as time goes on, she can work to "protect the opportunities and livelihoods of future generations." For now, though, she is dedicated to her role and work on the Delegate Council.
Aidan Shannon (SF24) values structure and efficiency in his role as chair of the Student Council at the Santa Fe campus. He has a similar outlook on student government as Felbek.
"My vision is for [Student Council] to be the line of communication between students and all the other groups on campus, whether that's tutors, administration, buildings and grounds, or even the broader Santa Fe community," Shannon says.
Shannon was elected as chair of the Student Council this April. He started as a polity officer in spring 2022 and later served as senior ambassador to the board of visitors and governors.
"I enjoyed the structural stuff, the behind-the-scenes governance," Shannon says. "Trying to make something that's actually a good system of student government."
When it comes down to it, both the Delegate Council and Student Council at St. John's reflect students' dedication to their communities.
"What I like about the DC is how much people care," Felbek says. "I am proud of how dedicated the delegates are to what they've been elected to do."