Students, Tutors, and Community Come Together Over One Book
October 15, 2018 | By Kimberly Uslin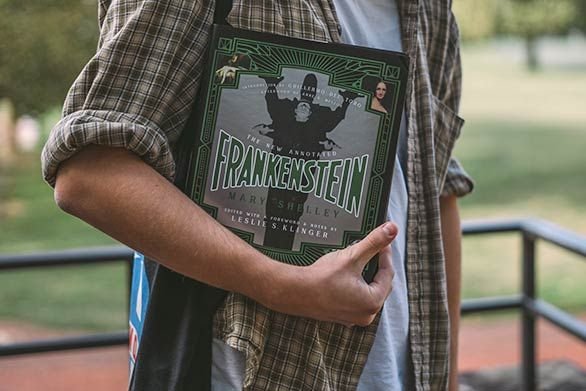 "Perhaps the most powerful way we can understand ourselves is with a character that comes alive," says Francisco Contreras (A20).
Contreras is speaking of Frankenstein's monster, the often-misnomered creature at the heart of Mary Shelley's Frankenstein. But that 'coming alive,' he says, is less about the jolt of electricity that animates the monster than the way the character becomes real to the reader.
As he says, "the deepest self-understanding comes when you can recognize your own allegory."
Contreras is one of many readers and thinkers nationwide who will lead discussions about Frankenstein this month through One Book, Many Conversations (OBMC). The nationwide program, which organizes and oversees discussions across the country focusing on a single text, was founded in 2016 by former St. John's tutor Joanna Bache Tobin (AGI94).
According to Tobin, the concept arose organically with the increased national interest in George Orwell's 1984 after the presidential election.
"Having worked in the area of leading conversations previously, as a tutor at the college and working with the Aspen Institute, I had gotten involved with a lot of different groups that did this kind of work," she says of her focus on literature-based discussion. "Among Great Books groups, humanities, and the liberal arts more broadly, we had a tough time making the case that the work mattered."
When the desire for this discussion seemed to be arising, then, she was happy to fill the need. Supported by the National Humanities Alliance, Tobin worked with her cohort to establish OBMC and organize a series of countrywide book discussions about 1984. (She was joined, too, by alum Magdalen Wolfe (A07), who spearheaded social media and communications for the initiative.)
"We were pondering doing it again, and it was brought to my attention that there was a celebration of the 200th anniversary of Frankenstein in 2018," she says.
Called Frankenreads, the international celebration is organized by the Keats-Shelley Association of American and supported by the National Endowment of the Humanities. It was a natural fit; the pair joined forces and are working together to promote discussions of Shelley's seminal text nationwide.
Contreras, who moderated an online discussion of 1984 last year, is excited to explore Frankenstein with fellow OBMC readers.
"It's very difficult to exhaust [the book's topics]," he says. "I didn't expect it to go as deep as it did, even more so than the last reading. 1984 was very relevant to understanding aspects of our current social and political situation, but I get the sense that Mary Shelley's perception goes even deeper."
Tobin, too, touts the texts' depths.
"Orwell explored the nature of power and truth, and the relationship between those things and love," she says. "In the case of Frankenstein, there are questions about technological advances, the human relationship to science, what makes you human. There are also some really powerful questions raised about what a human creator owes to his creation and more broadly of what a parent owes to their child. These are pressing questions right now."
Asking the questions and discussing the answers, she says, is particularly important in the current political climate.
"At the core of democracy lies conversation," she says. "We have to be able to talk to each other. Discussion around a text often allows us to engage with deeper philosophical questions we might not have discussed."
This year, St. John's will host its own OBMC event October 30 from 7-9 p.m. in Mellon Hall. Moderators include Contreras and tutor David Townsend, with others to be confirmed. Annapolis is home to a few other OBMC events as well: a student-only event at the Naval Academy and one open to the whole community at Annapolis High School.
"I think people are struck by how much they enjoy [Frankenstein]," says Tobin. "It's very timely, and turned out to be a terrific book for seminar and conversation."
Update 10/29: The Frankenstein conversation at St. John's has now been canceled.