Summer Internship Pays Dividends for Chifunda Kakusa (SF20)
February 23, 2021 | By Eve Tolpa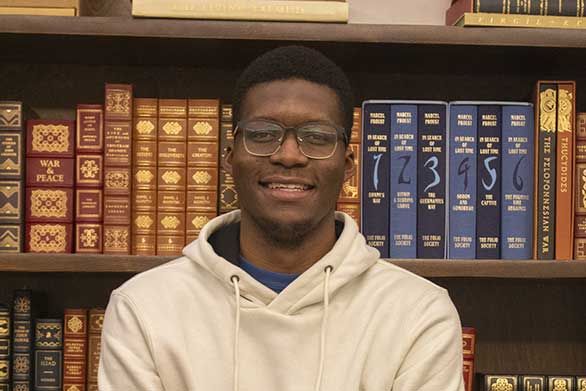 Chifunda Kakusa (SF20) spent summer 2020 pursuing the chance "to not only grow personally and professionally, but to also contribute positively to the communities and businesses back home."
Home for Kakusa is Lusaka, Zambia, and with the help of an ARIEL Internship, he worked as a venture capital analyst at Zambia-based company Quantum Consultants and Actuaries, which he describes as a "firm that primarily specializes in investments and pension, employee benefit, and human capital solutions."
The college-funded Ariel program provides Santa Fe Johnnies with stipends to allow them to complete summer internships. As someone with investment banker ambitions, Kakusa knew that working with Quantum in that capacity was "a rare opportunity [that] would contribute to my aspirations, because it would expose me to the 'buy-side' of finance. Not only would I have the opportunity to build financial models, understand startup operations, and evaluate the financial sustainability of businesses," he says, "but I would also have the opportunity to assess how local and global economic outlook could detract or contribute to its future growth."
Like many fellow Ariel recipients, the coronavirus pandemic affected Kakusa's experience, both in its focus and the way it was conducted. "The impact of COVID-19 has revealed how technology is bringing fundamental change to our economies," he explains. "The firm is currently in the process of expanding its investment practice, which will see [it] enter the venture capital market by creating a platform that automates quantitative and qualitative analysis for startups."
Additionally—as was the case for most of his classmates—Kakusa's internship went virtual. Through a variety of apps, Kakusa and his mentor at Quantum were able to keep in touch even after hours, although they lost communication for a couple of weeks. Nonetheless, he says, "I was still able to complete [my] project, since he had given me the contact information of all the entrepreneurs I was working with that summer."
That project involved analyzing small- to medium-size enterprises (known as SMEs) to help them scale their businesses and find appropriate sources of capital. Kakusa says he was "able to teach them about capital management by helping them pick cost-effective bank accounts, teaching them how to file returns with the Zambia Revenue Authority, and how to invest in highly liquid investments with low downside risk to maximize their capital." He also compiled an information packet that guides entrepreneurs through the ins and outs of business registration.
Though he collaborated with SMEs in a variety of industries—including food service, entertainment, real estate, and transportation—toggling back and forth among different types of clients and business models was no problem, thanks in large part to his undergraduate education.
"St. John's unique Program made this process seamless, as it had taught me how to communicate effectively and lead meaningful and productive conversations in order to reach an outcome," says Kakusa.
After a summer spent collaborating with a wide range of businesses, he came away with a much broader understanding of the issues faced by entrepreneurs in emerging markets, as well as the ways in which "technological integration is helping them solve these problems, and how they are increasingly impacting the national economy and creating jobs in their community."
Kakusa continues: "From a technical standpoint, I learned more about building financial models for private companies and how to develop the assumptions that drive these models." Between the relationships he developed with Quantum, the assistance he offered SMEs, and the economic perspective and skills he gained, "the internship was a success."