Supporting the Whole Student: Ken Baumann
January 26, 2021 | By Hannah Loomis
In response to alumni feedback, the college is strengthening its student experience through increased academic, emotional, and mental health resources on both campuses. This two-part series delves into new initiatives in Santa Fe.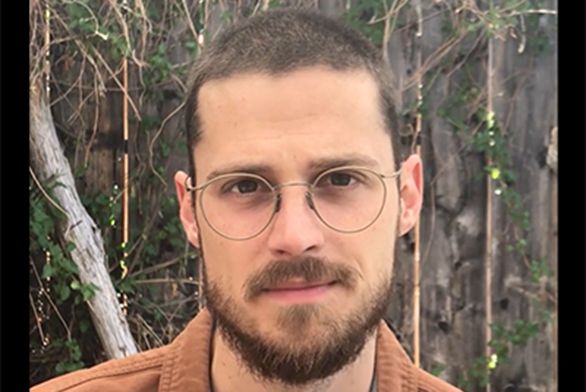 Supporting students in their academic endeavors has always been a major priority at St. John's. Given that (in the words of the Program Statement) "the aim of the education offered by St. John's College is the liberation of the human intellect," a great deal of emphasis has traditionally been placed on providing resources that encourage students to thrive in their studies.
But the college also continually strives to understand and offer help with a wide variety of experiences that affect Johnnies both in and out of the classroom.
To that end, Ken Baumann (SF17) serves as the presidential fellow for academic support and writing coordinator. His job involves collaborating with students, tutors, and administration to provide the kind of academic support that helps students succeed at St. John's. Baumann meets one-on-one with students, helping them answer the question: "How can I be a good student?" It is in these instances that his own recent St. John's student experience is most valuable.
"I've read these books very recently, engaged with them deeply, and know the philosophical as well as the practical challenges of being a student here," he says. One of these practical challenges, he notes, is writing, and it was Baumann—a professional novelist and nonfiction writer—who proposed incorporating that second aspect into the new position.
During his own student years, Baumann felt well suited to the undergraduate Program's writing requirements, as well as to the open-ended nature of the assignments themselves. Many students, however, find writing daunting, and he understands that perspective, too.
First and foremost, he encourages students to reorient expectations of themselves. "Don't write an essay to please your tutor," he advises. "[Tutors] want you to write an essay about something you're burningly interested in, and to think as hard as possible about it, and to be as passionate and empirical as possible."
Baumann has made it his mission to articulate a set of agreed-upon writing standards for the college, a project that involves passing institutional knowledge from one writing archon to the next for continuity. To give Johnnies easy access to literary tools, he has also helped Meem Library create a centralized online writing resource collection, which supplements best-practices writing publications with student essays.
Issues of convention, craft, and confidence aside, Baumann contends that "writing here is primarily for [students'] own edification, and to enrich their relationship to themselves, to the text, and to the world. If they do that, they've succeeded."
Both aspects of his position require Baumann to work closely with the Santa Fe faculty, who join him in striving to nurture healthy, well-rounded, critical thinkers who have a love for questioning and feel connected to the St. John's community. "The faculty are going out of their way to be as accommodating and understanding as possible," he says, "because everybody needs as much help as they can get right now."
In addition, the Santa Fe campus has employed 22 student assistants to support fellow Johnnies with writing, as well as math and language. Baumann works in concert with Assistant Dean Michael Golluber on matters of hiring all assistants, and with the faculty writing archon to manage the writing assistants, arranging occasional trainings so they can keep honing their skills.
Baumann takes great satisfaction in being part of the college's support system. Integral in any context, it feels especially important during a global pandemic, so he doesn't limit his help to strictly academic matters.
"Students are very lonely, like most of us are at the moment," he says. Already he has seen an increased demand for student support meetings, which are being scheduled more frequently and with more ongoing regularity than in the past.
"I can be a positive third party," Baumann continues. "[I am] patient with them, listen to them, and sympathize, but also provide them with small, measurable things they can do to improve their situations and to convince them that these problems aren't permanent."
Stay tuned for Part 2 of this series, which focuses on non-academic resources for students.