February 1, 2018 | By Tim Pratt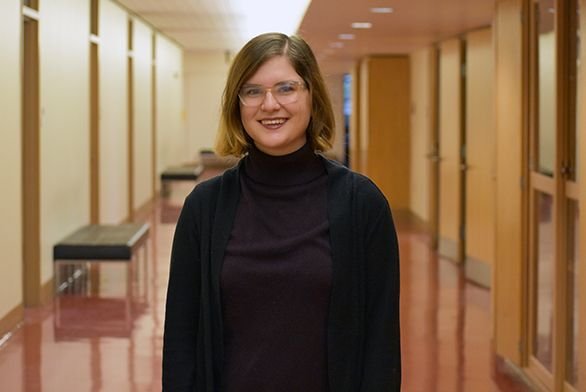 Olivia Frawley (A18) likes to get to the heart of an issue.
It's a quality that has helped her in the classroom at St. John's College, where she and her classmates dive into deep questions about humanity and the great books.
It helped her last summer, too, when she received some on-the-job training at Tuscany Strategy Consulting in Baltimore.
Frawley joined the consulting firm for two days as part of the college's job shadowing program, sponsored by the Office of Career Services. St. John's alumnus David Long (A90) is the firm's founding principle and partner.
For Frawley, who is considering a career in consulting, the experience was enlightening. Long's firm specializes in education, healthcare, service businesses, and information and media.
"The thing that was really exciting to me was that you're constantly learning new things," she says. "You're given a project and you might know nothing about the topic, but by the end of the project you're basically the expert in the room."
Frawley compares the process to the learning approach at St. John's.
"It's a lot of getting to the root of the problem," she says. "Companies might say 'These are the problems,' but (often) they aren't the problems at all. You have to come in and ask better questions to figure out the real issues."
The experience gave Frawley a better understanding of what life would be like as a consultant, and what steps she needs to take to get there. Employees at the firm worked together closely, and let Frawley observe their day-to-day operations, from meetings to an interview with a potential client. She also helped edit a presentation the firm was finalizing as part of a larger research project.
"It was very multifaceted," she says.
Frawley also worked closely with Long. They went to lunch one day with other employees and discussed Long's time at St. John's, and the path that led him to his current career.
Long says he was happy to participate in the job shadowing program.
"Job shadowing can provide early insights into a student's next 50 years of work and career," he says. "St. John's provides an extraordinary education that can be applied to almost any kind of career. Shadowing provides important reference points as you navigate to find a career that you love which makes good use of your skills and education."
Long says his firm looks for students who are able to "formulate frameworks where none exist."
"(St. John's) provides a great background for this kind of work," he says. "Job shadowing provides us with an early look at potential intern and job candidates."