Taking the Initiative: Zoe Collins (A18) on Victim Advocacy and Support
August 14, 2020 | By Les Poling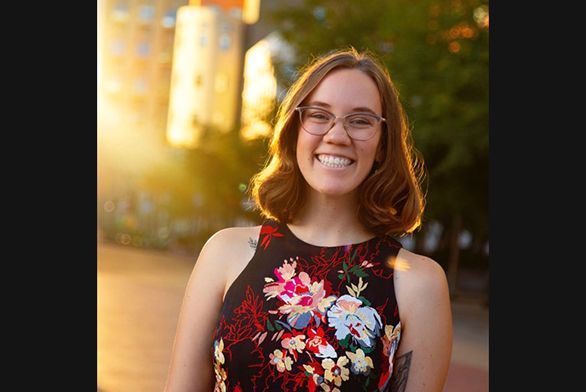 Zoe Collins (A18) made her first foray into the world of victim advocacy while she was still a student at St. John's. The summer after her junior year, she used a Hodson internship to work at House of Ruth, a nonprofit organization in Baltimore dedicated to housing, supporting, and assisting survivors of domestic violence. For her internship, she was essentially trained as a full-time legal advocate—learning about safety planning with victims, basic domestic violence law, psychology, the history of women's rights, and additional information about domestic violence and its effect on families.
At the time, she spoke with St. John's about her experience for a news story, expressing a desire to find more work in the field. Less than three years later, she's the director of communications and outreach at The Initiative, a Denver-based organization dedicated to providing victim advocacy and support for survivors of abuse with disabilities.
Ironically, if a younger version of Collins had her way, she never would've ended up at the House of Ruth internship—because she wouldn't have made it to St. John's. She first found out about the college from a high school math tutor who went to the Santa Fe Graduate Institute; during her college application process, he told her about St. John's. "I said 'that sounds like the worst school in the entire world,'" she recalls, laughing. Fortunately, she was convinced to embark on a couple overnight visits to the Annapolis campus, which helped change her mind—leading not only to her Hodson internship, but also a post-graduation Pathways Fellowship at University of Colorado-Denver and her job at The Initiative.
The Initiative is a small, community-based nonprofit that focuses its services on the intersection of disability issues and abuse; providing advocacy, outreach, and support for "survivors with all kinds of disabilities, including physical, sensory, cognitive, developmental, mental-health, and health-related," according to its website. Because The Initiative is community based, it's markedly different from systems-based agencies like those embedded in police departments; it's also the only cross-disability victim service agency in Colorado. Those distinct qualities make The Initiative an invaluable resource for survivors. "We have a lot fewer restrictions on the advocacy that we can do with clients," Collins says, and compared with important disability-specific organizations like DOVE (Deaf Overcoming Violence with Empowerment), "we don't have any sort of restrictions on the types of disabilities we work with."
Collins began at The Initiative as a victim advocate intern, working simultaneously on her Pathways psychology classes and a variety of duties similar to House of Ruth. After seven months, she was brought on full-time as the rural advocacy program coordinator. Most of her day-to-day work revolved around advocacy for clients outside the Denver metro area. But she also devoted a large part of her time to developing relationships with other organizations in Colorado. "We've always been a statewide organization, but until recently we've never had the time or resources to really focus on developing that community," Collins says. She drove across the state, visiting other organizations and providing in-depth information on accessibility issues, ableism, and how to better serve survivors with disabilities—all with the goal of developing statewide support for all Coloradans.
The emphasis on outreach and connection with other organizations is absolutely vital for the clients The Initiative serves, Collins notes. "40 percent of women with disabilities will experience abuse at some point in their lives," she reports. "We also know that 25 percent of Americans have a disability—which we think is a pretty low number, which has to do with 'cross-disability' and these strict definitions of 'disability.'" She goes on to explain that more than 90 percent of people with intellectual developmental disabilities will experience sexual assault in their lifetime—a staggering statistic that further reveals the need for specialized victim services that focus on the disability community.
Additionally, Collins adds, the danger for survivors is compounded by the fact that many of the institutions intended to help actually do more harm than good; a result of entrenched, systematic discrimination. "There is a lot of racism, ableism, homophobia, and heterosexism in victim services," she says. "Those are some of the biggest challenges that our clients are facing, and it often comes from these systems that are supposed to help them."
It's one of the most disheartening parts of Collins's job, along with the rampant homelessness that affects many of the people she works with. But on the other hand, there's no feeling quite as fulfilling as knowing a survivor has finally found a true advocate—someone who will listen with compassion and do their absolute best to help in any way possible. "One of the most rewarding parts is working with a client and being able to establish a genuine connection with them and validate their experiences."
These days, Collins's work has changed to suit her directorial position. She oversees all organizational outreach efforts, including rural advocacy programs, an LGBTQ+ program, and bilingual and bicultural outreach. She's also helped create content and develop training protocols, and she recently led a full organizational rebrand. "I updated our logo, our colors, our website, our printed materials—basically everything that has to do with the organization's image," she says. Finally, in early June she presented (virtually) at a national victim advocacy conference, the CAIA conference, on how gender and sexuality intersect with disability and abuse; she also speaks multiple times a week to smaller groups on victim advocacy for people with disabilities.
All in all, it's a wide range of important work. And while it might not seem explicitly tied to her time at St. John's, Collins draws a direct connection between the college and her current role—specifically the ability to process and synthesize information. "What you're doing in an advocacy relationship is taking all these facts or statements about somebody's life, the situation that they're in, and what options are available to you or to them—and then you're trying to combine all of these things into a plan," she comments. "I feel like that's very similar to what we do in seminar."
In the future, Collins says she would consider pursuing advanced study in psychology, a field intimately tied in her work at The Initiative. But for now, she's keen to continue the fight against abuse; to keep providing support and advocacy for all.