September 14, 2017 | By Tim Pratt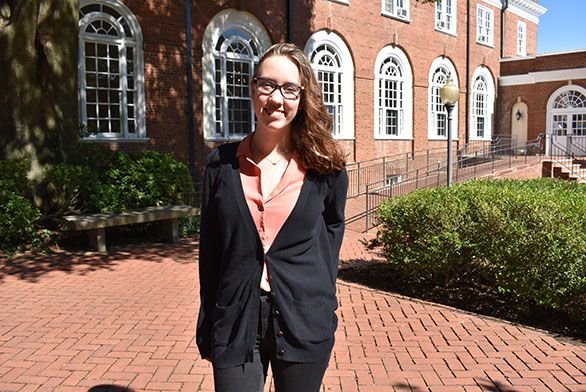 When Zoe Collins and Elaina Bowman were researching internship opportunities for the summer of 2017, they had similar goals in mind.
Both St. John's College students wanted to work for a nonprofit organization. They also feel strongly about women's rights and liked the idea of doing some sort of social work.
When separate opportunities arose at House of Ruth, a nonprofit organization in Baltimore that assists victims of domestic violence, Collins (A18) and Bowman (A20) jumped at the chance.
Over three months this summer, Collins completed a Hodson Internship in the legal services clinic at House of Ruth. Bowman's Hodson Internship was in the organization's Gateway Project, an abuse intervention program.
While the Johnnies worked in separate departments, they describe their experiences similarly.
"It was emotionally exhausting, but at the end of the day it was very rewarding," Bowman says.
House of Ruth is well known for its women's shelter, but its legal clinic assists people in a variety of ways, too, from helping domestic violence victims file for protective orders and divorces to dealing with child custody issues.
House of Ruth trained Collins as if she was a full-time employee. She learned about safety planning with victims, basic domestic violence law, psychology, the history of women's rights and additional information about domestic violence and its effect on families.
Collins' duties mirrored those of the organization's legal advocates. She interviewed victims of domestic violence, learning more about their living situations and the circumstances under which they contacted the organization, and tried to get a sense of how at-risk they might be. She then passed her information on to the organization's attorneys, who determined the next course of action.
While it was difficult to hear violent, personal stories, House of Ruth provided Collins with support on how to deal with it, she says.
Collins also went to the court to watch cases involving House of Ruth clients. She had done intake work for some of those clients.
"The attorneys were really helpful in making it an educational experience," she says.
Among her other duties, Collins went to gatherings about domestic violence, including the Family Violence Counsel in Annapolis and the Baltimore Intimate Partner Violence Fatality Review Team, both of which are made up of high-ranking officials and experts working to study and prevent domestic violence. She went to continuing education events, too. The internship ended in mid-August.
"I couldn't have asked for a better internship experience," Collins says.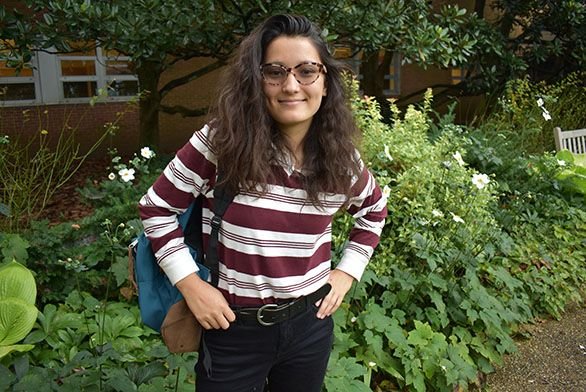 For Bowman, working in the Gateway Project exposed her to the other side of the domestic violence problem.
The Gateway Project is a 28-session psycho-educational abuse intervention program for perpetrators. It helps perpetrators take accountability for violent and coercive behavior in their relationships, Bowman says. Most of the participants were there because of court orders.
The program focuses on breaking through denial, helping participants examine tactics used against intimate partners and developing non-violent, egalitarian relationship skills.
Bowman participated in briefings and debriefings with group facilitators, wrote assessments for intake interviews, created participant files and reviewed case files with facilitators. She also assisted participants with literacy issues, gained basic intimate partner violence knowledge, observed civil and criminal court hearings and performed other office duties. She and Collins occasionally crossed paths.
Bowman says the listening and conversation skills she acquired at St. John's helped while she was working with abusers.
"Some of them can be very manipulative, so you have to be very careful about what you say," she says. "Learning how to effectively convey what's going on in my head is really important."
Bowman isn't new to advocacy work. She created the Health Awareness Equality group as a student at Digital Harbor High School in Baltimore, and another group that focused on issues in the gay and lesbian community.
The work had an effect, she says, but her work with House of Ruth often showed tangible results.
"The big key to stopping domestic violence is focusing on where it's coming from," Bowman says. "Not everyone goes through (the Gateway Project) and succeeds … but the way we end the problem is to tackle it where it's starting. In a way, we're helping the perpetrators develop these relationship skills and life skills, but it's also helping the victims by preventing it from happening again."
Now back at St. John's for her sophomore year, Bowman is involved with the boxing club, film club and kunai. Looking ahead, she hopes to complete internships in the law and child development fields. She's still weighing her career options.
As for Collins, she hopes to enroll in a master's program for psychology and counseling after she graduates in the spring.
"That's part of the reason I wanted to do (the internship)," she says. "I want to go into psychotherapy, so I wanted to test myself to see how much … I could take."