The Community Benefit of Blowing Minds
September 18, 2017 | By Eve Tolpa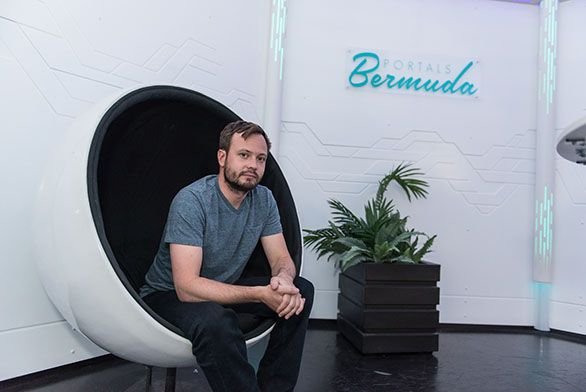 As the Graduate Institute at St. John's turns 50 years old, the college is featuring a series of stories to highlight the history, students—past and present—and other contributors who have made it what it is today.
Sean Di Ianni's (SFGI13) professional life is in many ways a balancing act.
As chief operating officer of Meow Wolf, a world-renowned interactive art space in Santa Fe, he oversees organizational structure, systems and processes, and the management of artistic and logistical concerns for individuals and the organization.
"On one hand is a problem-solving mentality, and on the other is an exploration," he says. Navigating the space between qualities that appear to be oppositional is a skill he honed as a Graduate Institute student. "St. John's really builds that capacity for discovery."
After earning a bachelor of fine arts degree in sculpture from Rhode Island School of Design in 2007, Di Ianni was living on the East Coast and looking for a change of scenery. Soon after, he discovered New Mexico and then-nascent artists' collective Meow Wolf, which was founded in February 2008. He joined the group the following month.
Di Ianni describes the tone of Meow Wolf's early days as anarchic, and after three years of working hard in its very social environment, he found himself ready to focus on something quieter. Art school had provided a limited outlet for his interest in liberal arts, but St. John's offered a remedy.
As a GI student discussing texts, he found commonalities with his educational background and career, recognizing, for example, a Socratic aspect in the critique of art. "First you have to try to understand what you are looking at. In the mere description, you realize you have a perspective, and you realize it has a perspective."
There are other similarities among Meow Wolf, RISD, and St. John's, says Di Ianni. "It has to do with a collaborative learning environment. You learn through discussion. Sympathy and empathy and compassion for other people and their way of thinking is really important."
He is interested not only in collaboration but in democratizing the art experience and creating opportunities for artists to support themselves. He posits that the success of Meow Wolf—considered one of Santa Fe's most popular tourist destinations—results from a connection between artists and the community. "I owe a lot to the people I'm working with. There's a level of trust and integrity in the group. We are solving problems together."
Meow Wolf employs roughly 65 people in operations and more than 100 in production. In addition to paying artists up front for their work, the organization also provides a revenue-sharing program. Di Ianni and his colleagues are in the process of scoping locations for future Meow Wolf endeavors; the short list of potential cities includes Houston, Austin, Denver and Las Vegas.
Though it shares qualities with other types of entertainment venues—museums, amusement parks, and movie theaters, to name a few—Meow Wolf takes an out-of-the-ordinary approach to exhibiting art. The company was set up as a B-corporation, a designation that requires it to look past the bottom line to create a positive impact on society, workers, community and the environment.
There was a clear philosophy behind that choice. "Nonprofits often have a mentality of scarcity. Operating as a for-profit puts us in the mindset that what we do is valuable. We are creating a community and a support structure for artists," Di Ianni says, adding, "I actually believe that blowing minds is a community benefit."
Learn more about the history of the Graduate Institute and upcoming festivities on the GI 50th Anniversary page.