Meow Wolf: Johnnies and the Art of Collaborative Inquiry
May 5, 2017 | By Samantha Ardoin (SF16)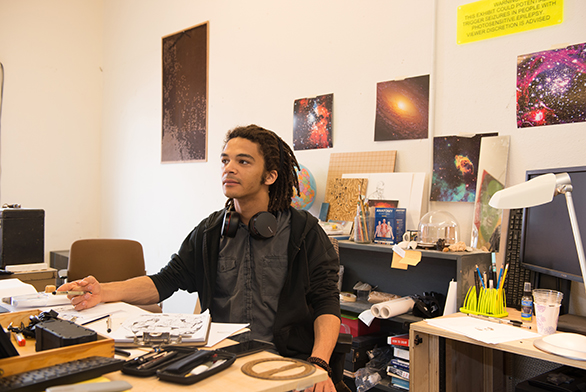 Lysander Cramer (SF15) scribbles away at a coloring book page for Meow Wolf Creative Studios, an arts production company in Santa Fe that creates immersive, multimedia experiences.
An eye forms out of a furry mass of monster, its hand pressing itself off the page. Other characters stare pensively around the white space, which is alive with obscure black and white objects: a lampshade, floating prisms and moss that hangs down the bottom of the frame.
Cramer's drawing will soon be sold to the public as part of Meow Wolf's upcoming coloring book. He is one of many Johnnies working for Meow Wolf. Founded as an art collective in 2008, the company has played an integral part in the Santa Fe art scene and received rave reviews from the New York Times and NPR.
"We are creating a new economy for supporting artists and fostering an authentic engagement between artists and a diverse general public," says Meow Wolf Co-Founder and Chief Operating Officer Sean Di Ianni (SFGI13). "In the process, we're helping artists grow capacity for business and project management—and hopefully helping both artists and the general public explore some really weird ideas."
Venues
Meow Wolf aims to transport audiences of all ages into new realms through a series of interactive pieces. It is best known for its permanent installation, the House of Eternal Return.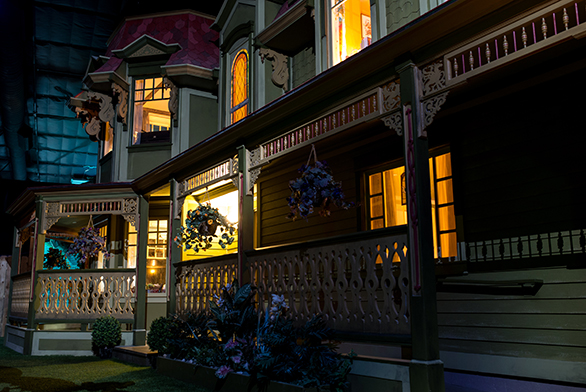 During the day, the House of Eternal Return is a jungle gym for adults and children alike, allowing you to create your own adventure. Located in a remodeled bowling alley, you'll find yourself crawling through secret passageways into uncanny ice worlds, jungles, treehouses, and even less-familiar, avant-garde spaces.
Bang on an icicle or two and you might find yourself creating music. Examine an old newspaper clipping left on a disheveled kitchen table, or some children's art clinging to the fridge, and try to solve the mystery of what happened to the family who lived in the house.
By night, the space becomes a concert venue, attracting musicians of all kinds, from techno to folk. Imagine hearing your favorite indie band while tucked away in a treehouse, or a room full of stars.
Across the street from the bowling alley, a spacious garage brims with unfinished projects, paintings of the House of Eternal Return, and all kinds of materials. This is Fastenal, the main studio space, where a lot of the behind-the-scenes artistry takes place. The workshop, on the other hand, is located in the same remodeled bowling alley as the House of Eternal Return, and allows for woodworking and large-scale fabrication projects. Meetings happen on and off-site.
The House of Eternal Return received significant funding from Game of Thrones creator and longtime Santa Fean George R.R. Martin.
St. John's Connections
Cramer started working for Meow Wolf after his 2015 graduation from St. John's, equipped with a handful of experiences in the art world. He had volunteered with MAKE Santa Fe, a nonprofit community workspace that offers tools, resources, and workshops for people to make anything they can think of—from robots to homemade wooden chess sets to kinetic art. People can also use the tools in their workspace to repair computers and other appliances.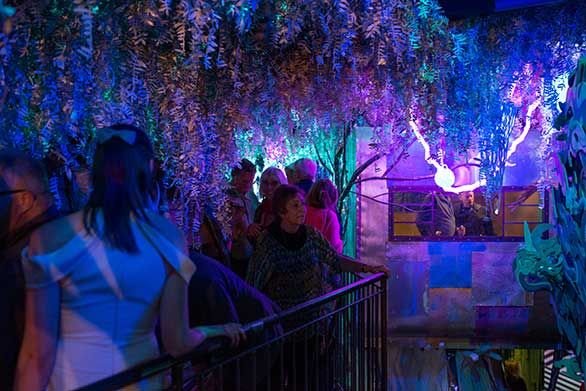 Cramer also volunteered with several Canyon Road galleries and the Center for Contemporary Arts, a leading Santa Fe arts institution.
With the help of a Pathways Fellowship, Cramer attended a summer atelier with artist Anthony Jones. This is when he began to understand how much technology has transformed the art world.
Cramer continues the kind of playful experimentation that he developed at St. John's, in his studies and in his work as a lab assistant.
His artistic duties for Meow Wolf go far beyond drawing—from carefully creating concept art to manipulating the 60-watt fusion laser cutter, whose workings hearken back to junior year of the Program and Maxwell readings.
"There are lots of odd and creative applications to a tool like that, which you discover as you play with it," Cramer says.
Some of the artists were able to make a camera mount with it, and plan to take aerial video with it. The laser cutter can also score wood, allowing it to bend into curved shapes.
It was in Senior Lab that fellow Johnnie Maggie Thornton (SF15) told Cramer that she liked his doodles. She invited him to volunteer at Meow Wolf with her, and soon she and Cramer saw their volunteerism blossom into full-fledged careers.
Continue on to Part 2: Meow Wolf: A Growing Artistic Enterprise.