Meow Wolf: A Growing Artistic Enterprise
May 5, 2017 | By Samantha Ardoin (SF16)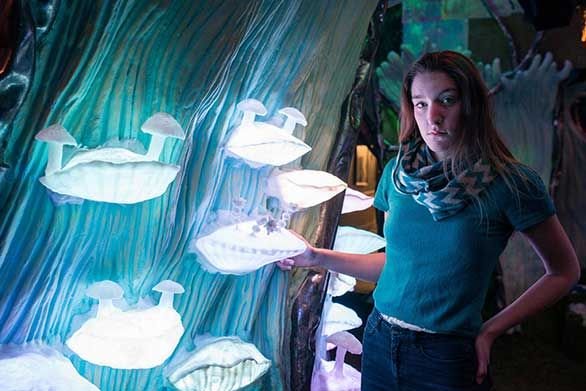 Maggie Thornton found her way to Meow Wolf almost incidentally.
The St. John's College alumna (SF15) befriended some artists and sought them out when she needed a break from her schoolwork.
In 2015, months before graduation, Thornton was invited to collaborate on the Techno Room—a House of Eternal Return environment, covered in fuzzy material, that blasts techno music continually—after mentioning her interest in curating electronic music.
Balancing her senior year and a massive Meow Wolf architectural and curatorial project was intense.
"If it sounds insane, it's because it was insane," she says.
Thornton was stretched in new directions and, after graduation, joined the tech team full time. Several months later, the House of Eternal Return opened to massive crowds and rave reviews.
Thornton continues to brainstorm new projects, and the St. John's Program continues to inspire her work.
At Meow Wolf and at St. John's, Thornton has seen a confluence of electricity, chemistry and history. Her current work on casting and molding research has allowed her to draw upon her knowledge of chemistry and physics. She has also been working on virtual-reality research and development, as well as prefabrication, which includes delving into woodworking, digital fabrication using the laser cutter, and other methods of 3-D printing.
"I'm only 23, and this is my first job, but I've used every ounce of information from St. John's," she says. "Rest assured, Johnnies, you need all that."
Collaboration
In October, Thornton collaborated with another alumna, Amelia Stickney (SF14), on a Halloween performance. The project melded dance and improvisation, and patrons experienced it firsthand in the House of Eternal Return. But for Stickney—the daughter of Santa Fe tutors Cary and Susan—this wasn't her first involvement with Meow Wolf.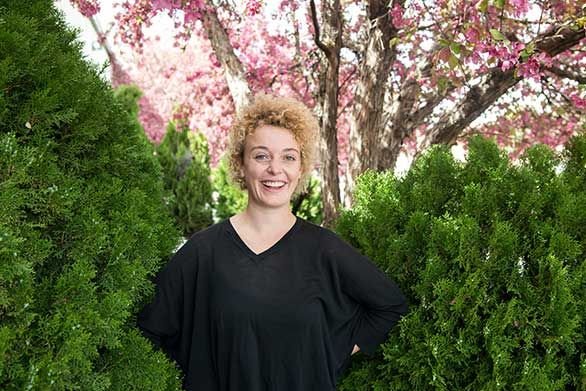 Her first involvement was years before, with the play The Moon is to Live On, when the company was a young arts collective. The play featured giant handmade puppets and sculpture, and Stickney acted and choreographed dance. Years later, she was invited to join the more established Meow Wolf and she jumped.
Officially, Stickney is the company's executive assistant, and her duties include the exciting and the mundane: from networking in Denver and Los Angeles to cleaning the office and coordinating catering for meetings.
Stickney is thrilled about the growth of the company and its unbounded creativity.
"There were so many people working on the House of Eternal Return for very little money, and it brought such a tremendous success that now we're able to employ more than 100 people," she says.
Expansion
Meow Wolf is now looking to expand its immersive art experiences in major cities around the country. Denver and Austin are first on their list, and team members are examining spaces in both cities that are up to 100,000 square feet—much bigger than the current House of Eternal Return. The company is also working on some traveling exhibitions and festival installations around the country.
In addition, Meow Wolf's members recently started Creative Studios, which will serve as a parent company that allows member artists to develop new projects, such as installations with narratives in other cities.
Sean Di Ianni, the co-founder and chief operating officer, became involved as an artist during Meow Wolf's 2008 founding, and he oversaw the project management for the House of Eternal Return. This included coordinating the architecture, construction, budgeting and scheduling for the renovation of the bowling alley.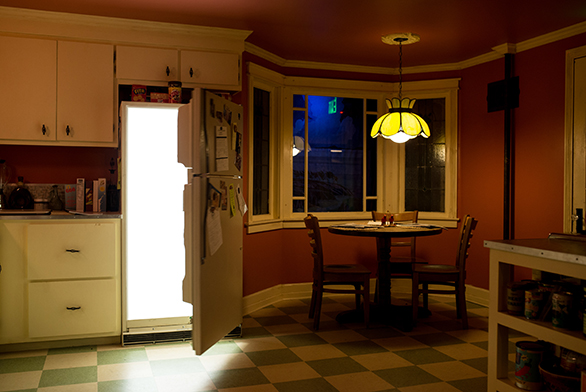 He also contributed to the overall design and concept for the project, as well as the business model. Now he works on creating organizational systems and developing major projects for Creative Studios, the full-time parent production company, and continues to make art.
Di Ianni's educational background married art school at Rhode Island School of Design with graduate school at St. John's—where he was finally able to engage with the great books and further his practice of collaborative learning. Di Ianni realized that everything he loved about collaborative critique at RISD, and about collaborative creation at Meow Wolf, was also alive in seminar.
"We learn a lot from each other at Meow Wolf," Di Ianni says, "and we're always looking for ways to empower people to explore new ideas."
His time at St. John's was similar.
"It helped me refine and expand my capacity for working on collective inquiry, and also for engaging with my own individual artistic concerns," he says. "St. John's reinforced the idea that our greatest assets are each other, and one of the best ways for us to grow is by asking hard questions of each other and listening well. We do that everyday at Meow Wolf."
Catch up on Part 1 of the series: Meow Wolf: Johnnies and the Art of Collaborative Inquiry.