Bringing Students and Donors Together
May 5, 2017 | By Tim Pratt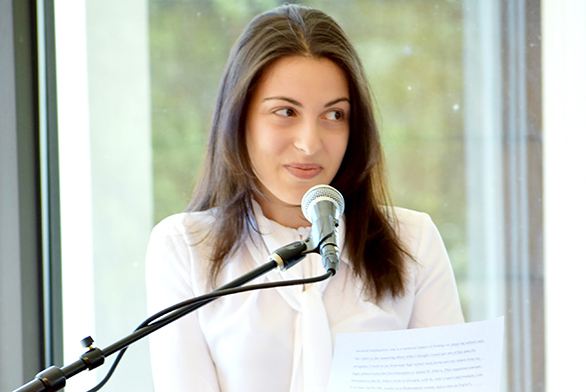 The cookies featured the names of some of society's most influential thinkers.
Plato. James Joyce. Martin Luther King Jr. Abraham Lincoln.
Isaac Newton, Herman Melville, Robert Frost and Italo Calvino were represented, too.
On a recent afternoon at St. John's College in Annapolis, the treats represented books written by some of President Chris Nelson's favorite authors. They were enjoyed at the college's annual scholarship luncheon in the Hodson Boathouse.
The event, in its fourth year, gave donors and students who benefit from financial aid an opportunity to "celebrate their connection," said organizer Susan Borden, the college's director of foundation relations and stewardship. More than 75 percent of St. John's students receive need-based financial aid.
"It's a chance for donors to meet the students they have helped," Borden said, "and it's a chance for students to share what they have gained."
Approximately 25 students and 25 donors attended.
Senior Ashleigh Mierau, recipient of the Chris Nelson Scholarship this year, presented the outgoing college president with a magnolia sapling to add to his home garden.
"You and I have both established roots here at St. John's and will continue to grow and flourish in the coming years of our new adventures, just like this magnolia will at your new home," Mierau said.
Mierau said she was grateful the Chris Nelson Scholarship allowed her to complete her time at St. John's.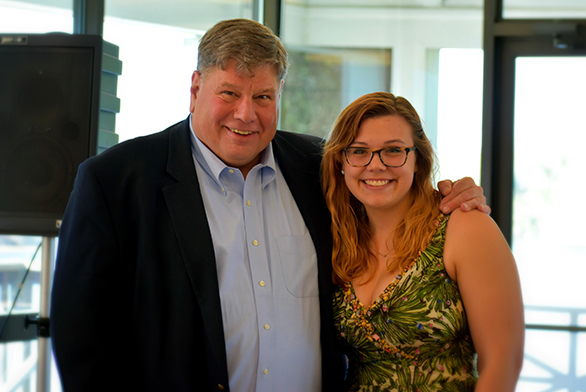 "Without the amazing support of this polity, the financial aid office and the Chris Nelson Scholarship, I would not be here today," she said. "I wouldn't have had the ability to finish my education here and graduate among my friends. I love this school. It has been a blessing and home to me in so many ways."
Senior Elizabeth Akhvlediani spoke about the lessons she has learned at St. John's, and said she was grateful to the tutors, classmates and donors who "made this wonderful and truly once-in-a-lifetime experience possible for all of us here."
While the event brought together students and donors, it also honored Nelson, who is retiring in June after 26 years at the helm. Borden called Nelson "a great champion" of financial aid.
"It's usually all about the students and donors, but this year also was about Chris because student financial aid is so important to him," Borden said.
Nelson said the college's budget for student financial aid has more than doubled since the 2008-09 academic year. He also noted that the much-touted economic recovery has not hit the majority of Americans, whose need for assistance to afford a college education has only grown.
"St. John's remains committed to making this college education affordable for all those who are admitted," he said. "Your support today is more important than ever for the sake of our students, and is every bit as much appreciated by the college. Each of the students with us in the boathouse today has a personal story that comes to this: they could not be here without the generous support of the scholarship funds made possible by the philanthropic efforts of our friends and alumni. Our deep thanks to you all."