May 3, 2017 | By Tim Pratt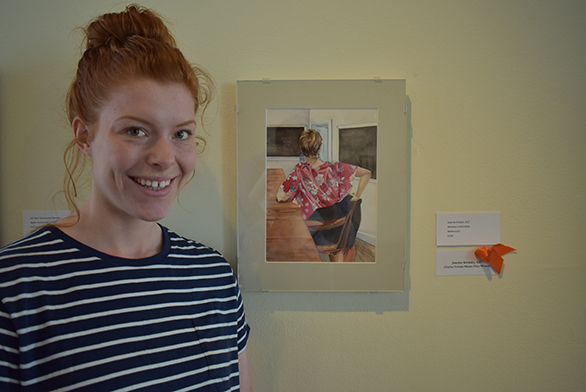 The walls of the Mitchell Gallery at St. John's College in Annapolis are lined with art.
Portraits. Photographs. Still-life paintings. Mixed media.
Next to one of the paintings, a watercolor titled "Woman in Red Robe," hangs an orange ribbon. Two small sculptures in the center of the gallery feature ribbons, too.
The pieces were completed by St. John's senior Journie Kirdain, winner of the 2017 Charles Vernon Moran Prize for her work in the college's Community Art Exhibition. Her work was selected from approximately 100 other pieces submitted by students, faculty, staff and friends of the college.
Kirdain, who spent three years studying at the college's Santa Fe campus before transferring to Annapolis this year, will be honored for her work at Commencement on May 14.
"It's really nice to be recognized," Kirdain says. "I do art for myself, but it really helps to have others support me and recognize it."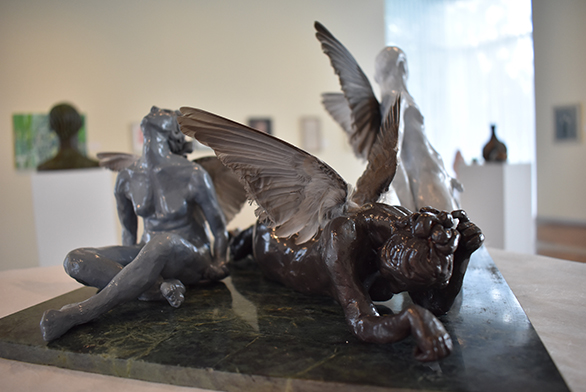 The Moran award, named after the famed portrait artist, has been given each year since 1990 to a graduating senior who demonstrates mastery of technique and original thought, says Mitchell Gallery Director Hydee Schaller.
Kirdain's watercolor painting was done from a sketch she made of fellow senior Bonnie Scott in math class. One of her sculptures, titled "Rhino," is modeled after a woodcut executed by German painter and printmaker Albrecht Dürer in 1515. Her third piece, a sculpture titled "Windows in Mellon," is made of clay and bird wings, and took about three weeks to complete.
"I was in the studio every free moment I had between class and work," says Kirdain, who will attend The Marchutz School of Fine Arts in France this summer as part of a Pathways Fellowship.
Judges for the exhibition were faculty members and Mitchell Gallery staff, who considered all three of Kirdain's piece when selecting her as the winner.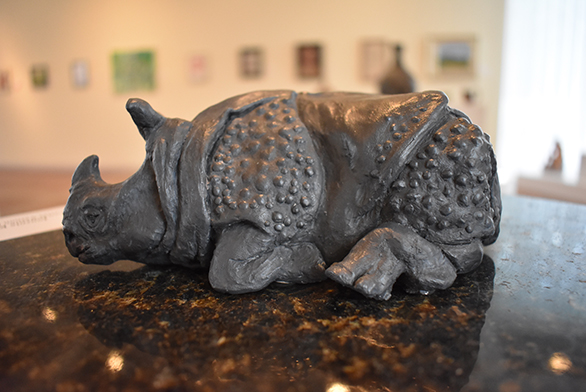 "She really does pursue an excellence in each and every one," Schaller says. "All three are outstanding and strong pieces."
Honorable mention went to Alexandra Kudrzycki for her untitled ceramic sculpture of a horse's head.
Lucinda Edinberg, the Mitchell Gallery's art educator, was pleased with the submissions this year and the variety of artists who entered the competition.
"It really is a good mix of our community," she says.
The exhibition is open through May 14.