Working for Art and Education
May 1, 2017 | By Tim Pratt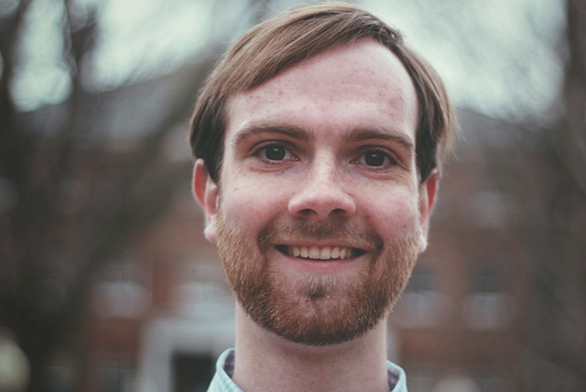 When Max Dakin walked into a college fair during his senior year of high school, he headed straight to the table for St. John's College.
The Massachusetts native had read about St. John's in Colleges That Change Lives, an educational guide compiled by longtime student advocate and former New York Times education editor Loren Pope. At the fair, he was greeted by a friendly St. John's admissions counselor who stood at a table among the hordes of students.
"That counselor was the first person to ask me, 'Why do you want to go to college?'" Dakin says, "and until that point I had been so focused on deciding which college I would attend. That first conversation set the tone for the beginning of my St. John's experience—a self-driven education with people who cared about getting to the root of things, and asking the essential questions."
Dakin went on to develop those skills himself when he attended St. John's in Annapolis. The 2016 graduate still uses them to this day in his job at the John F. Kennedy Center for the Performing Arts in Washington, DC.
As an assistant in the Development department, Dakin works with a group of corporations, foundations and government agencies that contribute to the Kennedy Center's arts and education programs. It's a job that suits Dakin well, given his own arts and educational background.
"Working at the Kennedy Center is such an incredible opportunity to contribute to one of the nation's finest cultural institutions," he says. "The sheer scope of artistic, educational and community programming makes it a special place to learn and grow in the field. I also get to work with an experienced, talented group of people who are passionate about their work and the arts."
Dakin's interest in the arts dates back to his early years.
When he was a teenager, he spent several summers working at a local theater company in his hometown in western Massachusetts. He knew then that he wanted to support the performing arts through his work, without being a full-time artist himself. Fundraising fit his interests and skill set, he says, and allowed him to support and interact with artists.
When Dakin arrived at St. John's, his interest in the arts continued to grow. He was an actor and director in the King William Players theater group, as well as a co-captain of the fencing union. He also did summer internships after his junior and senior years with arts-focused nonprofit organizations.
It was during his first internship that his interest in fundraising grew. Then, after he graduated, he interned at Americans for the Arts in Washington, DC, and was subsequently offered a job at the Kennedy Center.
Looking back, Dakin describes his experience at St. John's as a "most incredible voyage."
"I have been so transformed by the people, the books and the community of St. John's, who have helped me challenge myself, sharpen my thinking and form connections that will last a lifetime," he says.
On a personal level, he says he is able to ask better questions, put things in context and feel comfortable having discussions with people. Professionally, those same skills—and others—have set him up for success in the months since he graduated.
"I would say that the St. John's experience of working with others to wrestle with complex issues has had a profound effect on my professional life," he says. "I'm able to dig deeply into the root of a problem, think long-term about the effects of choices and collaborate well with others to accomplish a goal."
As a member of the Corporate and Foundation Relations team at the Kennedy Center, he helps maintain and grow some of the relationships with organizations that care deeply about the arts, education and the national memorial to John F. Kennedy. Looking ahead, he hopes to continue helping organizations, specifically nonprofits, fulfill their missions.
"What form that might take for me, time will only tell," he says.