Tom Ludzia (EC06) on Eastern Classics, Community, and Brewing Through a Pandemic
September 16, 2021 | By Les Poling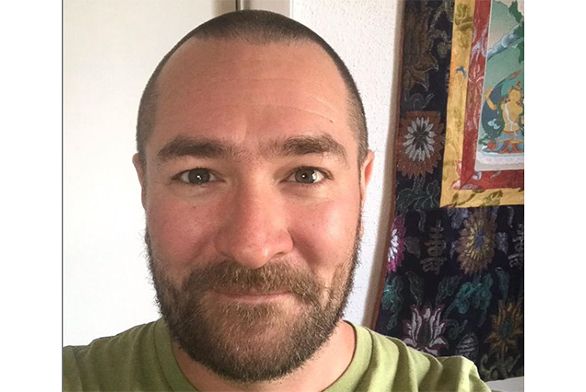 Over the last year and a half, the language that seemed to take hold of the cultural discourse belonged to members of the digitally inclined, professional-managerial population who, when COVID-19 began sweeping the U.S., immediately transitioned to online work. Across social media and the suddenly remote iterations of news and talk shows, the popular conversation came to be dominated by phrases like "work from home," memes about wearing sweatpants every day of the week, remembrances of what life "in the office" was like.
For Tom Ludzia (EC06) and others in hands-on industries—from meat packers to food producers, doctors, care workers, and more—the pandemic was a very different experience. As head brewer at Santa Fe's award-winning Second Street Brewery, Ludzia essentially never stopped coming into work. After all, there was still beer to be brewed—and a business to keep afloat.
A onetime teacher, Ludzia embarked on a winding journey to becoming a brewer; one that mirrors, to an extent, the path he took to St. John's College's Eastern Classics program. Having grown up in New Jersey, Ludzia says he first fell in love with New Mexico during a series of cross-country trips, learning about St. John's while backpacking in the Appalachian Mountains. In 1999, after returning from a Naropa University study abroad program in Nepal as an undergrad—where he developed a fascination with Eastern traditions and texts—he landed a teaching job back on the East Coast. But his interest in continuing his intellectual journey never faltered, and in 2005 he enrolled in the Eastern Classics program in Santa Fe.
"I was introduced to the poetry of Han Shan while in college," he says. "I applied to St. John's so that I could learn some of the Chinese I would need to work through some of the original poems."
By the time Ludzia graduated with his master's, he had more than a firm grasp on Chinese; he had a community.
"I am grateful for the relationships created as well as the memories made while at St. John's," Ludzia muses. "I wouldn't have moved to Santa Fe if not for the college, and I wouldn't have stayed if not for the friendships."
In 2014, burnt out after more than a decade of teaching—plus a 3,400-mile bike ride to raise awareness for Lasallian volunteers—Ludzia quit his job in search of a radical career change. He's been the head brewer at Second Street ever since, helping steer the brewery through a time of enormous growth that saw a new taproom open in Santa Fe (blocks away from Meow Wolf, the venture of another Johnnie alum) as well as the packaging and distribution of Second State beer across the state.
Even with those achievements, what Ludzia appreciates the most is the brewing. "The challenge of brewing a beer that is true to style never gets old," he says.
"My days consist of recipe development, brewing, cellar work, draft line maintenance, packaging, scheduling, and sampling some of the best beer around," he continues. "I work with an amazing team, and our days allow for some great conversations. I also savor the alone time I enjoy at the brewery. It feels rather monastic at times; the days leave time for thinking and conversation while also getting our tasks accomplished."
Of course, the nature of the job changed rapidly during the pandemic, as Second Street closed its taprooms, shut down its kitchens, and vastly reduced the amount of staff allowed in the premises at a given time. During a period of inconceivable tragedy and uncertainty, the service industry, in particular, suffered economically, according to an Economic Policy Institute report—and breweries were no different. But throughout the pandemic, Second Street's staff continued brewing beer, selling canned and to-go offerings, and, eventually, serving patrons in person (in accordance with COVID-19 safety protocols).
"Not to get political, but there weren't strong directives that were handed down," Ludzia recalled in an interview with New Mexico Dark Side Brew Crew. "So a lot of it came down to individual business owners to make the call, and we took it seriously."
Despite the miserable year-plus endured by people and businesses all over the world, it wasn't all bad: In October 2020, Second Street's brown ale medaled at the Great American Beer Festival, and the brewery even made an additional hire in response to brewing and packaging demands.
"In the middle of all the insanity, we were able to have someone new come on, which I thought was amazing," Ludzia told NMBSS.
Second Street's success has continued this year. Once again, the brewery took home a medal at the 2021 Great American Beer Fest, this time for its Oktoberfest. As a bonus, the International Craft Beer Marketing Awards recognized Second Street (twice!) for best packaging design. And most importantly, all three Second Street locations—the original, the Railyard, and the Rufina Taproom—are open for business.
Unfortunately, the emergence of the Delta variant has made clear that the pandemic isn't over yet; there may still be more storms for Ludzia and his brewing comrades, including fellow Johnnie Will Harrer (SF17), to weather. (In the craft and service industry, such tempests are inevitable.) Luckily, the crew has a solid foundation on which to stand—and Ludzia will always have his beloved books.
"The texts we encountered in the Eastern Classics program hold a prominent spot in my life," he declares. "When I was downsizing to fit all of my belongings in an airstream, not a single book from the EC program was lost."