Sheba Delaney (A22) Embraces Lifelong Learning at St. John's
September 17, 2021 | By Les Poling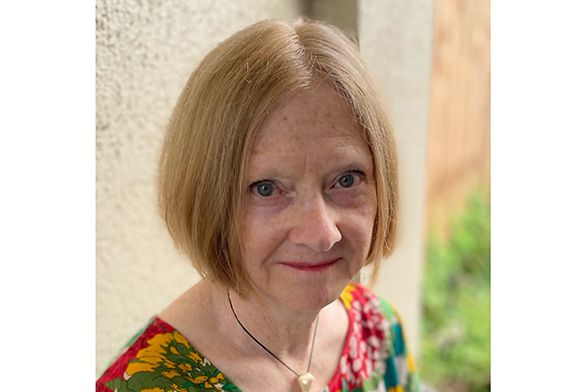 Like most Johnnies, the last 18 months presented Sheba Delaney (A22) with extraordinary challenges—from the sudden transition to online learning in early 2020 to hybrid classes and masked conversations in the spring of 2021.
Unlike most Johnnies, though, Delaney has a bit more life experience to lean on during hard times: She began her freshman year at 66 years old.
In 2017, Delaney says, "I was living in New York City, my home for over 40 years, spending five hours a day in my studio, painting, and working at Trader Joe's. The years of raising and educating my children were almost over." As she emerged from several significant life changes, she realized that the rest of her life might not play out exactly how she'd imagined.
"Dostoevsky said the second half of life is nothing but the habits we acquire in the first half," she explains. "I didn't want that."
So that year, Delaney traveled to Spain and walked the 500-mile El Camino de Santiago. When she got back, she applied to St. John's—the college she'd first heard of while studying at the Pratt Institute decades earlier.
"I never considered applying anywhere else," she says. "Although I've read widely over my lifetime, I wanted to go through the history of Western culture in a systematic way."
Delaney arrived at St. John's in 2018 and immediately encountered obstacles. She hadn't studied basic math in decades, let alone demonstrated a Euclidean proposition. Despite her excitement for seminar, she was a lifelong solitary reader and found the idea of diving into conversation somewhat intimidating. Most difficult, she says, was time management. Referencing her "touch-and-go" first two years at the college, Delaney says she felt exhausted and stretched to her limit on more than one occasion.
"My lifelong work habit has been obsessive monotasking," Delaney explains, "which works well for an artist but isn't so great when you're trying to keep up with three challenging tutorials and a massive amount of reading."
Importantly, though, she instantly felt welcomed into the Johnnie community, and—together with her classmates—she's been able to surmount such challenges, including arduous music theory and algebra tests.
"I was one of the first people to go to the board to do a Euclid proposition," she recalls. "I was shaking, but at least I never had to do it for the first time again."
Perhaps the biggest challenge emerged in March 2020, when the coronavirus pandemic forced the St. John's Program online. It was extremely difficult, Delaney says, to transition overnight from gathering together around a table to conversating via Zoom.
Nonetheless, the St. John's community rallied to make things work. Delaney, her classmates, and her tutors persisted with tenacity and good humor, trading Johnnie chairs and seminar tables for at-home desks and computer screens—a testament to the Program itself. Even in times of difficulty, the study of Great Books endures; the great conversation continues.
For Delaney, persevering through the demands of everyday life and the famously rigorous St. John's Program is nothing new. During her first couple of years at the college, she reflects, "I was constantly worried that I just wasn't going to make it." But the experience has been worth it— "there has been so much to enjoy." She calls the opportunity to work through the Great Books a "luxury." Like most alumni, in spite of initial butterflies, she adores seminar—and the ongoing conversation that often spills from the classroom to the quad and beyond. The Program has even inspired Delaney to try humorous writing, and she cherishes the Johnnie tradition of taking tutors to lunch or coffee.
Most of all, "everything I've learned so far is absolutely affecting my whole life," she notes. "I'm able to think about the things I am interested in a much richer way and with a better sense both of context and of how things are connected."
After graduating, Delaney hopes to earn a master's degree in theological studies; having written for religious publications in the past, she'd like to continue exploring humanity through religion (and religion through humanity). In other words, the journey of lifelong learning she resumed at the college has only just begun.
"At St. John's, we engage with the slow unfolding of human beings trying to understand themselves," Delaney says. "I hope that I can, in some small way, be part of that conversation."